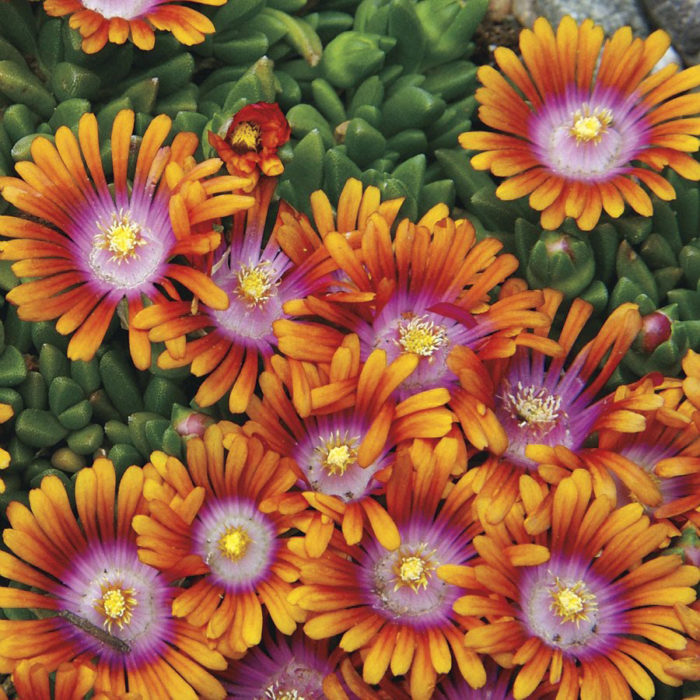 Ground covers make a perfect mulch. These ground huggers hold in moisture, keep weeds at bay, and look good in the process. Many are fine sources of pollen and nectar for pollinator insects.
The months of May, June, and July are a perfect time to work on your ground covers, adding new plants and digging up and dividing established ones. Give your existing ground cover a good once-over, shearing faded blooms once they've finished their big show. Don't hesitate to snip back plants where you need to encourage fullness.
Three of my absolute favorite ground covers are ice plants (Delosperma, spp. and cvs., Zones 6–9), rosy pussytoes (Antennaria rosea, Zones 5–8), and purple spinach bugleweed (Ajuga pyramidalis 'Metallica Crispa Purpurea', Zones 4–8).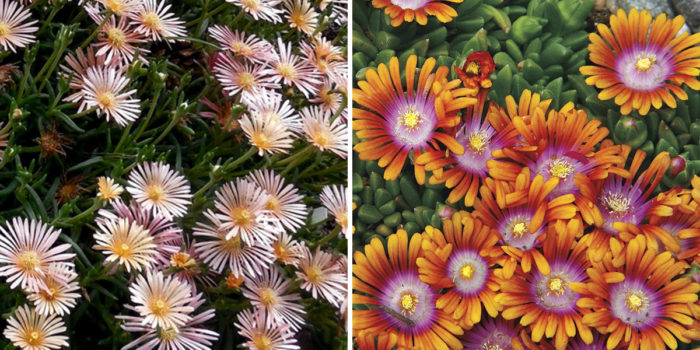 Ice plants are show-stoppers, hailing from the mountains of Africa. They do exceptionally well in our heat and seem to be unfazed by the smoke of wildfires. They range in color from the palest apricot ('Alan's Apricot') to a riot of color ('Fire Spinner') to a very stark white ('Coconut Crush'). They do exceptionally well in our heat and seem to be unfazed by the smoke of wildfires. Overwatering will kill them sooner rather than later, and they must have exceptional drainage. In fact, you may want to add a handful of sand to the soil. You can also put a small amount of very fine gravel mulch under the leaves when they are planted. They hate clay soils. Some varieties may be hardy to Zone 5; check the label.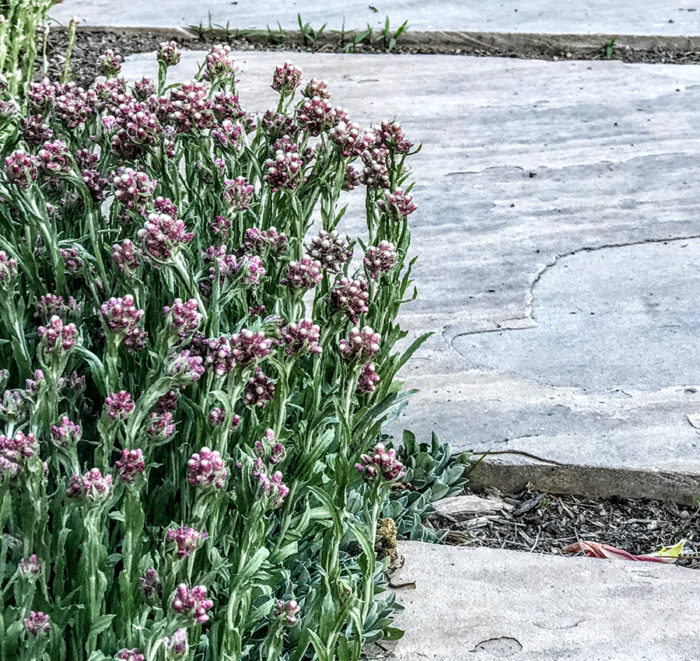 Soft and furry rosy pussytoes are beloved native plants that play host to the "cats" (caterpillars) of the American Lady butterfly (Vanessa virginiensis). Pussytoes send up 4- to 6-inch-tall fuzzy flower stalks, which are tinged pink and resemble cats' paws.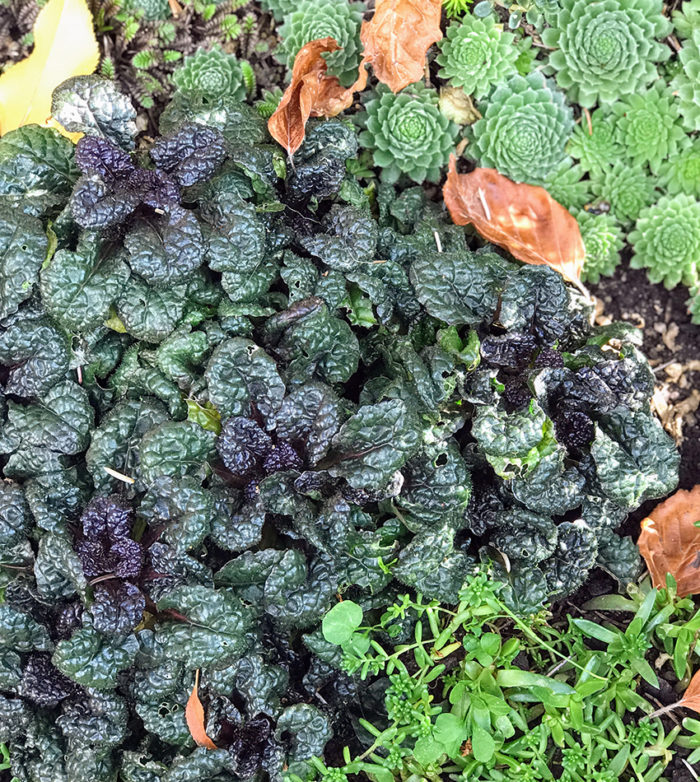 Purple-leaf spinach bugleweed is a new glossy bugleweed you are going to want in your garden. While some ajugas can be thugs, this one has shown itself to be quite well-behaved. Each plant grows about 1 foot in diameter and needs afternoon shade. These plants can be trained to spread through pinning. Against the shiny black leaves, which resemble spinach and have the texture of patent leather, 4- to 6-inch-tall blue flowers bloom from May until June.
Think about planting a colorful, living garden tapestry using different shades of the ice plants. Change up the texture by weaving in the pale fuzzy pink rosy pussytoes. The purple spinach bugleweed is beautiful as an underplanting for anything lime green or blue.
Avoid planting or transplanting ground covers in the heat of the summer, and make sure there is adequate moisture where the ground covers are planted. Sometimes we forget to check on them until it is too late.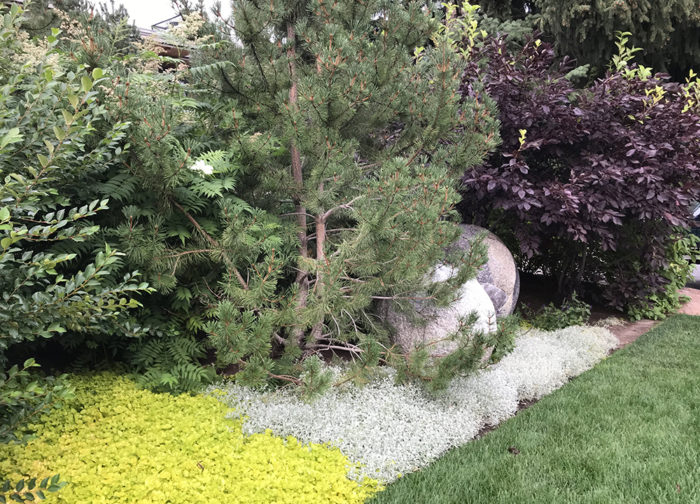 Here are a few additional ground covers to try:
Bearberry (Arctostaphylos uva-ursi, Zones 2–7)
Serbian bellflower (Campanula poscharskyana, Zones 2–9)
Brass buttons (Leptinella squalida, Zones 4–9)
Creeping Jenny (Lysimachia nummularia, Zones 3–9)
Creeping thyme (Thymus serpyllum, Zones 4–9)
Spotted dead nettle (Lamium maculatum, Zones 3–8)
Lady's mantle (Alchemilla mollis, Zones 3–8)
Leadwort (Ceratostigma plumbaginoides, Zones 5–9)
Snow in summer (Cerastium tomentosum, Zones 3–7)
St. John's wort (Hypericum calycinum, Zones 5–9)
Sweet woodruff (Galium odoratum, Zones 3–9)
Turkish speedwell (Veronica liwanensis, Zones 3–9)
Partridge feather (Tanacetum densum ssp. amani, Zones 4–9)
Mary Ann Newcomer is the author of two books: Rocky Mountain Gardener's Handbook and Vegetable Gardening in the Mountain States.