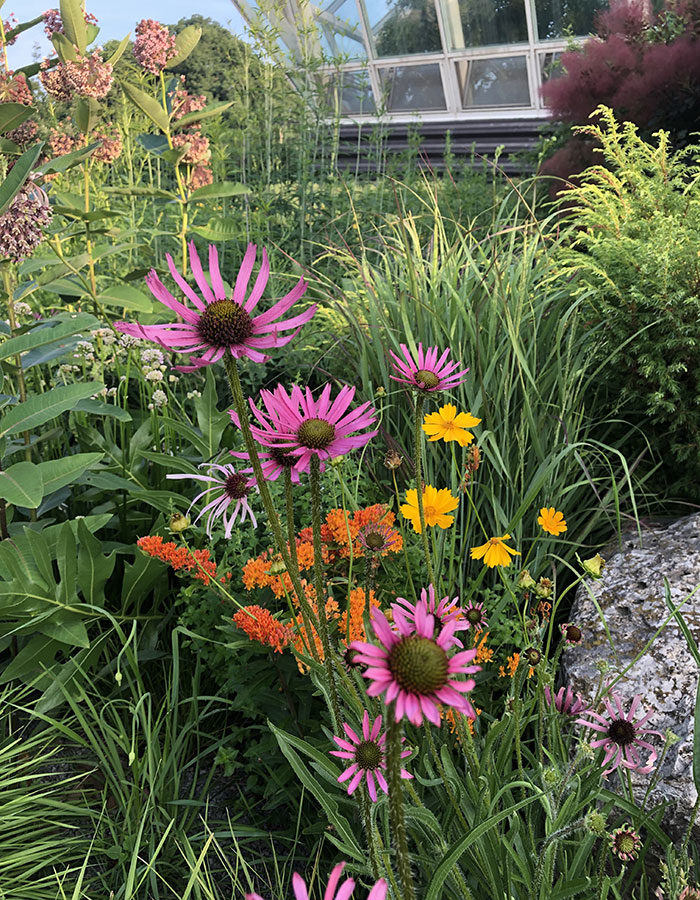 As the weather turns colder in autumn, many Midwesterners are reflecting on the gardening season and already making planting plans for next year—whether to fill a conspicuous gap in the border or to find a place to shoehorn in a new must-have perennial. When thinking of native plants to add to your garden, take a step beyond purple coneflower (Echinacea purpurea, Zones 3–9) and consider these fascinating, top-performing but lesser-known North American natives. While many of these selections are native to areas south of our region, it is notable that heat- and humidity-loving Southern native plants frequently flourish here with our summers becoming increasingly hotter, and some can be surprisingly winter hardy. Expect to find a new favorite garden plant among this list of unique native beauties.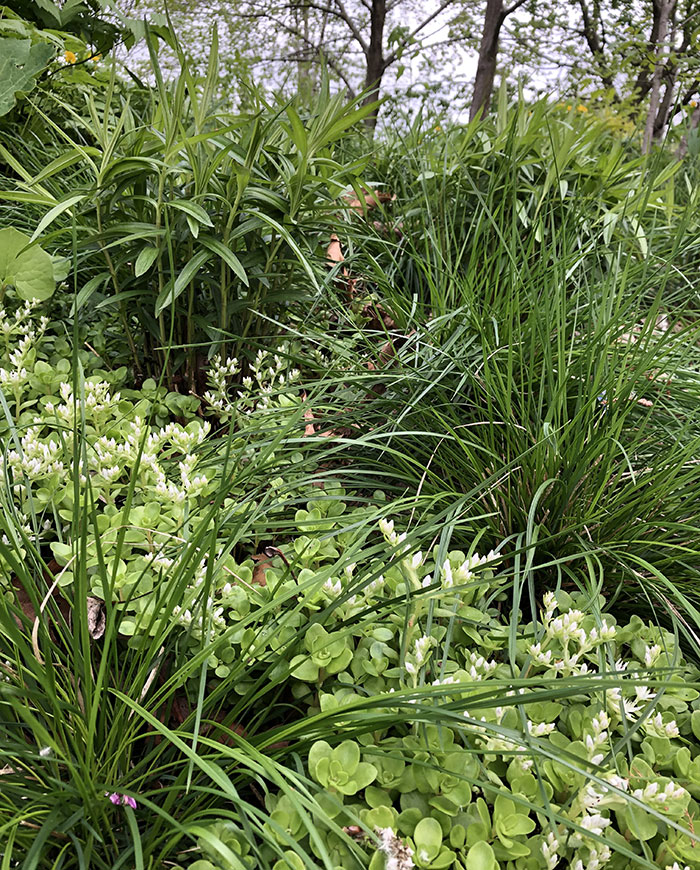 Three-leaved stonecrop (Sedum ternatum, Zones 3–9)
Native range: Much of the eastern United States
Size: Ground cover flowering at 8 inches
Culture: Partial shade to full shade; tolerates a wide range of soil moisture
If your knowledge of sedum (Sedum spp. and cvs., Zones 3–11) starts and ends with Autumn Joy (Hylotelephium 'Herbstfreude', Zones 3–9), prepare to have your mind blown by this native sedum that loves shade and tolerates moisture well. With its tiny, apple green leaves, three-leaved stonecrop grows quickly into a durable ground cover and makes a perfect weed-suppressing living mulch in the shade garden. In spring, the plants are covered with starry flowers that rise to about 8 inches, creating a foamy carpet weaving in drifts among other perennials. It pairs well with the complementary texture and color of strappy-leaved, grayish-green silver sedge (Carex platyphylla, Zones 4–8) and works well in dry shade, along garden paths, or in rock walls.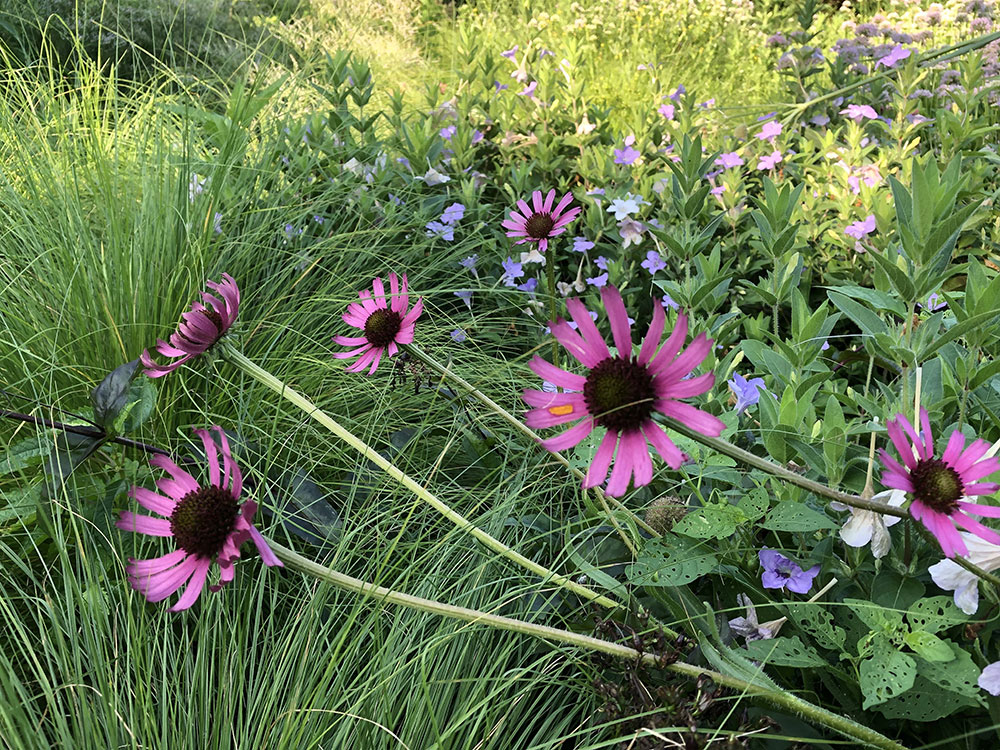 Tennessee coneflower (Echinacea tennesseensis, Zones 5–6)
Native range: Found only in isolated glade locations near Nashville
Size: 24 to 30 inches tall and 18 inches wide
Culture: Full sun to partial shade; average, well-drained garden soil
Tennessee coneflower exudes pure charm with its skinny, bright pink petals that reach upward and outward from its spiky central disk and its lanky habit with dark green, linear foliage. A favorite with bees and butterflies, it has an impressive bloom season that starts with heavy flowering in June and sporadic flowering up until frost. Removed from the Federal Endangered Species list in 2011, Tennessee coneflower's range is tiny in the wild, but it is an easy-to-grow garden plant at home with other drought-tolerant glade and prairie species, such as prairie dropseed (Sporobolis heterolepis, Zones 3–8) and blazing stars (Liatris spp. and cvs., Zones 3–8).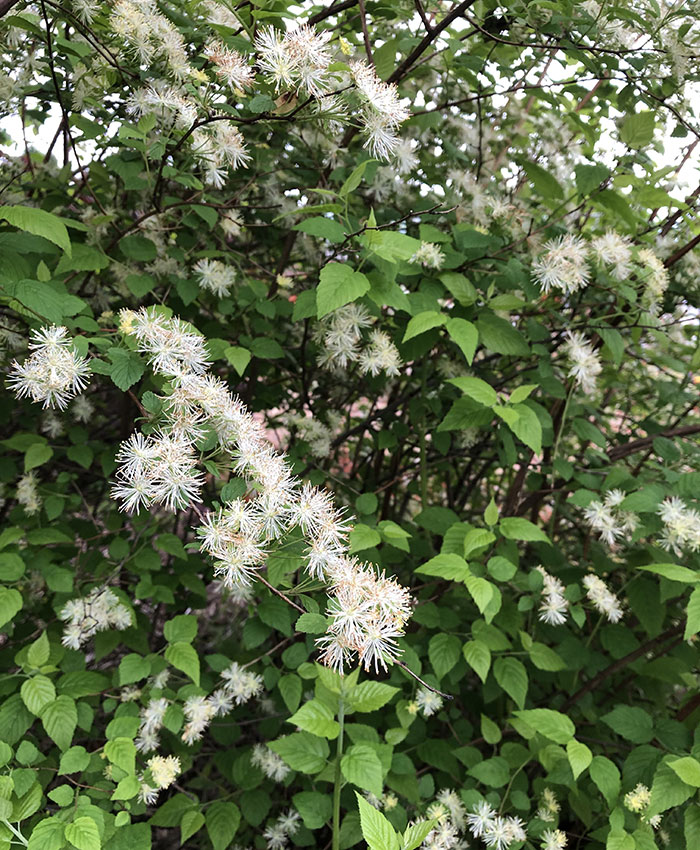 Alabama snow wreath (Neviusia alabamensis, Zones 5–8)
Native range: Found only in isolated limestone cliff locations in the southeastern United States
Size: 6 feet tall; creeping canes can form large colonies
Culture: Full sun to partial shade; tolerant of a wide range of soil conditions
I became slightly obsessed with this plant after reading about it in The Living Landscape, Rick Darke and Doug Tallamy's beautiful guidebook to designing with native plants. Despite its limited distribution and delicate moniker, Alabama snow wreath is a sturdy option for a screening or border shrub in a wide range of Midwestern garden conditions—sun or shade, wet or dry. After spotting it on the map at Olbrich Botanical Gardens where I work, I was excited to search it out this spring and found that it has been thriving there since 2001. Related to Japanese kerria (Kerria japonica, Zones 4–9), snow wreath grows with a multitude of arching canes covered with beautiful fluffy white flowers in spring. After flowers fade, the remaining green calyces carry their own interest, and the whole plant turns a pleasant butter yellow in fall.
| | |
| --- | --- |
| Flowers of Alabama snow wreath provide interest even after they've faded. Photo: Erin Presley | The seed heads of giant coneflower form a large, oblong cone. Photo: Erin Presley |
Giant coneflower (Rudbeckia maxima, Zones 4–9)
Native range: Southeastern United States
Size: Basal foliage up to 3 feet tall with flowers rising to 7 feet tall; 24 to 30 inches wide
Culture: Full sun to very light shade; prefers consistent moisture but tolerates drought well
A handsome statement plant, giant coneflower announces its presence in May with a robust clump of large, steely blue, paddle-shaped leaves. In June, towering flower stalks reach for the sky, bearing bright gold flowers with an exaggerated green cone. Further flowers appear sporadically throughout the summer as the early seed heads ripen and feed visiting birds. In rich soils, the flower stalks lean on neighboring perennials, mingling to create interesting combinations. Contrast it with the burgundy foliage of 'Shenandoah' switchgrass (Panicum virgatum 'Shenandoah', Zones 5–9) and 'Blackbeard' beardtongue (Penstemon 'Blackbeard', Zones 3–8).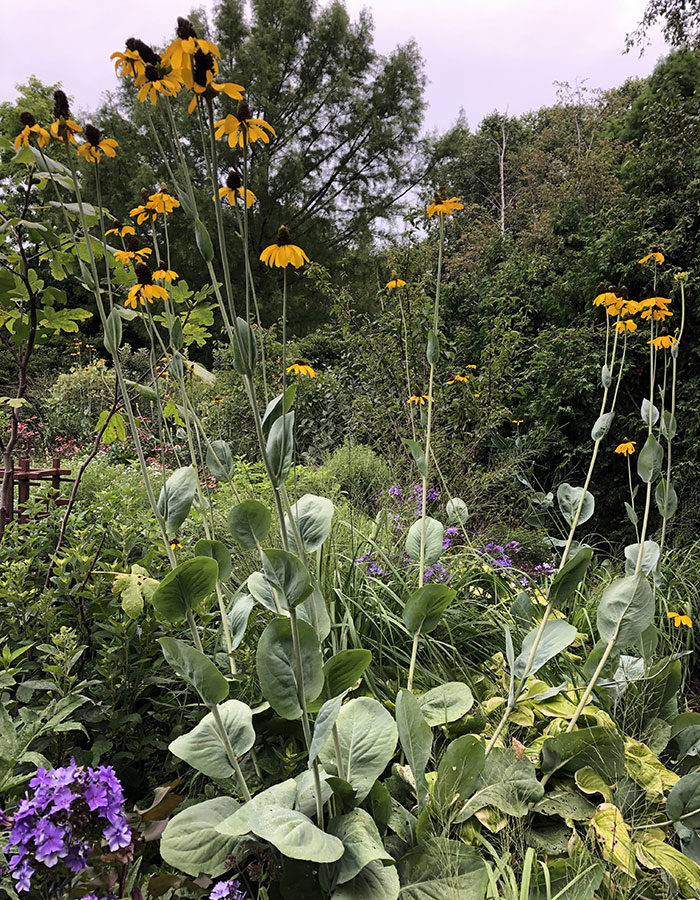 Including native plants like these enhances your garden's value in the ecosystem, and appreciating their garden-worthy attributes makes using these special natives a great way to celebrate the beauty of our natural flora.
—Erin Presley is a horticulturist at Olbrich Botanical Gardens in Madison, Wisconsin.