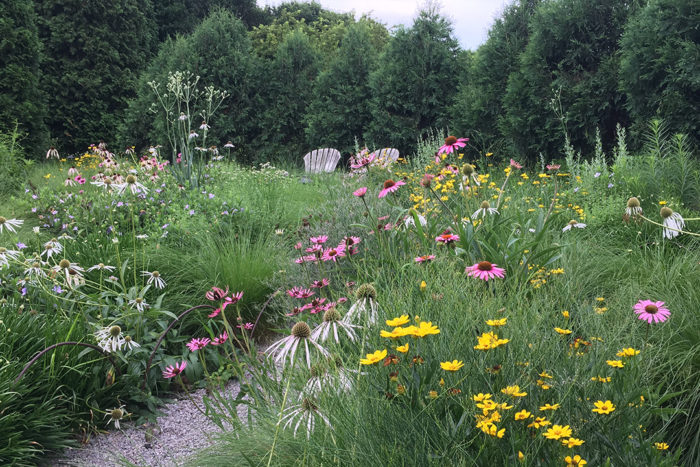 There's nothing like a good symposium with a group of antsy gardeners to provide motivation and inspiration for the upcoming gardening season. The University of Wisconsin's Allen Centennial Gardens recently hosted its spring Resilient Landscape Symposium, challenging attendees with big ideas and achievable goals.
What is a resilient garden?
Basically, this is a philosophy that helps inform a garden's design and maintenance and is steered by an awareness of how gardens interact with, and can contribute positively to, the larger ecosystem. For example, gardens with a diversity of plants flowering through all the seasons can provide critical resources for native pollinators that may struggle to survive even in rural, agriculturally dominated landscapes. Healthy, urban green spaces host birds and the insects they need to maintain sustainable populations, while cooling cities, cleaning air, and even making us feel more relaxed. (Numerous studies link spending time in tree-filled areas with decreases in blood pressure and stress-related hormones.)
The idea is to encourage thoughtful garden practices, which can reduce erosion, capture and slowly release rainwater, reduce pesticide usage, and minimize resources needed for garden maintenance. As human pressure increases, the physical and functional boundaries between untouched "natural" areas and urban and suburban landscapes are increasingly undefined. The resilient landscape movement seeks to reveal how gardens can be not only beautiful and adaptable within themselves, but can support the health of regional ecosystems and human communities as well.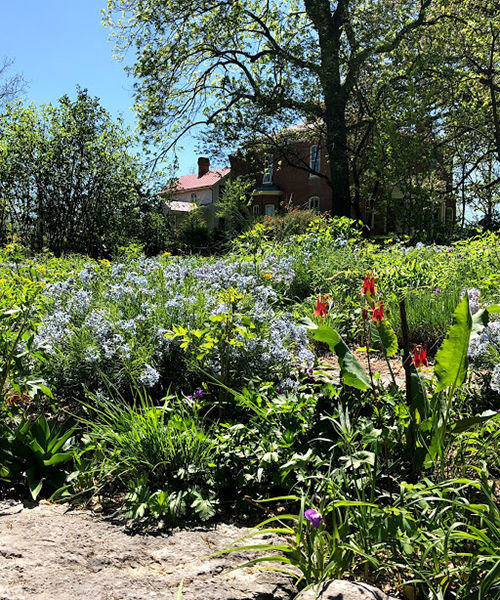 Impactful ideas were offered by local horticultural icons
Nebraska garden writer and designer Benjamin Vogt warmed up the crowd with a few corny jokes before applying concepts of deep ecology and Aldo Leopold's land ethic. Gardening in a way that does not cater only to human emotions and preferences, Vogt believes, acknowledges the inherent importance of all organisms and in turn opens us up to greater compassion: "If we can ask our gardens to be more, then maybe we can be more—maybe we can refocus who we are and become greater than we dreamed."
Midwestern plantsman Roy Diblik's motto "The beauty is in the doing" was reflected as he spoke about plant combinations, seasonal and long-term plant succession, and maintenance techniques to create low-maintenance, high-diversity gardens. Roy's commitment to making quality horticulture accessible and affordable is evident, with projects ranging from Chicago's Lurie Garden to municipally maintained boulevard plantings.
A garden's ability to touch a wide audience was also a theme expressed by Scott Stewart, executive director of the Millennium Park Foundation, and garden designer Austin Eischeid, who told of their efforts to elevate plantings in Chicago's Millennium Park to be as moving as the iconic spaces and art pieces within. A green respite not only for human visitors, Millennium Park's impressive tree cover provides habitat for a surprising number of bird species.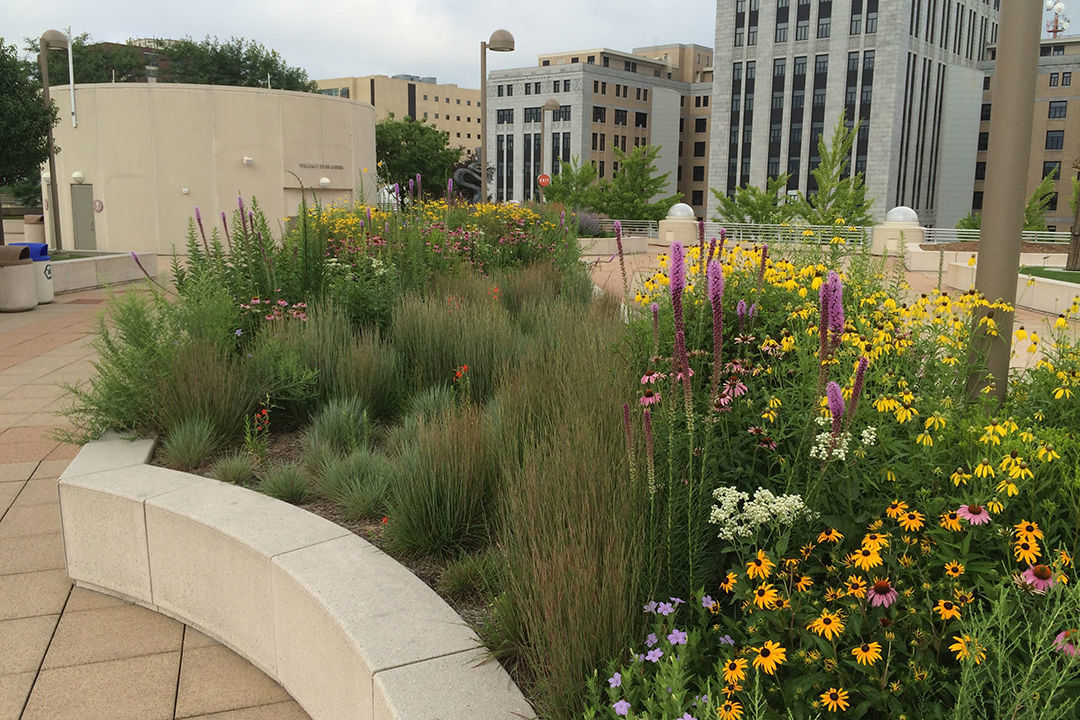 Attendees were also treated to 15-minute micro-talks from leaders in Madison's horticulture community. Jeff Epping of Olbrich Botanical Gardens spoke on his quest to eliminate the traditional lawn, and Tony Gómez-Phillips recounted his efforts to bring the spirit of Frank Lloyd Wright into prairie-inspired plantings at Monona Terrace, a lakeside convention center and rooftop garden designed by Wright. Arborist Briana Frank spoke on the state-of-the-art arboriculture techniques she's using to preserve and restore tree health with her business, Tree Health Management.
Attendees pledged to make a difference
Allen Centennial Gardens' director Ben Futa capped off the symposium with a surprise. Futa invited attendees to take a "Resilient Landscape Pledge," challenging them to take small, measurable actions promoting garden resiliency—simple things like installing a rain barrel, planting native plants, even voting. An online forum allows participants to share ideas and document their actions; a bonus is a discount off next year's symposium based on how many garden improvements individuals complete. More importantly, Allen Gardens will be able to identify the scope and impact these ideas are having in the Madison area. With 156 pledges and 667 proposed actions, we look forward to hearing about the results next year.
For further reading on resilient landscaping principles and ideas, check out these books:
Ben Vogt, A New Garden Ethic: Cultivating Defiant Compassion for an Uncertain Future
Roy Diblik, The Know Maintenance Perennial Garden
Piet Oudof and Rick Darke, Gardens of the High Line
Rick Darke and Douglas W. Tallamy, Bringing Nature Home: How You Can Sustain Wildlife with Native Plants and The Living Landscape: Designing for Beauty and Biodiversity in the Home Garden
Erin Presley is a horticulturist at Olbrich Botanical Gardens in Madison, Wisconsin.