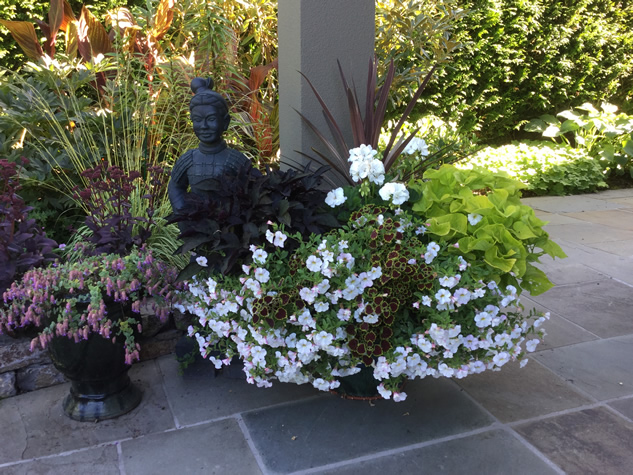 When Joan Stogryn-Galloway bought her home she found a perfect stage for her love of gardening and travel memories!
"When we bought our house in late winter 5 years ago we fell in love with the "bones" of the garden, the hardscaping and the trees. When we moved in that summer we discovered that the shrubs had all been sheared into twiggy balls and the beds were solid with cedar roots and covered with invasive ivy, horsetail, ostrich ferns and periwinkle. After a lot of digging, pulling, amending and planting the garden has been transformed. 
The shady areas are lit up with chartreuse tones from the Hakonecloa grasses and  yellow toned hostas. I've used purple leaved foliage to set off the chartreuse tones and fired it up with lots of hot colors for the summer sun beds and then cooling white in the patio containers. The trickling waterfall from the stream into the pond helps to cool off hot afternoons and create a relaxing mood. We've also added art objects, some from our travels – a Terracotta warrior from China and a large mask from Belize."
Please keep sending in photos (and stories)! Whether you've never shared before or you've been featured multiple times, we want to see your garden! Email a few photos and the story behind your garden to [email protected].
Do you receive the GPOD by email yet? Sign up here!