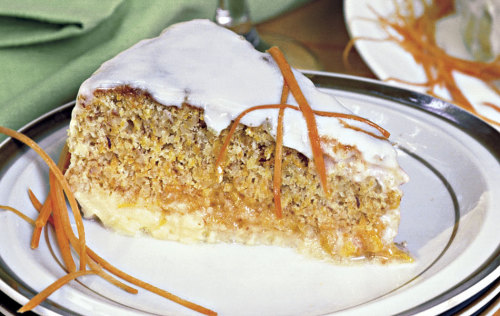 Ingredients:
5 eggs, separated
1 cup sugar
1/3 cup lemon juice
2 Tbs. minced lemon zest
2 cups finely grated carrots
1 cup ground almonds
1/4 cup kirsch
1/2 cup cornmeal or corn flour
1/4 tsp. baking powder
1/4 tsp. cinnamon
1/8 tsp. ground cloves
Glaze and icing:
1/3 cup apricot jelly
1/2 cup confectioners' sugar
1 tsp. lemon juice
1 Tbs. cold water
1 tsp. heavy cream
8 servings
Preheat the oven to 350°F. Butter and flour an 11-inch springform pan and set it aside. In a large bowl, beat together the egg yolks, sugar, lemon juice, and lemon zest until the mixture quadruples in volume and falls in a thick ribbon from the beaters.
In a medium bowl, mix the grated carrots and ground almonds, and fold into the egg-yolk mixture. Add the kirsch to the egg-yolk mixture.
In a small bowl, combine the dry ingredients, then fold them into the egg-yolk mixture.
In another large bowl, whisk the egg whites until they form soft peaks. Carefully fold the egg yolk mixture into the egg whites—pour the yolk mixture against the side of the bowl so the egg white foam does not collapse.
Pour the batter into the prepared springform pan, and bake for 1 hour, or until a wooden toothpick inserted into the middle comes out clean. Allow the cake to cool slightly in the pan, until it pulls away from the sides.
In the meantime, heat the apricot jelly in a small saucepan and keep it warm. To make the icing, combine the confectioners' sugar, lemon juice, water, and heavy cream in a small bowl, and mix until smooth. The icing should be thick enough to lightly coat a spoon.
While it's still warm, remove the cake from the pan, brush it with apricot jelly, and spread on a thin coating of icing.
Recipe by William E. Brown
December 1999
from issue #24