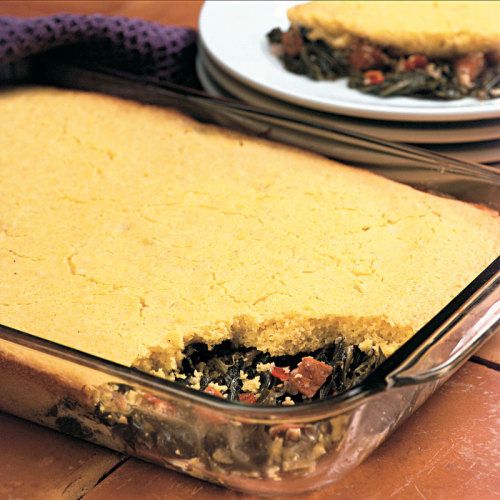 Ingredients:
1/4 cup peanut oil
1/2 lb. andouille sausage (or Italian sausage or Portuguese linguiça), quartered lengthwise then cut into 1/4-inch pieces crosswise
1 cup sweet onion, diced small
1/2 cup red bell pepper, seeded and diced small
1/2 cup green bell pepper, seeded and diced small
1/2 cup celery, diced small
1/4 cup chopped garlic (about 7 cloves)
1 tsp. crushed red pepper flakes (optional)
3-1/2 lb. young collards, cleaned, stemmed, and cut crosswise into 1-inch pieces
3-1/2 cups homemade chicken stock (or low-sodium canned) or water
Cider vinegar
Salt and black pepper
Hot pepper sauce
Buttermilk cornbread:
1 cup stoneground yellow cornmeal
3/4 tsp. salt
1 tsp. sugar
1/8 tsp. baking soda
11/2 tsp. baking powder
2 eggs
1 cup buttermilk
1 Tbs. melted butter
1 Tbs. melted bacon fat or an additional 1 Tbs. melted butter
10 servings
In a heavy-bottomed, 4-quart pot heat the oil over medium heat. Add the sausage and cook over medium-low heat until browned. Remove the sausage to drain, leaving the fat in the pot.
Add the onions, peppers, and celery to the pot. Cook over medium heat until softened and lightly colored. Add the garlic and pepper flakes and cook for 1 more minute. Add the collards in 2 to 3 cup increments and stir to wilt. Continue adding collards until all are wilted. Add the chicken stock and bring to a simmer. Cook over low heat, adding additional stock or water if necessary, until the collards are tender.
Season the collards to taste with vinegar, salt, pepper, and hot pepper sauce if desired. Be cautious with the pepper and pepper sauce if the andouille sausage is especially spicy. Stir in the reserved sausage and transfer the mixture to a shallow 9×13-inch casserole dish.
Preheat the oven to 350°F. In a large bowl, combine the cornmeal, salt, sugar, baking soda, and baking powder.
In a second bowl, whisk the eggs, then whisk in the buttermilk, melted butter, and melted bacon fat.
Fold the egg mixture into the cornmeal mixture until well combined. Spread the cornmeal mix on the surface of the greens until the casserole is covered to the edges.
Bake until the cornbread is set and a toothpick inserted into it withdraws clean, approximately 30 minutes. Cool slightly before serving.
Recipe by Ben Barker
February 2001
from issue #31