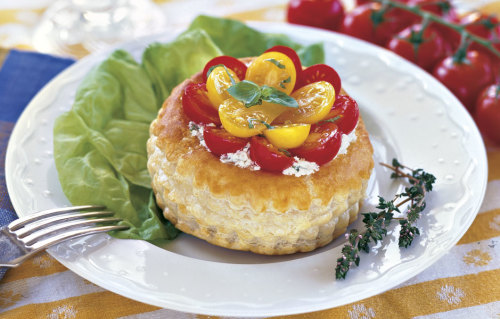 Ingredients:
1 lb. frozen puff pastry
1 egg yolk
4 oz. soft goat cheese
2 Tbs. heavy cream
1 tsp. chopped herbs (thyme, rosemary, parsley, tarragon)
1 small garlic clove, minced
Salt and pepper
1 pint currant tomatoes
3 Tbs. olive oil
4 large or 6 small basil leaves
4 servings
This attractive and zesty summer tart recalls tempting puff-pastry and raspberry tartlets in the windows of Parisian bakeries. By substituting creamed goat cheese for pastry cream and currant tomatoes for raspberries, you can turn this French tea-time treat into a savory summer lunch. If you don't have currant tomatoes, you can substitute any cherry tomatoes.
Defrost the pastry. Preheat the oven to 375°F. Using a 5-inch tartlet pan with a removable bottom, cut 8 rounds by pressing the inverted pan into the pastry. Flip the pan over and center it on top of a round. Using a sharp knife, trace the inner circle of the pan into the dough. Remove the center; you'll be left with a ring. Do this with three other rounds; you will then have four large rounds and four matching rings.
Place the rounds on a sheet pan and brush them with egg yolk. Place the rings on top of the circles and brush them with the yolk. With the tines of a fork, poke holes in the rounds (but not the rings). This will prevent them from rising too much during baking. Place rounds and rings in the freezer for 10 minutes. Then bake until the pastry is a rich, golden brown, about 25 minutes. If the rounds rise too much during baking, gently push their centers down with the back of a spoon. Cool on racks and set aside.
In the meantime, cream the goat cheese with the heavy cream, the herbs, and the garlic. Season with salt and pepper. With a pastry bag, or gently with a spoon, fill the tart shells with a 1⁄4-inch layer of cheese. Arrange the currant tomatoes in concentric rings on top of the cheese, and brush with olive oil to bring out a shine. Cut the basil leaves into slivers and use as garnish.
Recipe by John Krinsky
August 1999
from issue #22