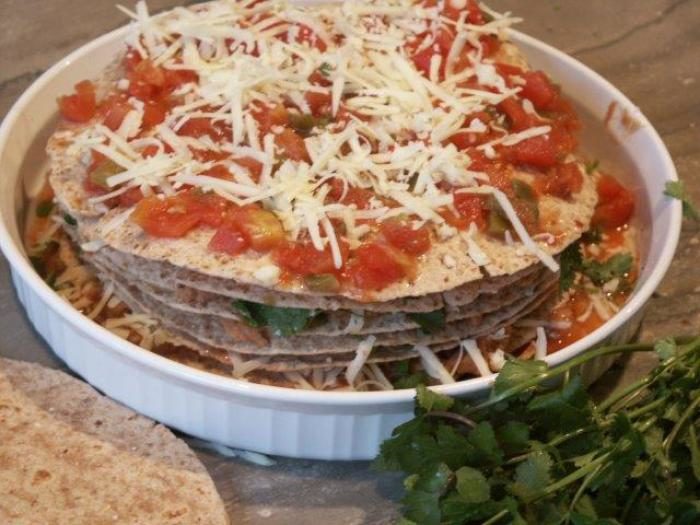 Having been a vegetarian for over 40 years, I have a large repertoire of recipes featuring legumes: beans, lentils, split peas, chickpeas, etc. I have written a number of recipes using them in various blogs over the years. Here is an unpublished favorite recipe for Tortilla Pie and links to seven recipes with pulses.
 Not-Exactly-a-Recipe for Quick and Tasty Tortilla Pie
Exact proportions don't really matter in this recipe. I have never made this the same way twice, yet it is always well received. Even if they are on the run or otherwise occupied, this pie generally brings my family to the table. We love black beans, however, pintos are equally tasty in this dish; if I have leftover brown rice I add that in a layer. I can put this together in about 10 minutes and it takes 25 to 30 minutes to bake. If there are leftovers, whoever gets up first generally has it for breakfast.
Serves 4 to 6
About 8 whole-wheat tortillas (8 to 9-inch size), warmed
About 3 cups cooked or canned black or pinto beans, whole or refried cooked with some garlic or add a few pressed or minced cloves, along with other seasonings; heated
About 1 cup chopped onion or green onions
2 to 3 cups grated cheddar cheese
About 2 cups of enchilada sauce or hot salsa
About 1 cup fresh cilantro leaves, washed and dried
Have all of your ingredients ready. If you have cooked your beans from dried you probably have seasoned them with garlic, chiles and cumin, perhaps oregano or epazote; if they are canned, put them in a strainer and rinse them; transfer them to a pan and heat them with some of the aforementioned seasonings. Refried beans work well since they spread easily and don't fall off the layers; if using whole beans, mash about half of them (a potato masher works well for this) and leave some whole for texture. Chop onions and grate cheese. If using enchilada sauce, heat it; salsa should not be cold but at room temperature.
Preheat the oven to 375º F and oil a pie plate or round casserole. Begin by placing a spoonful of sauce/salsa in the bottom of the plate and place a tortilla on top. Spread the tortilla with about 3/4 cup of beans and sprinkle lightly with cheese. Place another tortilla on top and spoon some sauce/salsa (about 1/2 cup or so) on it to cover and sprinkle it with cheese, scattering a few onions and cilantro leaves overall. Add another tortilla and alternate with the bean and sauce/salsa layers until you have used up all of your ingredients. (Sometimes you have more beans or more sauce/salsa-the next to the last layer can be a repeat or just use up what is left-no one will notice-you may not use all of the tortillas.) Save some sauce/salsa and cheese for the top layer.
Bake for 25 to 30 minutes until bubbling and heated throughout and golden brown on top. Remove from oven and garnish with some chopped onion and cilantro leaves. Cut into 8 wedges and serve hot.
lentil-and-greens-soup
/item/11769/lentil-and-greens-soup
country-pea-soup-with-rosemary
/item/8030/country-pea-soup-with-rosemary
pasta-e-fagioli
/item/7927/pasta-e-fagioli
quick-and-easy-white-bean-salad-with-savory
/item/61488/quick-and-easy-white-bean-salad-with-savory
pinto-beans-with-savory
/item/60659/pinto-beans-with-savory
lima-beans-with-tarragon
/item/14707/lima-beans-with-tarragon
stuffed-cabbage-rolls
/item/12967/stuffed-cabbage-rolls