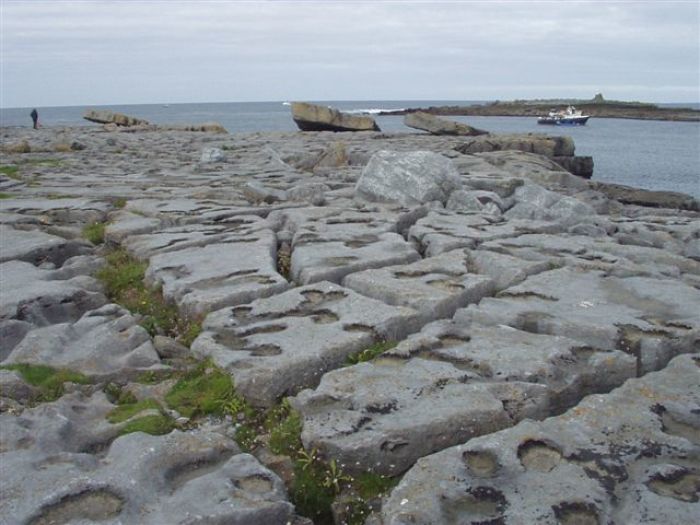 The Burren is a land of fascinating rocks and plants; an astounding vast stretch of limestone rock covering a large area on and near the western coast of Ireland, where one can find over 700 types of plants.
I had read about the Burren before I went to Ireland, however nothing really prepares you for the actual being there and seeing the geology, land formations, endless rock, and amazing flora that survives there.
Burren derives from the Irish word boireann which means a rocky place or big rock. The word is used as a common name for anyplace in Ireland where there are lots of limestone rocks. As green as we think Ireland is (and believe me it is green!) there is an equal amount of rock.
The general area (not exact—just to give you an idea) where "The Burren" is located is on the central west coast of the island facing the Atlantic Ocean; going north to Galway Bay; south about to Ennis, not quite to Shannon; and to the east it meets the Gort lowlands. I found that the Aran Islands, specifically Inishmore, where we stayed overnight, has the same limestone rock formations and plants as that of the mainland Burren.
Sea vegetation grows in the tidal pools (left) and rocky outcroppings of The Burren.
Specifically, this rock was formed by glaciers (beginning some two million years ago), sliding across its surfaces; the most recent glaciation occurring about 14,000 years ago. These vast areas of limestone, with scraped-bare surfaces and both horizontal and vertical fractures, are the unique area that is known today as the Burren. Comprised primarily of limestone (calcium carbonate), it is hard and resistant to erosion, however it does dissolve (albeit slowly) in weak, acidic water like rain. This karst, which is a term for a landscape composed of soluble rocks formed by weather, is full of cracks, indentations and pools. They are eventually widened and deepened by the precipitation (which occurs approximately 260 days a year there). These cracks, faults, formations, etc. have names like grike, kaminitza, rillenkarren, rinnenkarren, scallops and slickenside. And in these cracks are the plants somehow take hold and grow, while the pans or pools hold water and sometimes, life forms.
Clefts in the limestone fill with scrubby plants.
The Burren goes right down to the sea and there are amazing tidepools and the plants there are a bit more windswept. Along the cliffs' edge, some of the rocks are covered with seaweed and barnacles and there are many cormorants and seagulls diving and fishing and floating. I spent hours looking at the limpets, sea vegetables, small fish and crabs, and tiny purple jellyfish that were less than an inch across.
Back on the mainland, we drove for hours through seemingly never-ending limestone landscapes, stopping to just look at the vistas, and of course to photograph them. The amount of plants that grow in the Burren are astounding, and the way in which they grow are like abstract paintings, sometimes running in lines vertically, diagonally and even perpendicular to one another. There is a unique mixture of wild plants from gentians that grow in the alps, typical temperate zone wild flowers, as well as ferns and orchids from southern climates. I was there for the autumn blooming plants and surely hope to return someday to see the Burren in spring bloom!
Back at home in the fall garden
Before I left home I was picking fat juicy tomatoes and harvesting basil and when I got back, the last of the summer-ripe tomatoes were sitting on the kitchen counter. As the days get shorter and the nights get cooler, the summer crops are coming to their end. Although I enjoy the fall weather, the turning inwards and the end of the full-scale summer gardening activity always makes me feel a bit melancholy. The tomato vines are drying up, however the bell peppers and chiles are still bearing a lot of fruit. If you have any green tomatoes left on the vine, be sure to harvest and bring them in before a frost.
We have been making lots of salsa and eating chiles in everything from eggs and sandwiches to beans, soups and stews. This is the time of year where our chile tolerance level is high and I jokingly say that we are running with the big dogs. Woohoo! I just bought a gallon of white wine vinegar so that I can pickle some peppers—green jalapenos, serranos and hot banana peppers—the extra-hot bright orange habaneros will be processed on their own. The oven has been going on low for days, drying the red mature chiles.
We've gathered the winter squash to store in the coldroom and I look forward to soups and oven roasted squash soon. I like using winter squash better than pumpkin for pies, cakes and muffins. I will give you a recipe or two for those soon.
I still have yet to get my last harvest of annual herbs cut and hung to dry and processed into aromatic pastes for the freezer. I have quite a bit of basil, lemon balm and lemon verbena, spearmint and peppermint that I need to gather soon. The greens and brassicas that I planted about five or six weeks ago are doing well and we are harvesting the leaves for soups and wilted greens.
An easy way to prepare greens
I'd like to share a recipe for a favorite and easy way to prepare greens, adding garden garlic and chiles too—this way we get to enjoy the last of our garden bounty in the same dish (not to mention packed full of vitamins and minerals)! My family likes their greens tossed with pasta; add a little freshly grated cheese and maybe sprinkle on a few pine nuts and you've got a great veggie main course.