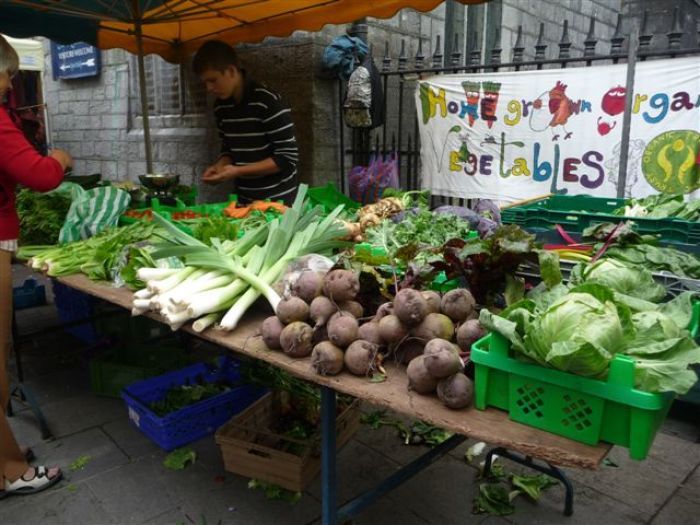 Happy autumnal equinox! Inspired by the cuisine of Ireland and that country's prodigious use of root vegetables, I am ready to start roasting them in the oven and making soups now that we have moved into the cooler weather of fall.
I've just returned from two weeks on the Emerald Isle, where I traveled about the southern half of Ireland with me mum and my two sisters. My maternal grandmother was a McCleary, the family supposedly coming from County Cork, and my mom always dreamed about the four of us going there together and so we finally did. It was a great trip and I could go on for quite a long time, however I am going to give you some of the highlights—mostly gardens, about the land and what it produces and the farmers markets and of course, what I ate. First off, I must tell you that the food was better than I expected.
We had grand weather for the entire two weeks and the natives told us they had had rain everyday for the past three months (must be why it is soooo very green there); so everyone was cheery about the sunshine. I packed raincoat, rain hat, umbrella, and bog boots and only used them once!
Apparently in southern Ireland, they don't have much of a winter—in fact they hardly get frost—so they can grow a vast number of plants year round. However with all of the rain, hot-weather plants like tomatoes, peppers, eggplants and squash do not fare well and are mostly grown in greenhouses. The brassicas and root vegetables, on the other hand, grow in leaps and bounds in the friable soil that they have when there aren't huge rocks (more about the burren in another blog—it is a huge fascinating subject). You can see a number of healthy root specimens amongst the photos here that I took in the farmers' markets.
| | | |
| --- | --- | --- |
| | | |
| Irish potatoes. | | Carrots are huge, succulent, and sweet. |
| | | |
We ate potatoes everyday in many forms. It is not uncommon to have mashed potatoes on your dinner plate and they still set a bowl of chips (what we call French fries) and/or baby new potatoes on the table to accompany. I actually saw people dump chips over their bowls of pasta! Potato chips on the other hand are called crisps.
Celeriac, also known as celery root, is used in soups and stews; it is also grated as a salad.
| | |
| --- | --- |
| | |
| | Giant parsnips. |
I loved the root vegetables that they served mashed, steamed, sautéed and pureed in soups. They combined huge, sweet orange and yellow carrots in their mashed potatoes for a stunning color and sweet flavor. Sometimes they added turnips or parsnips to the potato mash, and once I had rutabaga. I questioned our serving person if it was rutabaga and she looked at me like I was speaking another language. Come to find out, they don't use the word there, rather they call them "Swedes," or Swedish turnips. I talked to some of the farmers who were selling them at the market, and they had a big laugh over the word rutabaga. There was quite a lot of beetroot and celeriac (celery root) too.
| | | |
| --- | --- | --- |
| | | |
| Leeks are used in soups, stews, and potato dishes. | | Onions grow well in the friable Irish soil. |
| | | |
| | |
| --- | --- |
| | |
| | Cabbage, when cooked and added to mashed potatoes, is a favorite ingredient in colcannon. |
They also had good cole crops with lots of broccoli, cabbage, cauliflower, Swiss chard and kale. They used these steamed as vegetables and also in soup. Most restaurants had a vegetable soup of the day, and every one that I sampled was puréed. I found lovely alliums in the market—gorgeous leeks, onions, scallions and garlic—though they used these to flavor foods, I found them to generally be used in small amounts.
Mashed potatoes, and more
You might want to try my recipe for mashed potatoes with variations on how to make colcannon, champ and root vegetable mash.
Next installment, I'll tell you about all of the rocks and the burren and then the peat bogs. Oh, and of course my most favorite gardens!