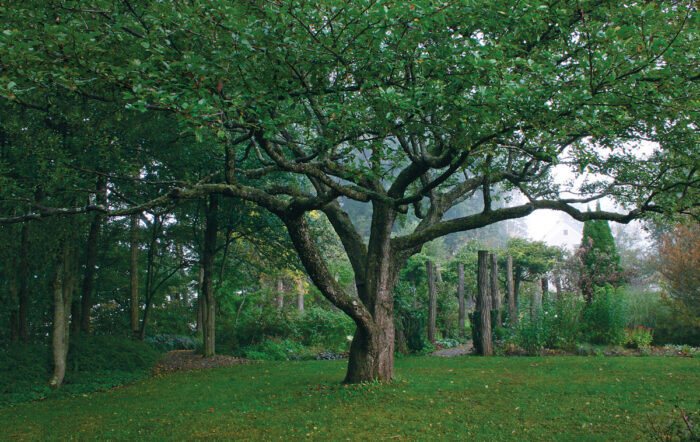 As a newcomer to our property, I spend untold hours gazing at our land; nearly all that I see are trees. Yes, there's a field leading down to a swimming pond, with a beaver pond beyond. But the old pastureland left behind by the rugged souls who eventually traveled west in search of richer soils and gold is now a mixed forest of oak, maple, pine, and hemlock. Ever the designer, I long to make my own small mark on this special place by planting even more trees in the garden. Yet how do I step into this dance with Mother Nature?
---
Learn more:
Favorite Small Trees for Yards of Any Size
Fast-Growing Trees for Impatient Gardeners
---
After all, planting a tree is one of the most audacious things a gardener can do. You are choosing the location of a prominent and long-lived plant, one that's not easily moved once established. Even a single tree can change the microclimate of your yard over a relatively short time, often determining the scale and growth conditions for other vegetation. In ancient cultures, trees were revered as symbols of immortality; indeed, each tree you plant may outlive you and even your offspring.
Most of us have only limited space for anything as large as a tree. So how do we choose what to plant and where? It pays to think about trees in relationship to one another and to the other plantings in a garden. A good place to start is to identify all existing trees. Sketch a site plan, and record the location of all special trees on your property. Then list all the trees you admire. Finally, review your inventory and your list of dream trees. Begin to think about how existing and future trees, whether individually or within groups, might enhance the mood and structure of your garden.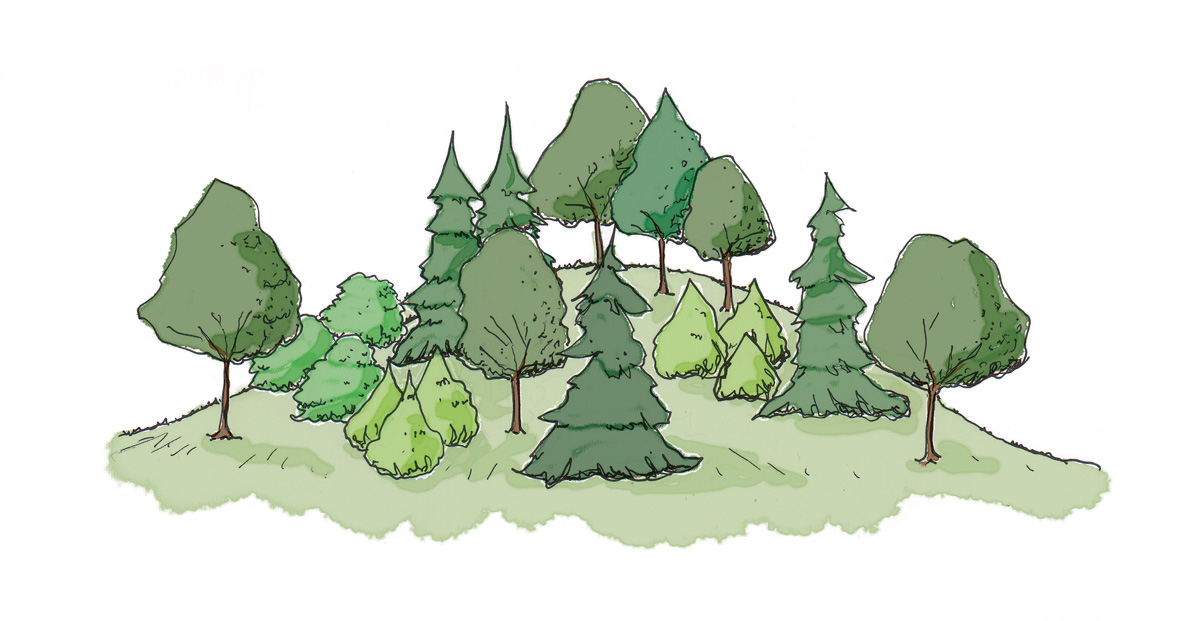 Feature a stand-out tree
Do you have what I call a "cosmic tree," one that stands out as a special icon? In design terms, such a tree is often called a specimen—an individual tree planted for its distinguishing ornamental or symbolic qualities (photo, above). On our land, we have one cosmic tree: a huge specimen oak that probably acted as shade for sheep that roamed here so many years ago. It stands alone, shading our house and supporting an old tire that serves as a swing.
A cosmic tree doesn't have to be large; the delicate dance of a well-pruned cutleaf Japanese maple (Acer palmatum var. dissectum, USDA Hardiness Zones 6–8) can pack as much punch as a towering copper beech (Fagus sylvatica f. purpurea, Zones 4–7). You can have more than one cosmic tree in a garden, but the trees should be placed so that each stands out.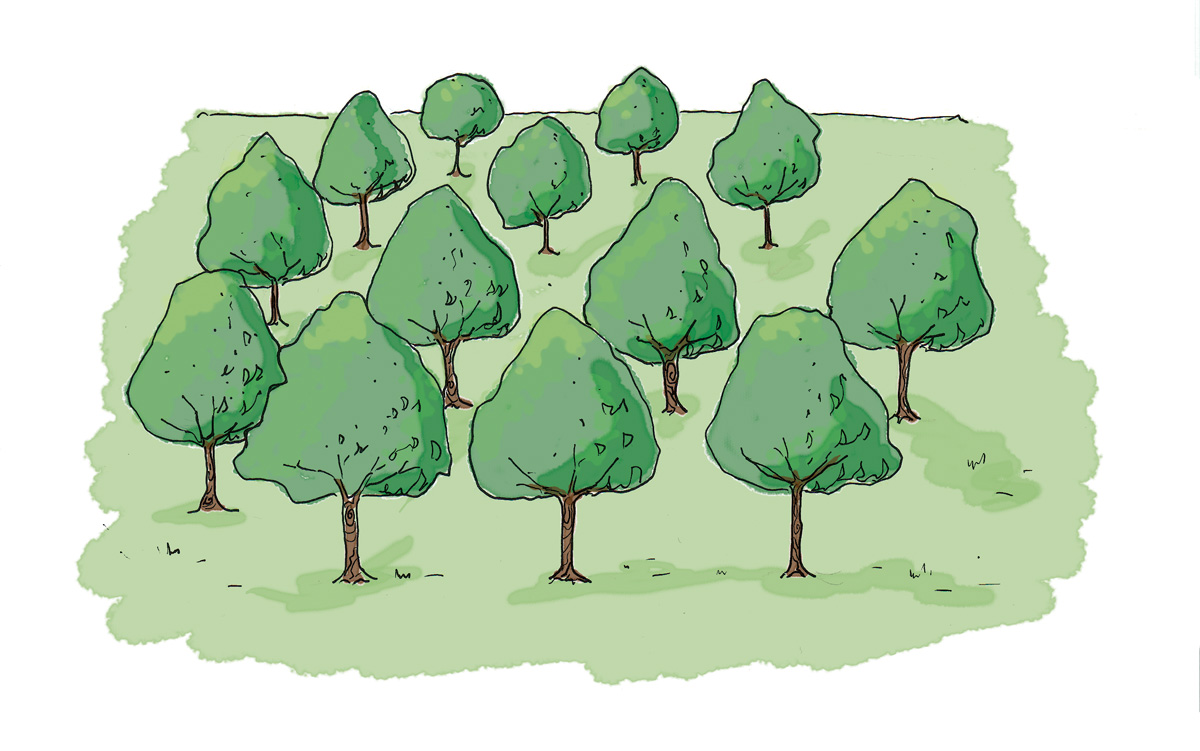 Echo the look of a grove
Beyond the placement of a single stand-out tree, trees in a garden setting are often clustered within some type of grouping. There are many ways to organize groups of trees, ranging from informal plantings to more formal arrangements.
First, let's look at how trees are usually clustered in natural or informal settings. Forests and groves are typically composed of three parts: a stand of trees that make up an expanse, paths that cut through this expanse, and clearings or glades that let in light and air. A bamboo grove, a rain-forest jungle, and a cathedral pine forest are all stands of trees of a single or mixed species.
When composed of many species, a grove feels natural, like the mixed woodland around our home. When I create perimeter plantings to give privacy to a home, I usually plant a mix of deciduous and coniferous trees and shrubs. This simulation of a natural grove encloses the property in a way that feels naturalistic and offers a range of textures, colors, and flowering times throughout the year (drawing, top).
If you have a wooded area on your property, it might feel like a wild thicket or just an amorphous shaded haven. With some thoughtful editing and the addition or emphasis of one or more specimen trees, a meandering path, and a clearing—however small in scale—you can re-create the feeling of a forest in your own backyard.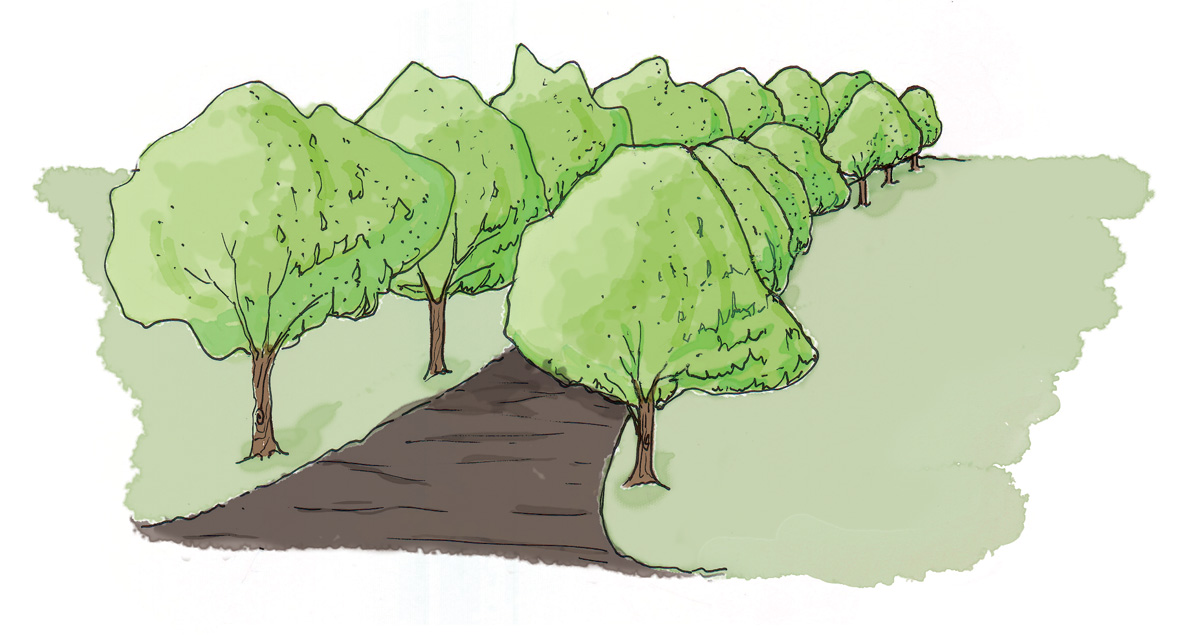 Create a sense of order
Ordered stands of trees are usually of one or a few species, such as an orchard or an Italian boschi—domesticated groves that are designed to fit the size constraints of a garden. Within a French bosquet, clipped hedges surround "green rooms," with openings cut into shapes such as circles, star patterns, and ellipses. Mazes, parterres, and formal garden rooms require a strict geometric pattern for planting the trees or shrubs that create a specific form. Along the perimeters of a path, an ordered grove of trees becomes an allée (drawing, bottom), an avenue, or even a tunnel.
Formal plantings usually look best when they are visually related to the geometry of a house; the lines of an orchard, for example, could be parallel or per­pendicular to the lines of your house. But sometimes it's fun to create a sudden surprise on your property— a "fairy circle" of trees planted in the back scruffy corner of your lot, for instance. Having something "perfect" within an imperfect setting creates a sense of dynamic tension.
This year, I'm planning to plant an allée of sugar maples along the length of our lane. I imagine our future grandchildren running playfully under the maples' towering canopy, marveling at the vivid colors of their leaves in the autumn light.
—Julie Moir Messervy is a garden designer, lecturer, and the author of The Inward Garden.