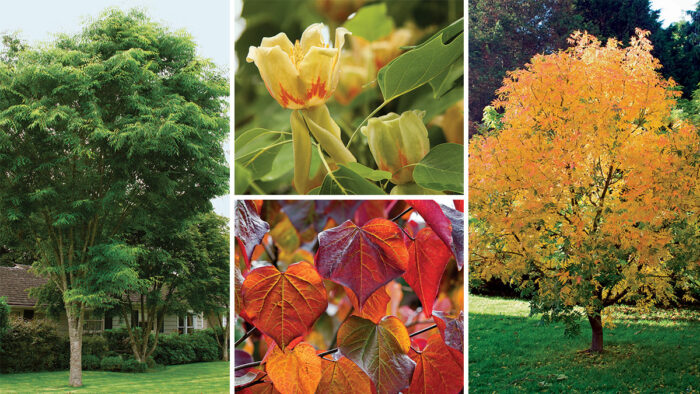 Trees provide benefits almost too numerous to count, helping to moderate climate, improve air quality, conserve water, and shelter wildlife—to name just a few. They shield our homes from harsh winds and blazing sunlight, easing our heating and cooling costs. Trees can provide privacy, emphasize beautiful views or screen undesirable ones, and complement architecture. But trees also inspire us and tug at our heartstrings. We form emo­tional bonds to trees, and we mourn the decline and death of magnificent old specimens.
Americans are undeniably an impatient bunch; we want large trees in our landscapes, but we want them now—or tomorrow, at the latest. Plus, our 21st-century population moves far more frequently than our forebears did, and it's understandable for us to want to plant a tree that we'll be able to enjoy within our lifetimes, not those of our grand­children. Fueled by that sense of urgency, many home owners head to the garden center with one goal in mind: to find the fastest-growing tree in the nursery and to get it in the ground now. But many fast-growing trees come with problems, like weak wood, numerous pests and diseases, invasive roots, or a short life span. There are, however, quite a few trees that strike a balance between health and speed. Knowing that there's no perfect tree, let's take a look at a few fast-growing varieties that won't break your heart down the road.
Subscribe to Fine Gardening magazine to learn more about trees. In fact, you'll find instruction and inspiration for gardeners of every skill level.
Japanese cedar creates a thick screen
USDA Hardiness Zones: 6 to 9
Size after 10 years: 16 to 20 feet tall from a 6-foot-tall sapling
Mature size: Up to 50 feet tall and 10 feet wide
This is the tree we should have been planting all these years instead of Leyland cypress (× Cupressocyparis leylandii and cvs., Zones 6–9). Japanese cedar grows rapidly and will reach an ultimate height of 30 to 50 feet, with a width up to 10 feet. Doesn't that make more sense in a home landscape than a towering Leyland cypress at 70 feet tall and 20 feet wide? Add to that the Japanese cedar's feathery foliage that develops a lovely purplish tint in cold weather, and you have a wonderful specimen or screening tree. While Leyland cypress is plagued by at least six serious pest and disease problems, not one single significant problem threatens Japanese cedar. As a bonus, Japanese cedar will tolerate partial shade, while the much-shorter-lived Leyland cypress prefers only full sun. The versatile, slender, pyramidal shape of Japanese cedar never needs pruning and provides strong winter interest.
Tulip poplar reaches for the sky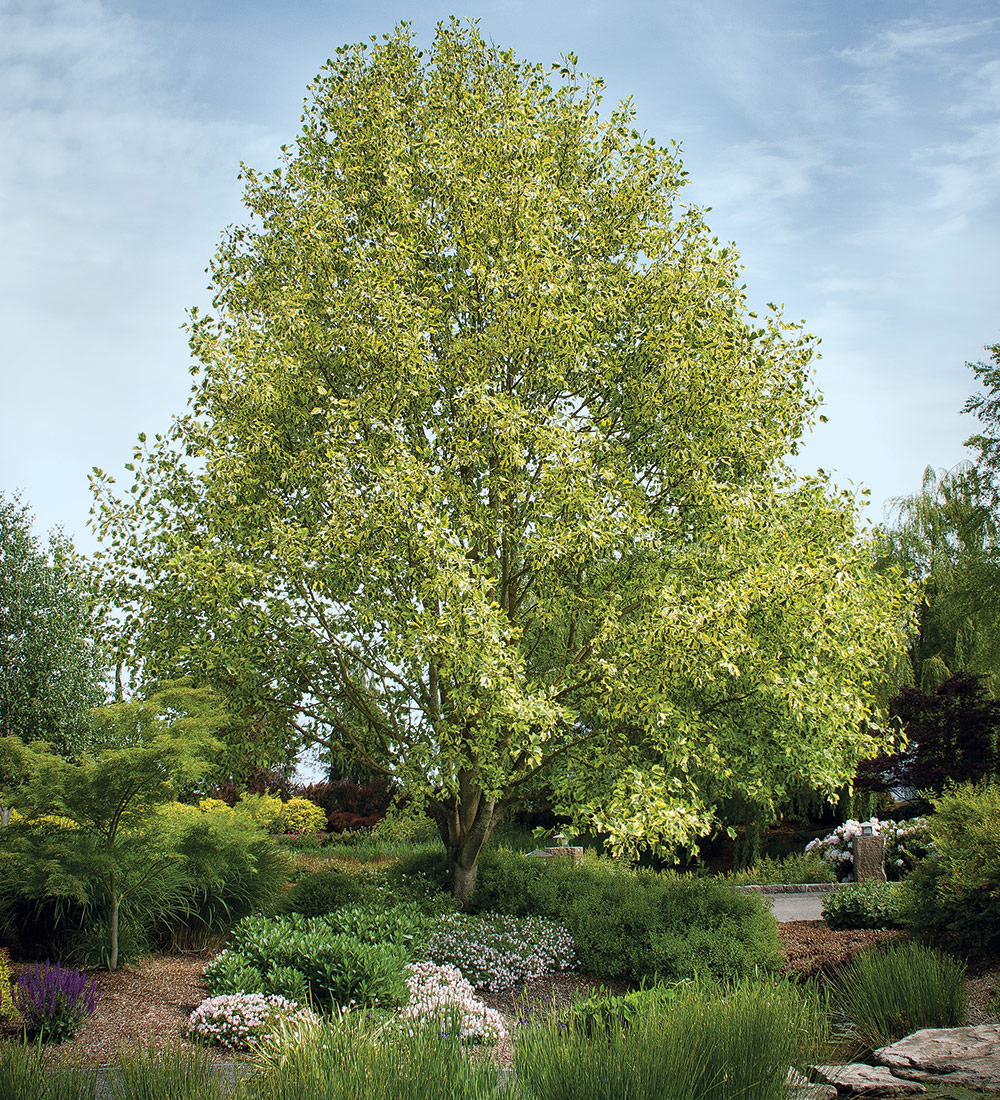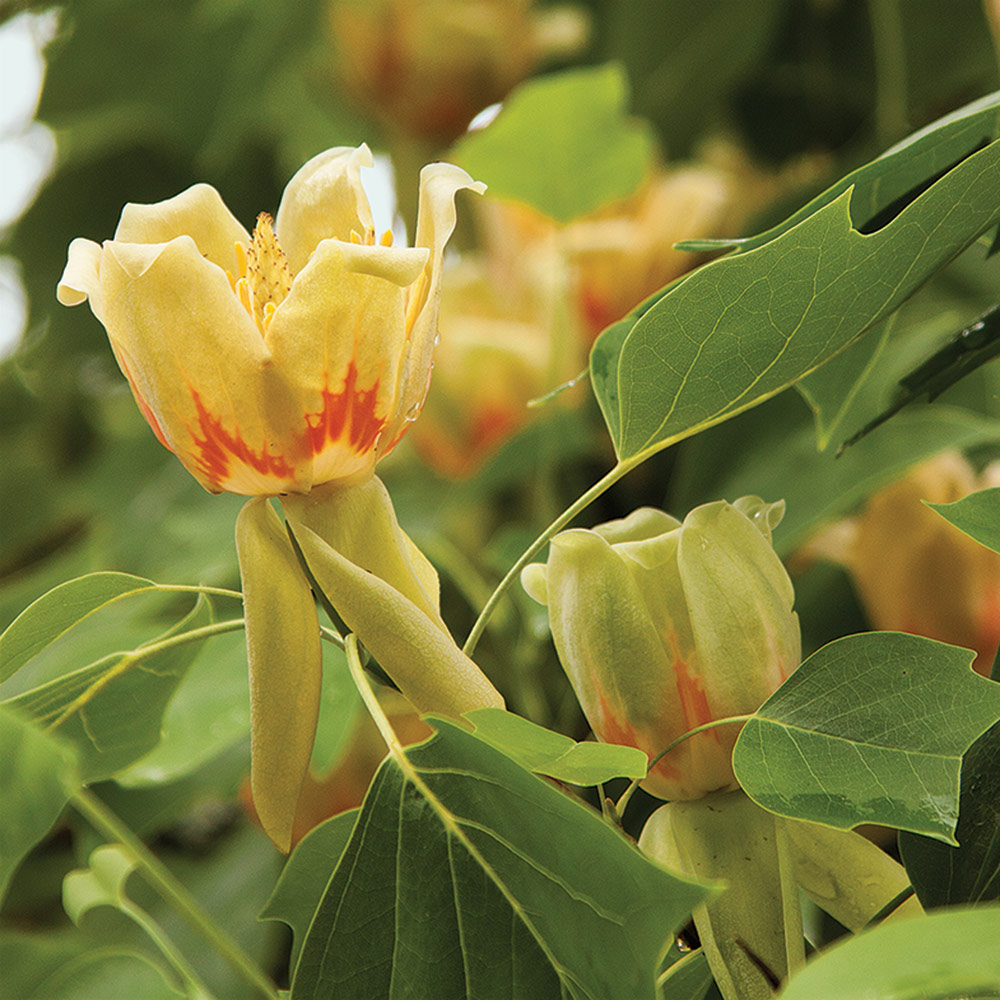 Liriodendron tulipifera and cvs.
Zones: 4 to 9
Size after 10 years: 25 feet tall from a 6-foot-tall sapling
Mature size: Up to 90 feet tall and 50 feet wide
My woodland is full of tulip poplars, and aside from a tendency for small branches to fall during high winds (you might want to plant yours where the branches will not extend over your roof), this tree is unbeatable. It grows quickly in full sun or partial shade—for the past 25 years, I've watched a seedling grow until I can no longer reach my arms around its trunk—and it resists deer and rabbit damage. The tree has inter­esting spring blooms, which you'll likely see only after they fall to the ground; has lovely yellow fall color; and is not plagued by insects or diseases. The leaves of the cultivar 'Aureomarginatum' are edged in broad bands of gold.
The adaptable black gum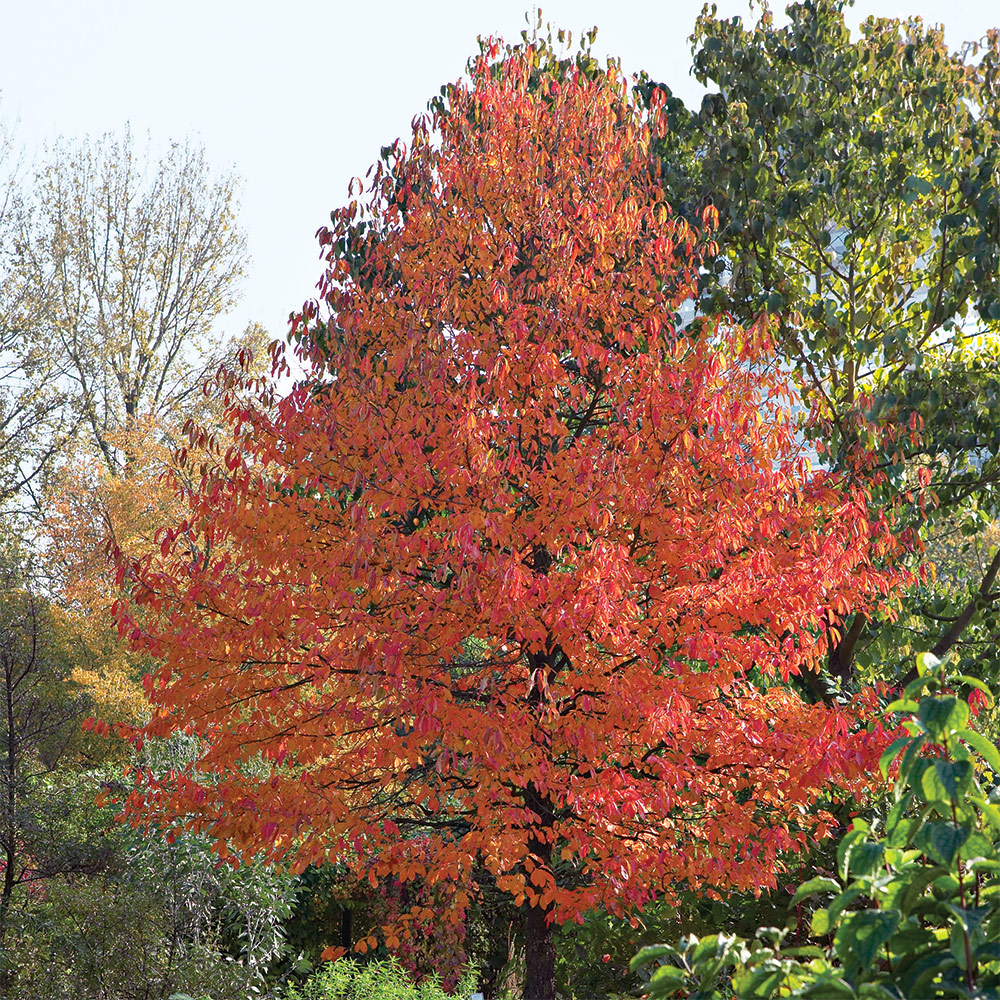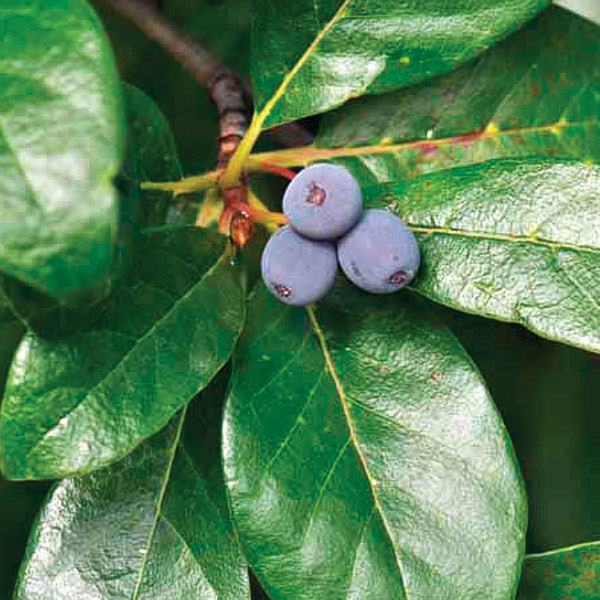 Nyssa sylvatica and cvs.
Zones: 4 to 9
Size after 10 years: 16 to 20 feet tall from a 6-foot-tall sapling
Mature size: Up to 50 feet tall and 30 feet wide
Black gum is a hugely adaptable tree: It will grow in standing water but is also at least marginally drought tolerant, and it will put up with more shade than many of the trees discussed here. Its long taproot makes transplanting problematic, and being dioecious, female trees require a male pollinator to set fruit. It's not as fast growing as some of the plants discussed here, but its branches' strong horizontal spread and their over­lapping leaf structure mean that you can enjoy shade from your black gum long before it approaches its mature size. Its flowers provide bees with nectar, its fruit is appealing to birds, and its spectacular purple-red-orange fall foliage is just one more thing to love about this great tree. In addition, black gum has no serious insect or disease problems.
Amur maple is a three-season stunner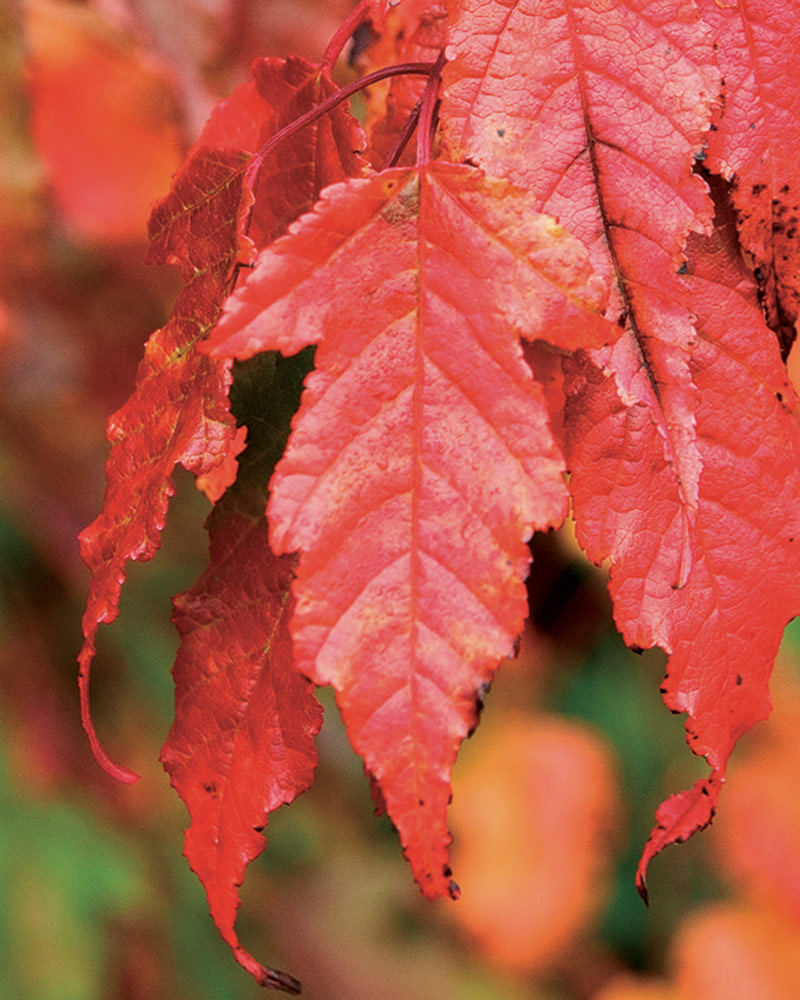 Acer tataricum subsp. ginnala* and cvs.
Zones: 3 to 7
Size after 10 years: 15 to 20 feet tall from a 6-foot-tall sapling
Mature size: Up to 20 feet tall and wide
If you're searching for a versatile, multistemmed tree that will look great in almost any setting—as a specimen planting, a screen, or an accent grouping in full sun or partial shade—you need look no further. Amur maple is a superb three-season plant, blessed with showy clusters of small yellowish flowers in spring; a lovely, leafy, rich green canopy in summer; and outstanding red fall color. While a number of pests and other problems can affect amur maple, none is a serious issue worth worrying about. If you like the shape and structure of crape myrtle, consider this lovely tree a wonderful alternative.
* Check invasive status in your region
Japanese zelkova ages gracefully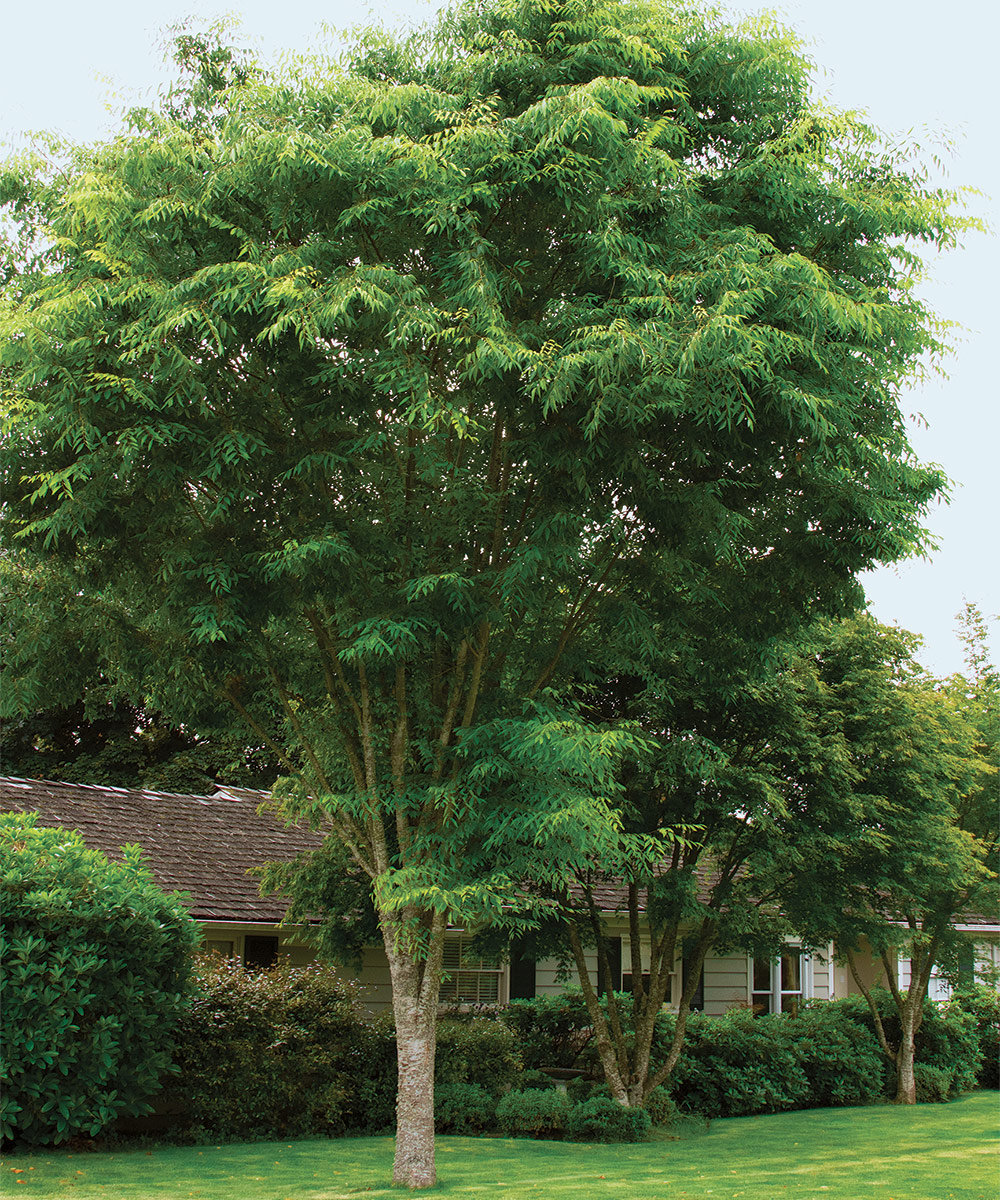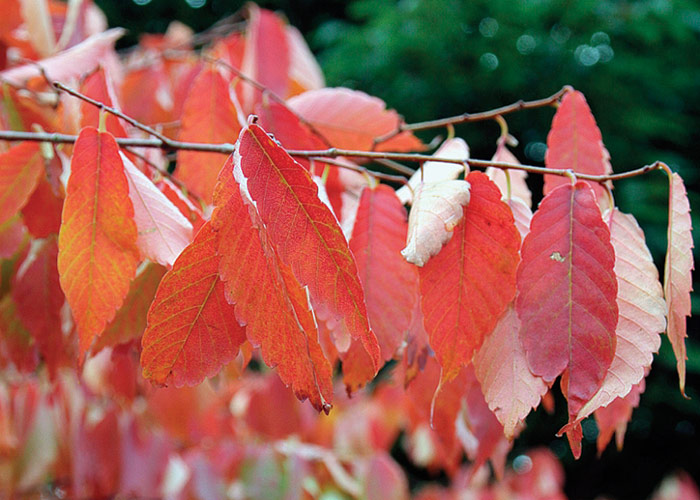 Zelkova serrata and cvs.
Zones: 5 to 9
Size after 10 years: 25 feet tall from a 6-foot-tall sapling
Mature size: Up to 80 feet tall and 50 feet wide
Japanese zelkova is characterized by its vase-shaped crown and upward-reaching branches. Because it's resistant to Dutch elm disease, this tree has been heavily promoted as a replacement for American elm (Ulmus americana, Zones 3–9). Japanese zelkova is not problem-free and is occasionally bothered by diseases. But those issues are balanced by its marvelous bark: Starting out gray, it exfoliates as the tree ages to a mottled orange-brown. Combine that with its beautiful fall-color display, and you have a great shade or lawn tree for full sun or partial shade.
Bald cypress will puzzle the neighbors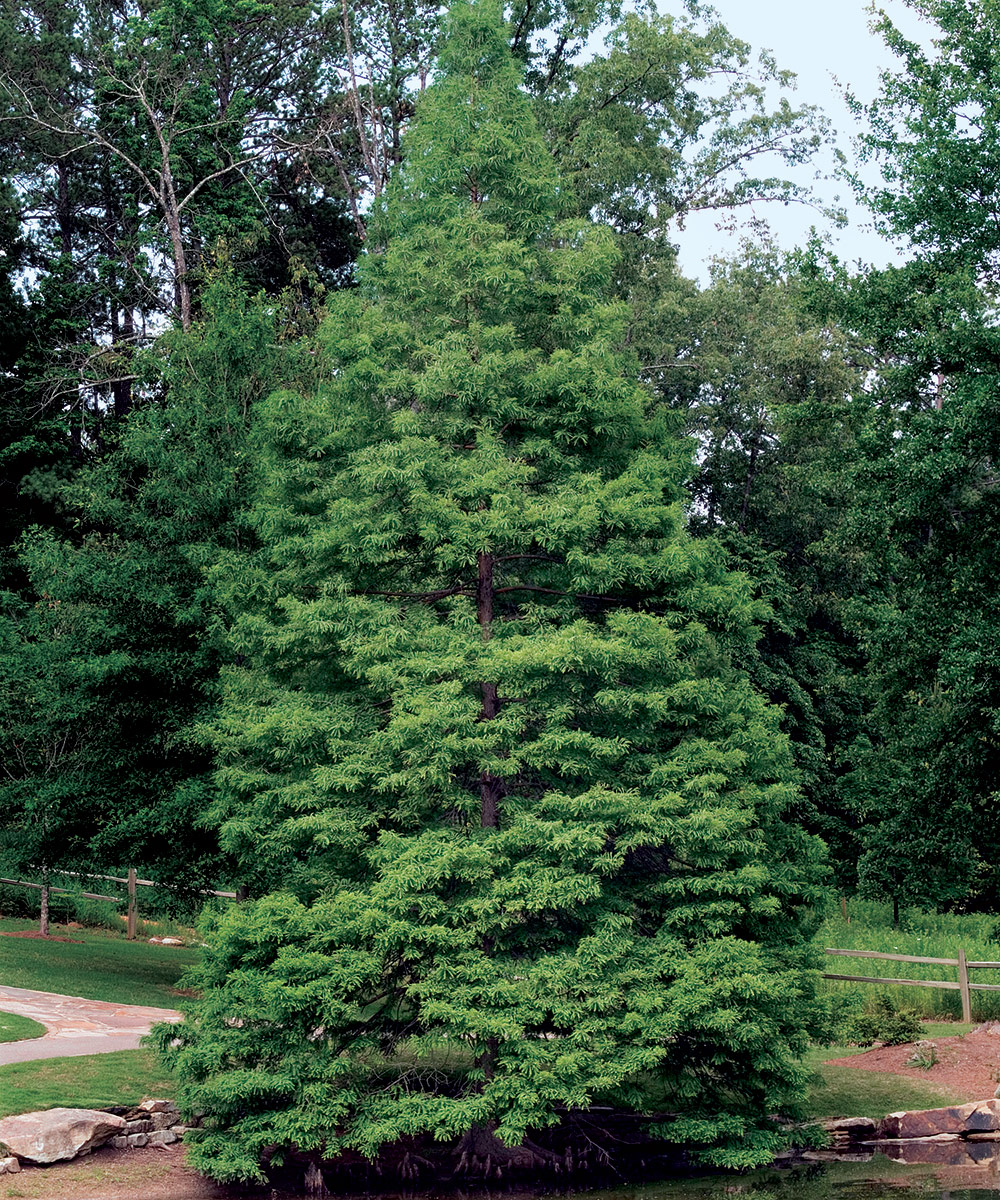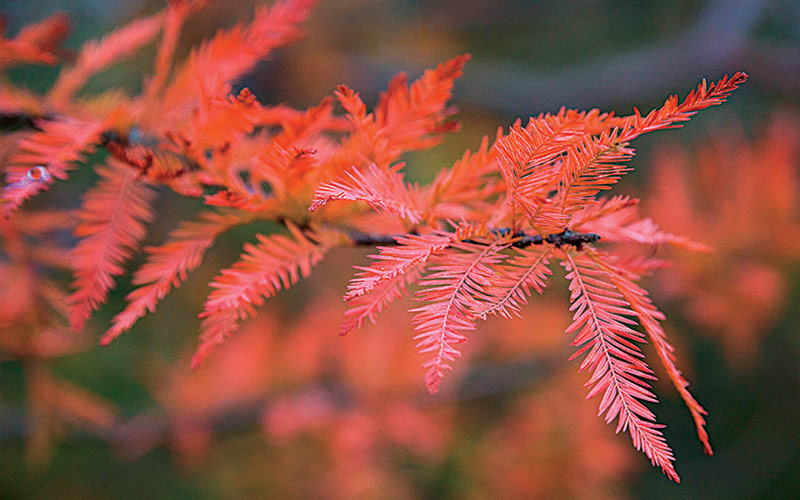 Taxodium distichum and cvs.
Zones: 5 to 11
Size after 10 years: 16 to 22 feet tall from a 6-foot-tall sapling
Mature size: Up to 70 feet tall and 45 feet wide
Bald cypress is commonly found growing in southern swamps, but it is perfect for a damp—even boggy—spot in your yard in partial to full shade. It's a long-lived deciduous conifer, graced with striking orange–cinnamon-colored fall foliage and showy fruit. Its only notable pests are bagworms, gall mites, and spider mites, and twig blight can occasionally be a problem. But this tree is, overall, undemanding and generally not fussy about soil types. Bald cypress is suitable for use in a rain garden, tolerates clay soil and air pollution, and resists deer damage. And, if nothing else, it will be amusing to hear from your concerned neighbors in fall that your "evergreen" is dying when it sheds its needles.
Littleleaf linden is tough and adaptable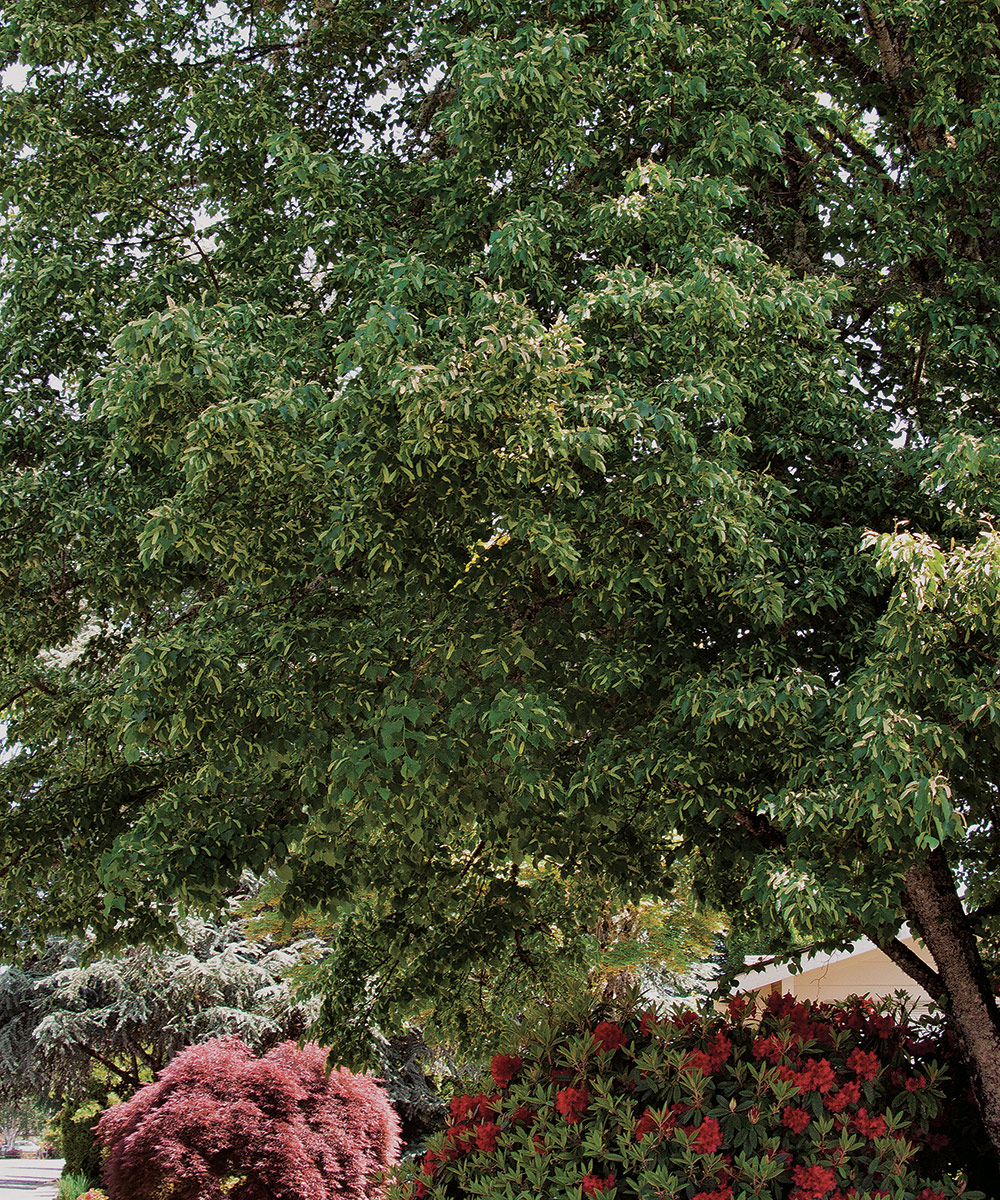 Tilia cordata and cvs.
Zones: 3 to 8
Size after 10 years: 18 to 22 feet tall from a 6-foot-tall sapling
Mature size: Up to 70 feet tall and 50 feet wide
Littleleaf linden is amazingly adaptable and can even be heavily pruned as a hedge or screen. If you love pollinators, this is the tree for you. When its fragrant, creamy yellow flowers are in bloom in huge quantities in June, it's an absolute bee magnet. Because of its tolerance for urban conditions, littleleaf linden is often seen in street plantings. It is appealing to a number of insects and may be bothered by powdery mildew, leaf spots, and canker, but none of these issues is usually serious. It's content in many soils and will grow well in full sun to partial shade.
Chinese pistache has many layers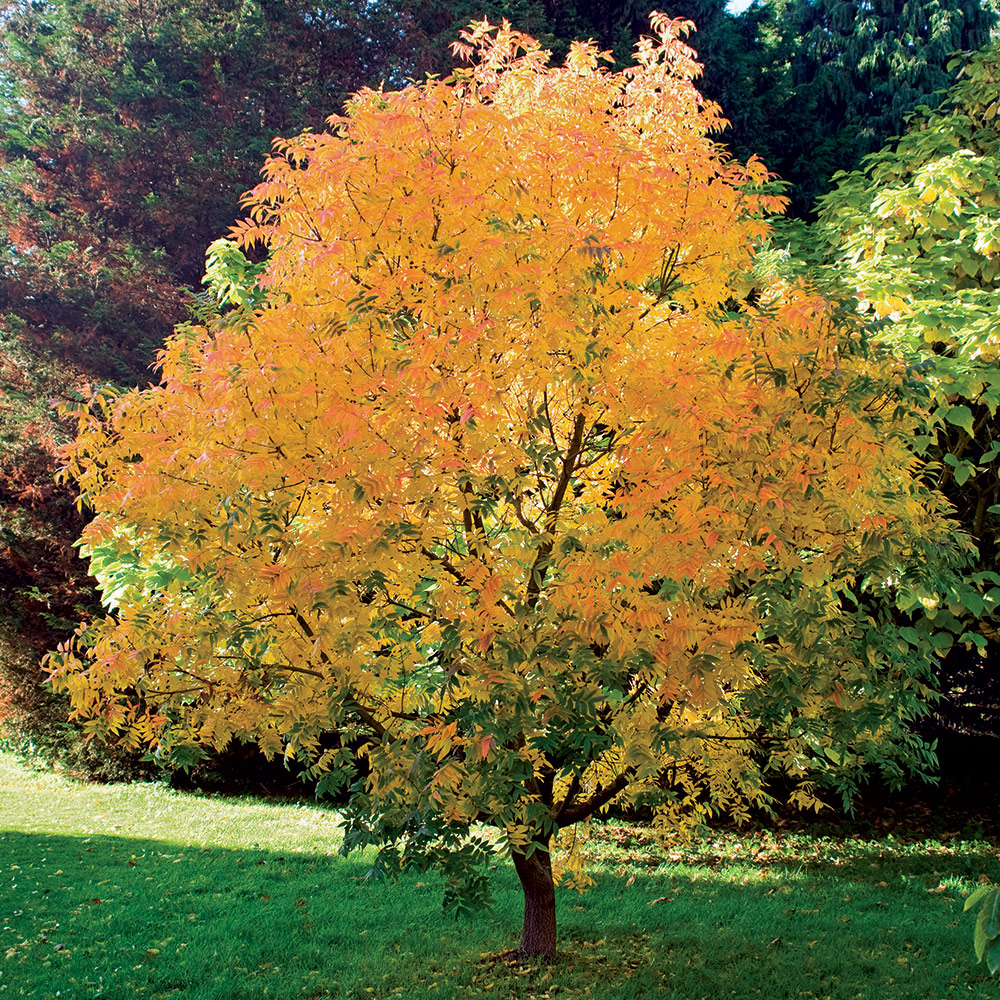 Pistachia chinensis and cvs.
Zones: 6 to 9
Size after 10 years: 16 to 20 feet tall from a 6-foot-tall sapling
Mature size: Up to 35 feet tall and 30 feet wide
Graced with an oval crown, the Chinese pistache prefers full sun and rich, well-drained, moist locations. In return, it will reward you with showy fruit and excellent fall color in shades of yellow, orange, and red. Most striking, perhaps, is the peeling gray-brown bark that reveals an inner layer of coral-colored bark. While this tree is somewhat susceptible to verticillium wilt, it has no other significant problems and would make a stunning specimen tree, well suited to the size of most suburban lots.
Redbud is an American classic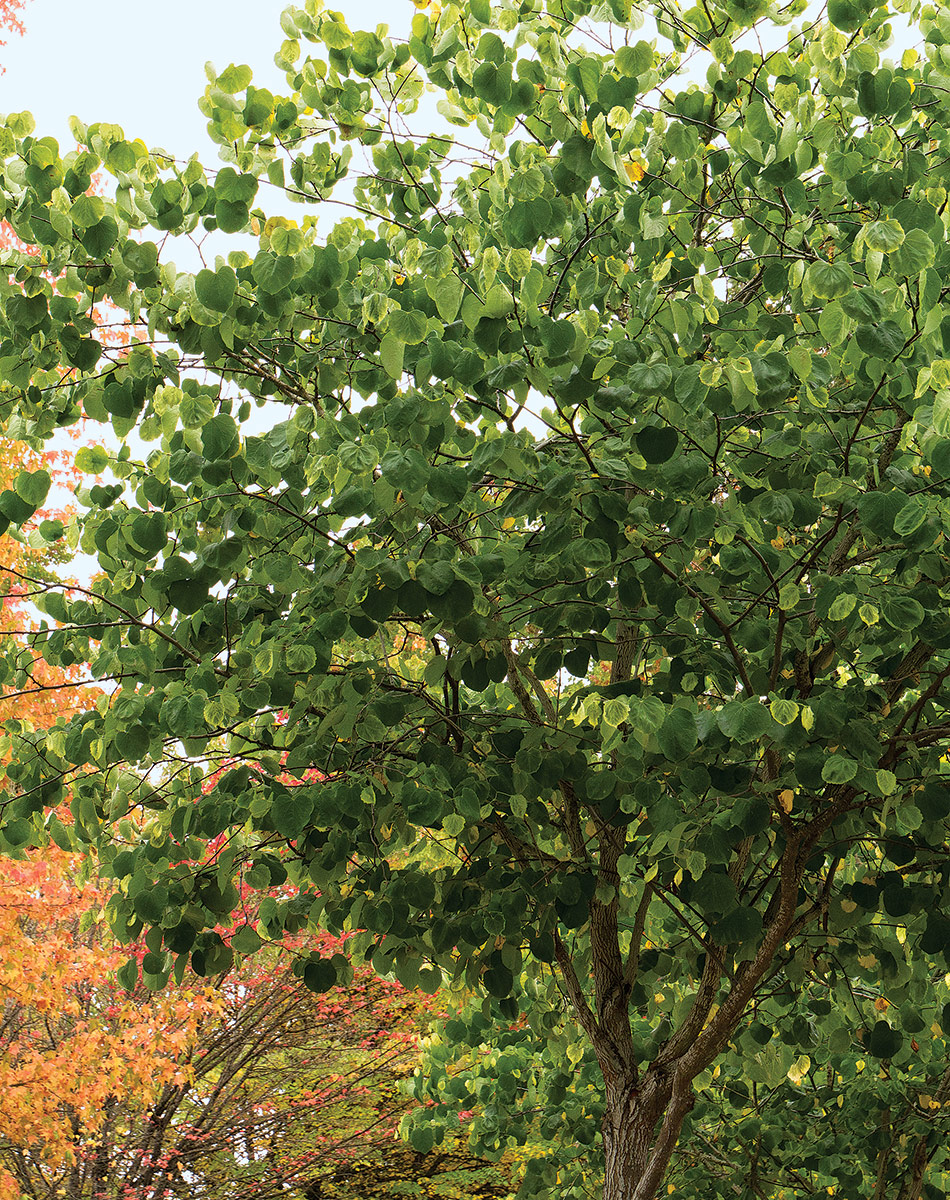 | | |
| --- | --- |
| Redbud foliage in fall. Photo: Christina Bollen/www.gapphotos.com | |
Cercis canadensis and cvs.
Zones: 4 to 9
Size after 10 years: 16 to 20 feet tall from a 6-foot-tall sapling
Mature size: Up to 30 feet tall and 35 feet wide
The rather flat-topped, broad crown of redbud comes alive in early spring, before leaves appear, with brilliant magenta flowers flush against the branches, followed by large heart-shaped leaves that go on to display terrific fall color in shades of yellow, orange, red, and purple. The variety 'Forest Pansy' is a beauty with dark purple leaves, and there are scads of great new redbuds, like the self-described 'Hearts of Gold' and a number of weeping forms. Redbud is happy in full sun but will also nestle into the shaded edges of wooded areas quite happily, and it isn't too fussy about soil or water. A few insects are attracted to this tree, and it can be prone to cankers. But you can avoid a lot of these problems by pruning out dead branches to keep the plant healthy and by fertilizing if a soil test indicates the need.
'Rotundiloba' sweetgum won't hurt your feet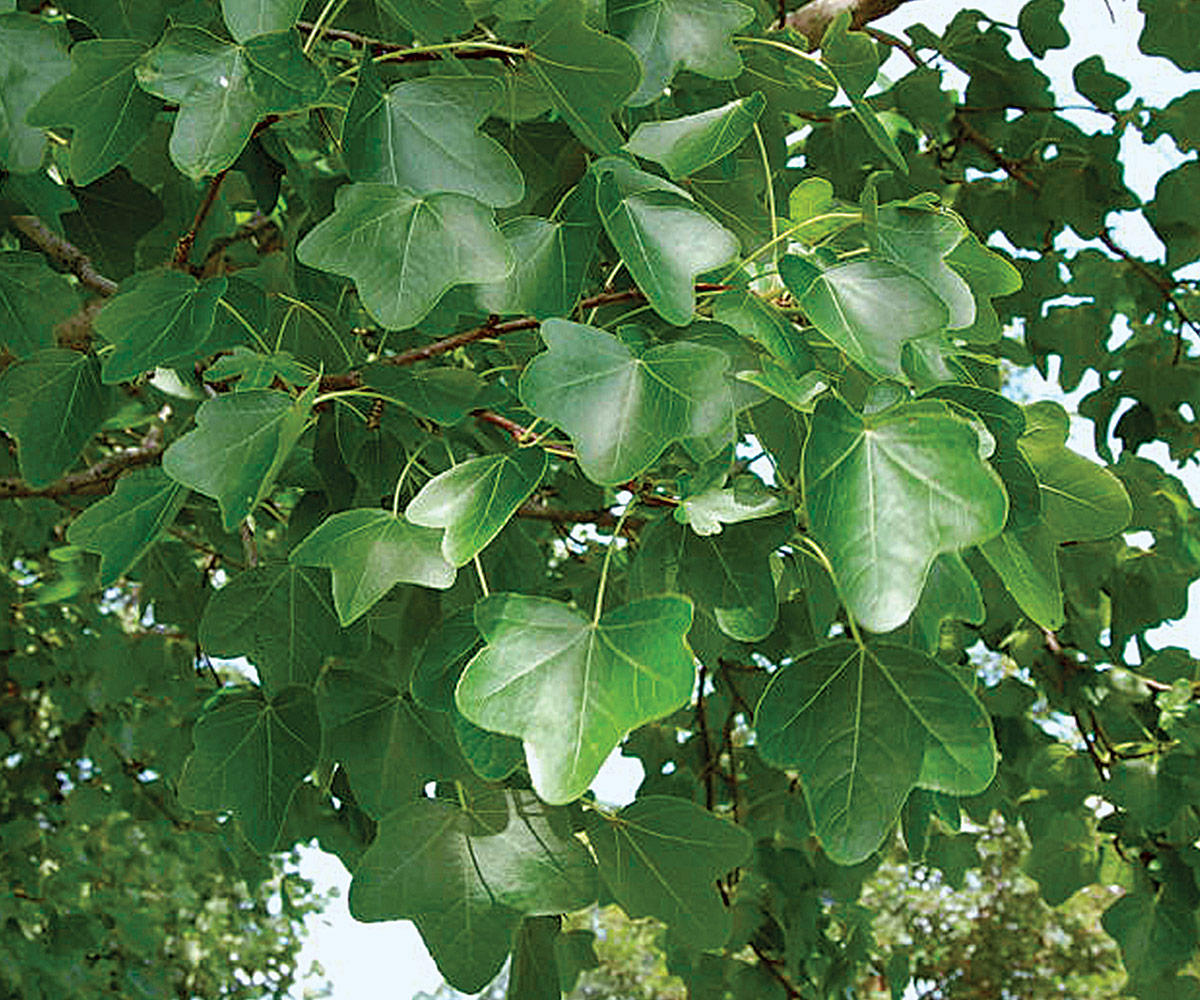 Liquidambar styraciflua 'Rotundiloba'
Zones: 5 to 9
Size after 10 years: 20 to 25 feet tall from a 6-foot-tall sapling
Mature size: Up to 70 feet tall and 30 feet wide
Before you start mumbling about those dratted sweetgum balls that littered your yard when you were growing up, take a look at this beauty. This "ball-less" sweetgum has all the wonderful characteristics of the tree you grew up with minus the pesky, spiky fruit. (A branch will occasionally revert and start to produce fruit; if this happens, simply prune out the branch.) The leaves of 'Rotundiloba' sweetgum have rounded lobes, rather than the pointed ones of the species. It resists deer and rabbit damage, grows well in most soils in full sun, has no serious disease or pest problems, isn't a water hog, and has striking red fall foliage.
Japanese pagoda tree only looks delicate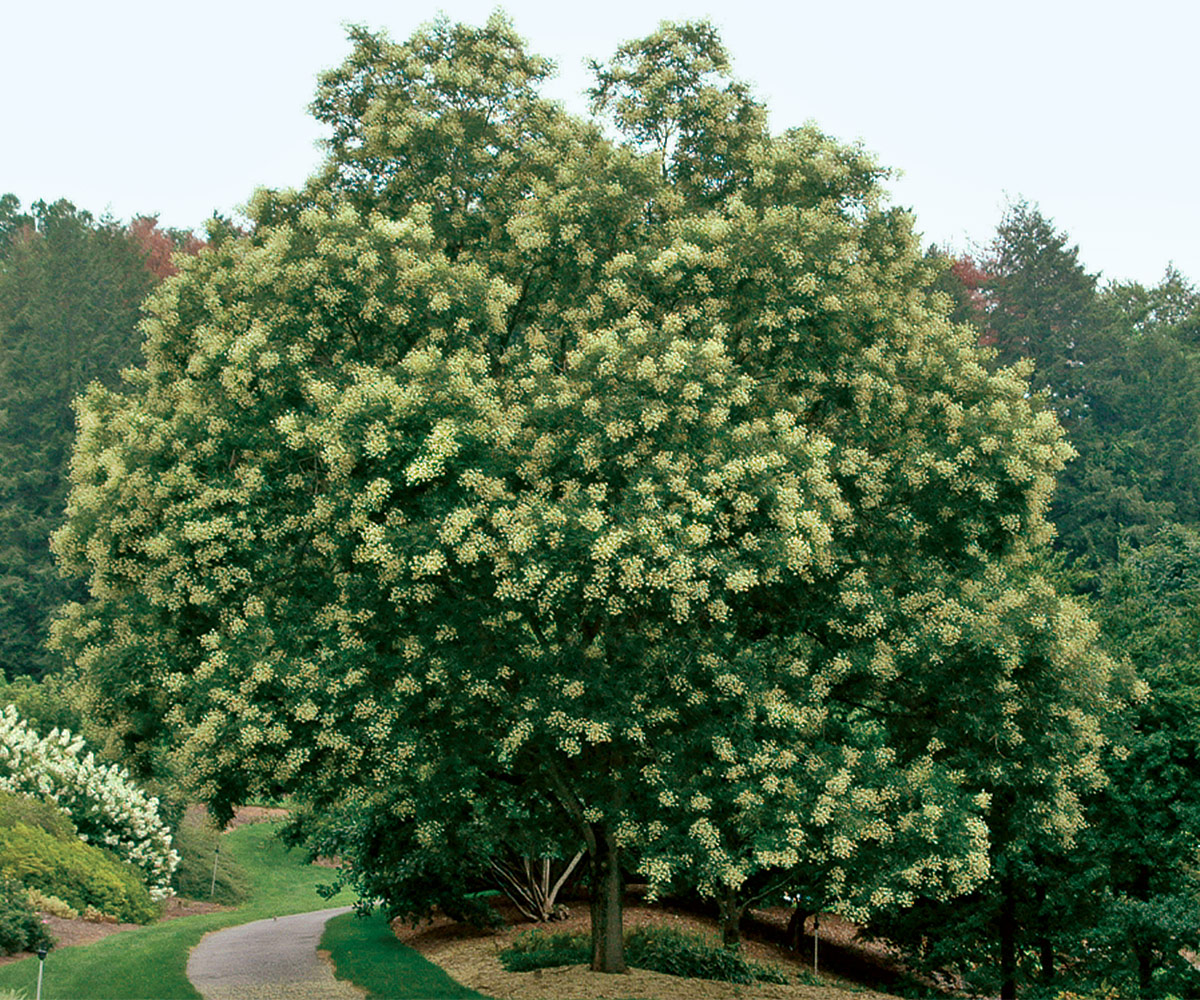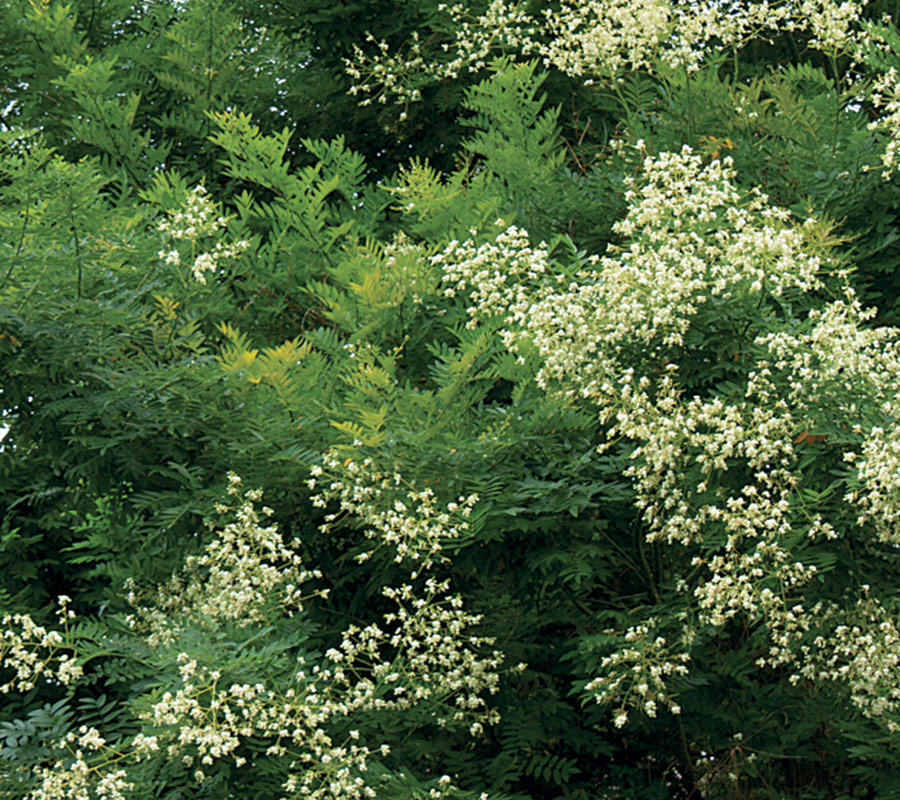 Sophora japonica and cvs.
Zones: 5 to 9
Size after 10 years: 16 to 20 feet tall from a 6-foot-tall sapling
Mature size: Up to 75 feet tall and wide
Despite its name, this tree is native to China and Korea—not Japan—and has lovely compound foliage and fragrant white summer blooms borne in long panicles. It may take 10 years for young specimens to bloom, so a little bit of patience is in order. When it does begin to bloom, the flowers are followed by striking beanlike fruit pods that persist well into the cold months. It's a sun-loving, delicate-looking beauty that is tough enough to tolerate drought and air pollution, making it a good candidate for urban landscapes. Pests are rarely a problem.
---
Consider size first
At the nursery, it can be difficult to envision the ultimate size of that adorable little tree in its 5-gallon container. "Forty feet" doesn't sound that tall, but it might be taller than you want.
When siting a tree, keep in mind design principles as well as how a location will affect the tree's health. Place a tree where it will have room to grow and where it will not pose a hazard to your home or to power lines, fencing, or other plants.
Use the graphic above for a realistic grasp of just how big the trees in this article will even­tually become.
---
Linda Brandon is an extension master gardener volunteer who lives in Oak Ridge, North Carolina, and is the former editor of the quarterly newsletter of the North Carolina Urban Forest Council.
Sources