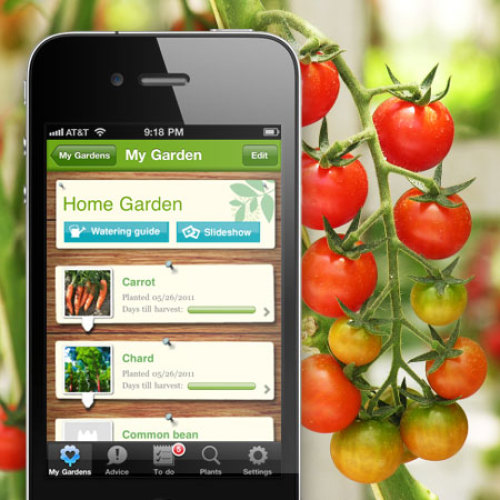 As gardeners, we are always trying new things and adopting new tools to make our garden tasks easier. No, I'm not talking about that shiny new spade you saw at the nursery.
Specifically, I am referring to the software that's available on your handheld device. This post features three Apple apps, all available through the App Store.
These three apps all share a few things in common. They all provide:
– Plant listings and information in alphabetized lists
– General gardening information
– The ability for you to create a 'favorites' section
– The ability to record your own garden notes
Which app you end up going with is purely a personal preference. These apps are quite inexpensive, yet provide you an awesome amount of information for the price. I think their real value is found when you're visiting nurseries, home centers or other stores and "wished you had that information in front of you".
On to the apps…
Vegetable Garden Guides
Developer: Primolicious LLC
Price: $1.99
Compatible with: Apple iPhone, iPod touch, and iPad
Website: https://www.vegetablegardenplanner.com
Designed as a reference for experienced gardeners and a learning tool for beginners, Vegetable Garden Guides will help you successfully grow and harvest over 90 vegetables and herbs.
The app is divided into two sections, the Vegetable Garden Lists and Your Vegetable Gardens. Under the Vegetable Garden Lists, you are presented with three main categories, Common Vegetables, Herbs & Spices, and Less Common Vegetables.
Each vegetable guide page includes:
– A section on each step of the growing process including planting, growing, harvesting and storing.
– A section on insect and disease information, as well as some preventive techniques.
– A large full-color photo of the vegetable
– A summary for easy reference that includes plant and row spacing, when to plant seeds and transplants, how deep to plant seeds, and even how many plants to grow based on your family size.
The app allows you to add your favorite vegetables to the Your Garden Vegetables section so they are available in one easy to use location. You can even record your own notes for any of the vegetables so you can remember what you did on a year to year basis.
Gardening Toolkit
Developer: Applied Objects
Price: $2.99
Compatible with: iPhone, iPod touch, and iPad
Website: https://www.appliedobjects.com/products/gardeningtoolkit
Not sure what to plant and when to plant it? The Gardening Toolkit can you give the advice you need. This full-featured app tracks what's in your garden, keeps notes in a handy to-do list, finds your hardiness zone, and lets you search an encyclopedia of more than 1000 plants.
When you first start the app, you are asked to set up a "garden". This is where you keep track of what's in your garden. You can even add your own photo so you can show to your friends. In addition, you can add more gardens if you need.
At the bottom of the app, there are buttons for My Gardens, Advice, To Do, Plants, and Settings.
Similar to Vegetable Garden Guides, you search through the app's plant database to add your favorites to your garden. At the top of your garden screen, you can view a watering guide and view a slideshow of your chosen plants. Each plant page shows you information in a very clear and well-designed interface.
Under the Advice button, you are presented with four options: Monthly Guide, What to Sow Now, a Gardening Glossary, and Plant Ideas. The Monthly Guide contains general information, not specific to any particular region.The Glossary has an impressive selection of terms to define. What to Sow Now brings up a list of plants divided into Flowers, Fruit, Herbs, Veggies, Shrubs, and an Other section for less-common plants.
Want to set a reminder to fertilize the tomatoes next month? Click on over to the To Do button. Quickly add a note, icon and due date for your tasks.
Click the Plants button to view a growing list of more than 1000 herbs, flowers, fruit and vegetables. This can serve as a very handy guide you can carry with you. As well as photographs, the encyclopedia has information on flower colors, plant dimensions, light requirements and much more.
The Essential Garden Guide
Developer: Stevenson Software, LLC
Price: $0.99
Compatible with: iPhone, iPod touch, and iPad
Website: https://www.essentialgardenguide.com
From the developer – "The Essential Garden Guide helps you unlock the secrets of a great backyard garden. This information, originally created for professional and educational purposes, is the result of over 15 years of contributions from renowned agricultural institutions and extensions. There's a wealth of knowledge here."
At the bottom of the app, there are buttons for Fruits & Veg, Care, Harvest, Types, and Blog.
Starting with the Fruits & Veg button, you can view over 30 common garden vegetables. Each plant screen provides you with in-depth information on how to properly plant, care for, and harvest. Additionally, you'll find information on common problems that occur with each individual plant.
Under the Care button, sections for Maintenance, Preparation, Planting, and Problems arm you with great information every gardener should know.
Under the Harvest button, great information can be found for Canning, Drying, Freezing, and Storage.
Moving on to the Types button, two common types of gardens are discussed, again with great information.
Unique to this app, there is a blog you can access, providing recent posts containing information, advice, and news.