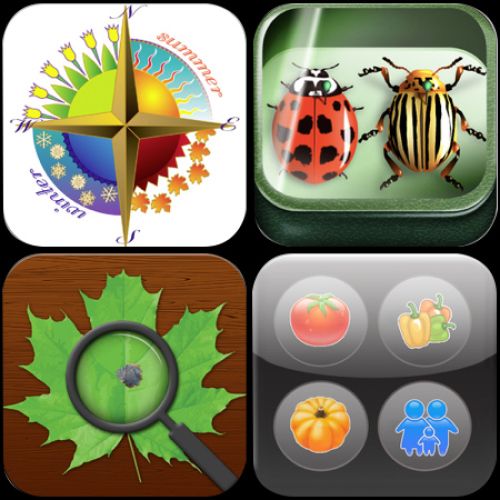 As gardeners, we are always trying new things and adopting new tools to make our garden tasks easier. Since we have adopted mobile phones as being part of our modern life, phone apps have become an additional tool source. Three of the apps featured here help you identify a plant, pest or disease; either through a database in the app itself, or the ability to send photos to a service for identification. The fourth app simply calculates how many veggie plants you need to have according to the size of your family/household. They are all available through the Apple App Store https://store.apple.com/us.
Vegetable Garden Calculator
Developer: Primolicious LLC
Price: Free
Compatible with iPhone, iPad, and iPod touch
Website: https://www.vegetablegardenplanner.com
Through my many years of veggie gardening, one of the things I can't seem to get right every year is planting the right amount of a particular veggie (my wife will confirm this). From their website, "Do you struggle to remember how many vegetables you need to plant to feed your family? Always have way too many vegetables or not enough? Vegetable Garden Calculator will come to your rescue!"
The app allows you to calculate an average number of plants you will need to plant, based on the size of your family. These are just average numbers, and I couldn't find out how they actually calculate it. The app currently covers over 90 vegetables and herbs. You can also add them to "Your Vegetable Garden" and see all in one place how many to plant for each one, which is a very nice feature. The app also provides yield information for several of the plants. So plan out your vegetable garden knowing you aren't planting too many or too few vegetables.
Plant Diagnostic Sample Submission
Developer: Incubed
Price: Free
Compatible with iPhone and iPad
Do your veggies have diseases? Have you ever wanted to find out exactly what the disease or problem was? Obviously you can Google the disease or condition in question and see if the photos online match what your plants have. There's a better way, my gardening friends. This Sample Submission app allows farmers, gardeners, landscapers, arborists and others to submit digital photos to a university plant diagnostic lab for diagnosis or identification. The app contains forms for the user to complete by responding to simple and customized questions. After entering a description of the problem and attaching corresponding photos, the sample submission is sent to the selected diagnostic laboratory. Although the app is free, there is a charge to use their service. At the time of this posting, I had not yet received the results, but I am breathless with anticipation.
Garden Compass
Developer: TeamSOA, Inc.
Price: Free
Compatible with iPhone and iPad
Website: https://www.gardencompass.com
Do you have a plant, pest or disease you need to identify? Along the same lines as the sample submission app, the Garden Compass app allows you to take a photo and submit it to a team of expert horticultural garden advisors who will identify it for you. They will also provide you with specific product recommendations to resolve any problems you may have. To test the app, I submitted a photo of a plant to identify (I already knew what it was), as well as a photo of a diseased leaf on one of my sunflowers. Your photo gets put in a queue with other users' photos, so you may not get an immediate response. That said, I got a response on all three photos I sent them within a few hours… quite impressive. This is an amazing service (and FREE I might add), and I'll be using it quite a bit in the future.
Bugs In The Garden
Developer: Justin Davidson
Price: $0.99
Compatible with iPhone, iPad, and iPod touch
Website: https://www.bugsinthegarden.com
In my continued yearly fight against garden pests, I am always looking for resources to help me identify and control them. The Bugs in the Garden app can quickly identify common bugs in your garden (specifically North American). It includes over 30 beautiful and realistic illustrations and photos of both adults and larvae, as well as an actual-size reference. All of the illustrations are on one page for easy comparison. The app also gives quick advice on the pest's management.