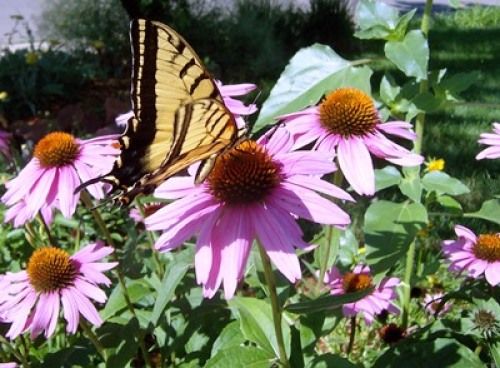 It's always cause for celebration when there's a victory in the garden, and this is a big one. This spring the Million Pollinator Garden Challenge surpassed its goal of registering a million pollinator gardens in North America.
The National Pollinator Garden Network issued the challenge in June 2015 and more than eight million gardeners responded. As a result, garden centers experienced an increased demand for pollinator-friendly plants, services and education.
Vegetable gardeners understand the critical role pollinators play to ensure bountiful baskets of fruits and vegetables. It's a simple equation: plant more flowers to harvest more home-grown produce.
The Million Pollinator Garden Challenge provides dozens of resources, including plant lists for attracting pollinators to backyards, front yards, patios, balconies, fields and other open spaces. But do gardeners understand how pollinators find their way to these plants?
An interactive exhibit at the Denver Museum of Nature and Science uncovers the secret. In Our Senses: Creating Your Reality exhibit, kids of all ages get a glimpse into how a bee or butterfly finds its perfect pollinator plants. 
The exhibit, organized by the American Museum of Natural History in New York, features a larger-than-life garden with oversized bees and butterflies. The garden has several huge coneflowers that allow humans to see through the pollinators' eyes. 
With a press of a button, the overhead lights dim and the flowers light up to show what a flower looks like to a hungry bee or a nectar-loving butterfly. The flowers simulate the secret patterns that are invisible to us, but help guide insects to flowering plants. 
"For insects looking to feed on nectar and pollen in the center of blossoms, flowers look like enormous targets, with ultraviolet marks that help insects find a place to land and enjoy a meal," according to the museum's description.
In nature, bees and butterflies can both see the "ultraviolet nectar targets" on flowers. Butterflies can see all the colors, like we do, but honeybees aren't able to see the full range of colors, according to the display materials.
The Million Pollinator Garden Challenge may have reached and exceeded its original goal, but the work continues. Gardeners are encouraged to keep planting pollinator-friendly plants that bloom throughout the vegetable gardening season, from early spring to late autumn.