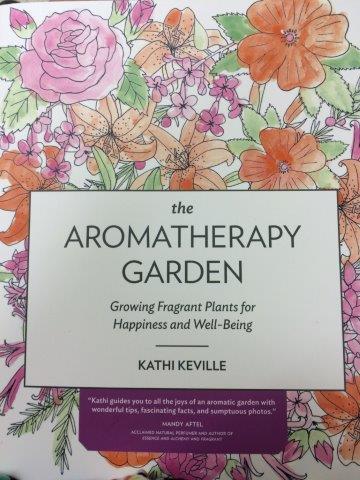 If you are a gardener who enjoys fragrant plants, then Kathi Keville's new book The Aromatherapy Garden: Growing Fragrant Plants for Happiness and Well-Being, should be on your reading list!
As the back cover proclaims: "Plant aromas affect our brains in surprising and healthful ways, and adding potent botanicals to your garden can create a restorative haven. Kathi Keville, internationally known aromatherapist and herbalist, shows you how to create rich garden scent combinations and make your own body oils, tonics, and sachets. Tap into Keville's wisdom, follow your nose, and discover the power of smell to delight and heal."
Yet another handsome and well done book from Timber Press, this book is full of lovely, colorful photographs and great information on aromatic plants and creating you own fragrant garden. I know and respect Kathi Keville's previous work and this recent publication proves yet again her knowledge and years of dedication as an aromatherapist.
The book is divided into five sections. "A Tradition of Scent in the Garden" discusses fragrance and how we perceive aroma, essential oils and plant chemotypes, how plants use scent and why their fragrances vary. My favorite entry in this section is on attracting pollinators with detailed characteristics about pollinators and how they work the fragrant plants for nectar and pollen. Did you know that plants pollinated by bees and flies smell sweet, while those pollinated by beetles smell strong, musty, spicy or have fruity odors? Or that moths have a very sensitive sense of smell while butterflies don't have a very good sense of smell at all? Instead, they have taste receptors on their feet which they use to recognize a host plant.
There is a wealth of information here on plants and your mood. Kathi tells us which botanicals are best for relaxing, relieving stress, others that are antidepressant or stimulating and ones that are aphrodisiacs. And she discusses fragrance gardens throughout history to present day.
"Designing with the Nose in Mind" is brimming with ideas. Kathi talks about styles from cottage to formal gardens, using plants as elements of design and fragrance garden themes from tea or culinary gardens to aromatherapy beds, fragrant natives and children's gardens.
Moving on to "Cultivating a Fragrance Garden", this section works from the ground up, emphasizing how important it is to know a plant's native habitat in order to grow it in the right conditions to make it thrive. Detailed discussions on cultivation on compost, sun and shade, watering, types of mulch, plant propagation techniques and transplanting are included here.
In "A Harvest of Scents and Savors", the author extols the joys of a fragrance garden and the bounty it produces.
Instructions for gathering and drying, preserving and storing aromatic botanicals are featured here. Blends, vinegars and teas are highlighted, as well as info on creating aromatic products such as fresh and dried bouquets, potpourri, sachets and dream pillows. I particularly enjoyed the specifics on aromatherapy body oils from the garden and some of Kathi's simple formulas including Gardener's healing liniment, Lavender-Rose anti-inflammation oil, Sleep and de-stressing massage oil, Antidepressant massage oil and Sensual massage oil. I bet anyone of you who are reading this could use one of the aformentioned right now!
Last though not least, and certainly the largest section of the book is "Profiles of Aromatic Plants". Herein lies plant profiles of 80 deliciously fragrant plants. Being a fragrance and flavor fanatic myself, I love reading other like-minded and/or knowledgeable herbalists descriptions of plant aroma and taste. And Kathi's olfactory vignettes delight me. How could anyone not want to have the following clematis in their garden with such a mouthwatering description? "The flowers of Clematis armandii, often called evergreen clematis, fills the air with a delicious scent of bitter almonds, vanilla, and a sweet touch of honey. Imagine honey-vanilla ice cream topped with toasted almonds. This has to be the closest scent to dessert that the garden offers. The fragrancee of clematis reaches across a garden bed."
Among the profiles are botanicals ranging from savory, sweet or medicinal herbs, old heirloom flowers, some shrubs, vines and trees, annuals and perennials; some of the plants are popular and widely known, while a few are lesser known or off the radar of many folks. Besides her apt sensory sketches (many of which I agree with heartily and a few made me go yes! that is so perfect a portrayal of smell), Kathi includes a bit of history and folklore about these plants, aromatherapeutic information, plant characteristics, growing info and cultivars. Way to go Kathi!
This book is for gardeners, herbalists, aromatherapists and anyone who enjoys growing or smelling fragrant plants. It can be ordered from Timber Press at https://www.timberpress.com/books/aromatherapy_garden/keville/9781604695496