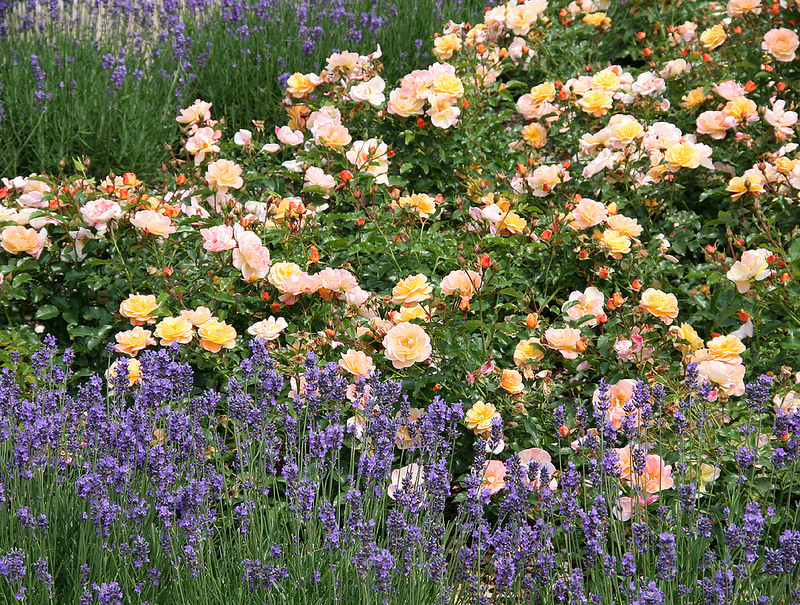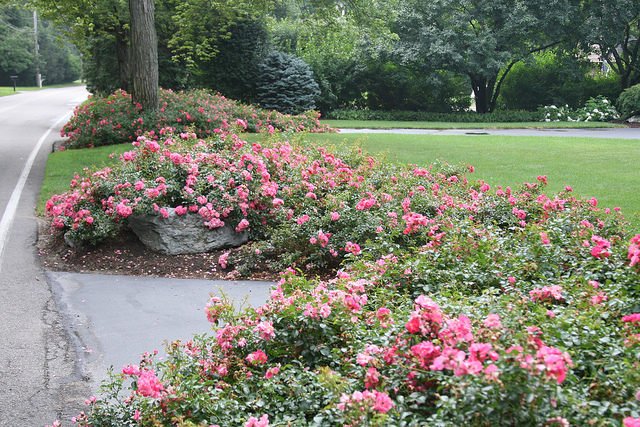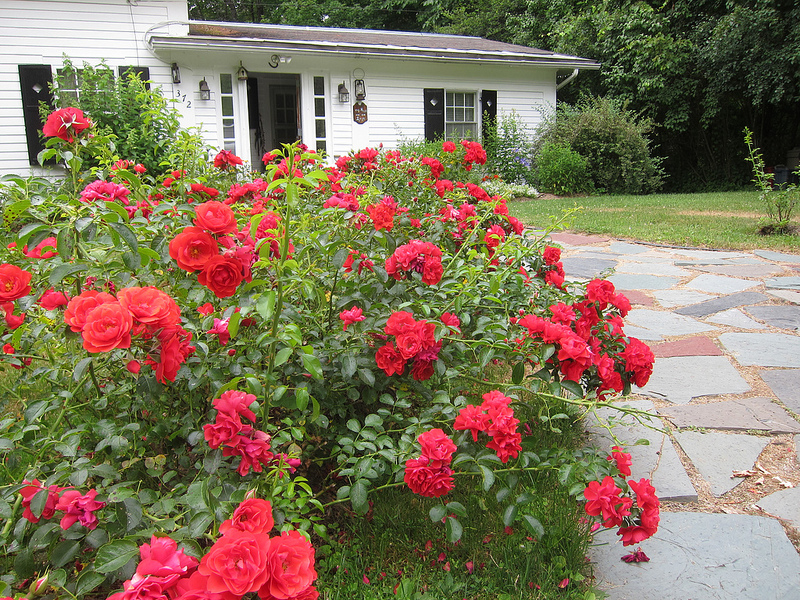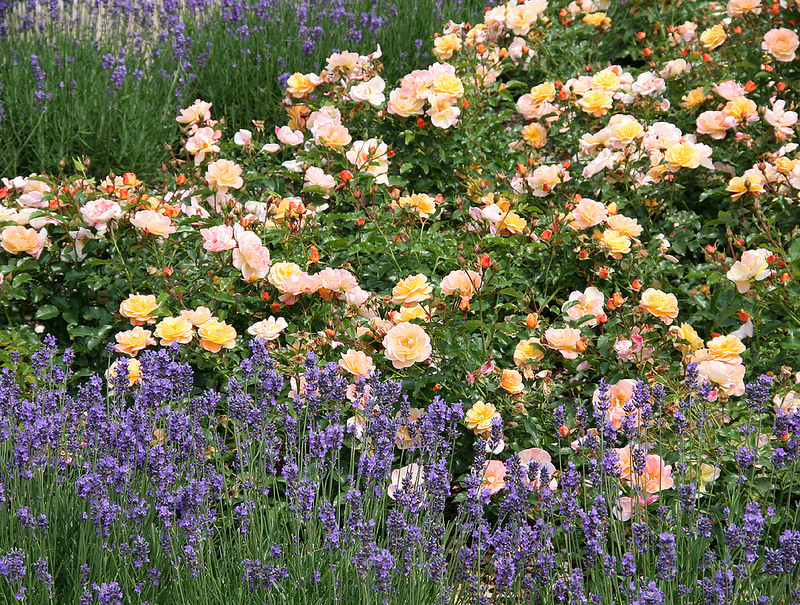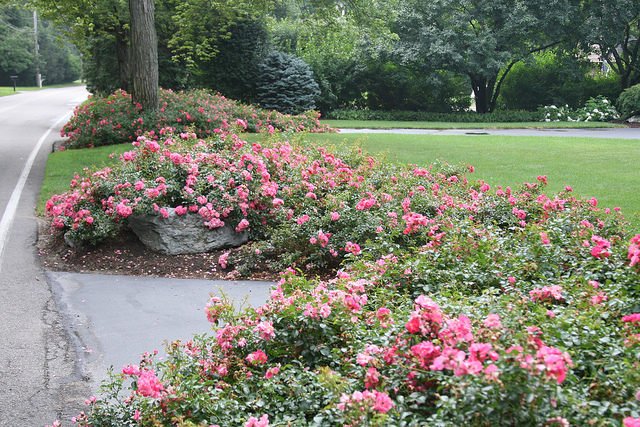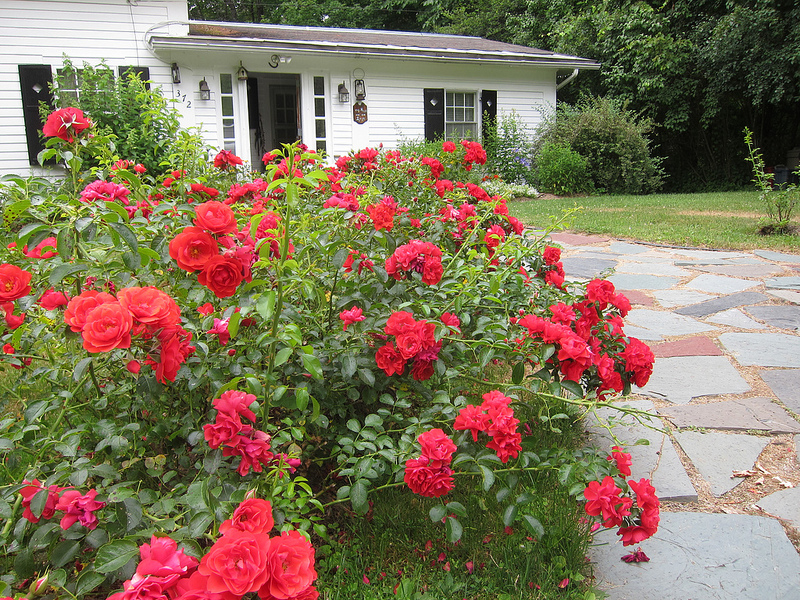 Those of you of a certain age may remember when the Flower Carpet Roses came out back in the mid 1990's. They came in nice pink pot and had a small bag of fertilizer attached to it. As the name implies they were meant to stay low. They were also advertised as being very disease resistant. Since I am of a certain age I bought some.
I was living in Los Angeles at the time with a small garden so I tucked them in front of some other roses that were taller. My thought was they would fill in the base of those roses. What happened next is not what I expected. First they grew into a 4'x5′ plant. Now in Los Angeles it was not unusual for plants to get bigger than advertised because of the year around growing season. Yet, I thought this was a bit much. Second issue was they got disease. Granted most roses back then were not as disease resistant as today, but I didn't expect that. I should say I was gardening organically even back then and maybe that had something to do with it. I don't know how they were tested.
I tried a few other Flower Carpet varieties with the same results. I just chalked the whole thing up to a nice marketing campaign and forgot about them. Other rose gardeners told me similar stories about those early varieties.
Fast forward to early this year. I had written an article for a magazine and talked about some of the newer roses that were very healthy and came in a nice variety of colors, growth habits, and bloom styles. I did not include Flower Carpet based on my earlier experience and because quite frankly I hadn't heard much about them since then.
Flower Carpet is the brainchild of Tesselaar Nurseries based in Australia. Their United States representative sent me an email after the article came out politely asking why I had not included them. I told her of my previous experiences with them. She told me there is a newer generation out and would I be willing to try some, to which I replied of course I would. They sent me three varieties, six plants of each. Amber Flower Carpet, Pink Supreme Flower Carpet and Scarlet Flower Carpet. They arrived bareroot and I planted them.
Four months later color me impressed!! We have had a brutal spring blackspot wise. Torrential rains, humid, cloudy days – have produced blackspot on my blackspot!
Not the Flower Carpet varieties. Clean as a whistle. We had torrential rains last night, today it's sunny and the humidity is somewhere north of a sauna, and they are happily flowering with amazingly clean, dark, glossy green foliage. I am quite comfortable saying these are appearing to be outstanding garden roses.
Their growth habit is staying smaller and the canes are working low to the ground in more of groundcover habit. I suspect they might get to 2′ high in certain conditions but they are not the bush my old ones turned into. They hold their color very well and are self cleaning – meaning the petals and old blooms fall off. I can see them in mixed border, in pots, hanging baskets, mass planted – they are very versatile.
I love finding "new" good garden roses and I love having my mind changed. These three roses have done that. I'm glad their representative reached out to me and I can pass this on to you.
Happy Roseing
Paul
PS. Video blogs will resume when it stops raining!