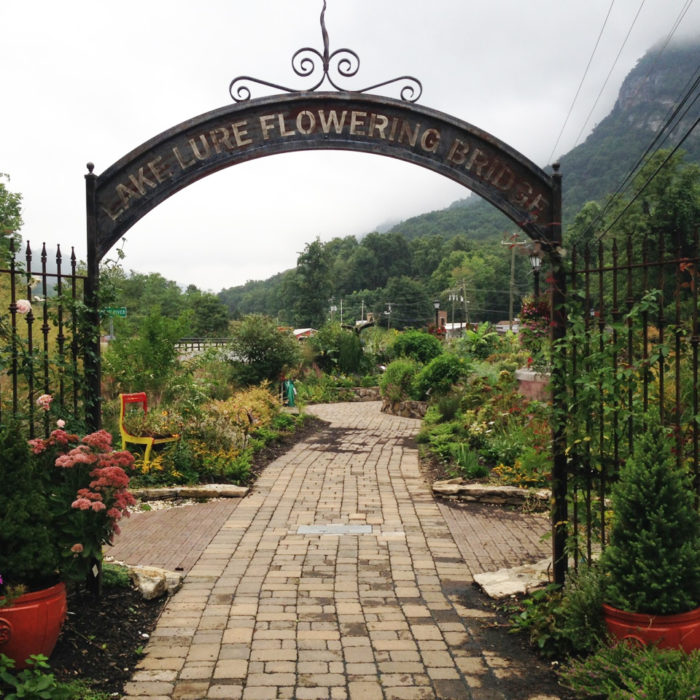 Today's photos are from Carol Thompson, who shared photos of blooms in her garden back in 2011 (refresh your memory HERE. Carol–still waiting to see more of your garden!) Carol lives down in North Carolina, and is sharing our second bridge-themed garden of the month (revisit the one in Massachusetts HERE.) 
She says, "My daughter's destination wedding was the weekend of September 13th, just a few weeks ago, in Hickory Nut Gorge, North Carolina, near Asheville. Going to and from wedding events that week, I just about drove off the road gaping at the flowers along the Lake Lure Flowering Bridge every time we passed by.
I wish I could have captured the beautiful panoramic setting for you. Massive Chimney Rock (now a state park) looms upstream and Lake Lure is visible downstream, surrounded by the Blue Ridge Mountains. The 1925 historic bridge is 155 feet long and 20 feet wide, and flowers are planted along its entire length. It is truly the gateway to somewhere beautiful! I only had my cell phone with me – sorry some of the most beautiful images are blurred."
Carol, this is lovely! I did some research and found their website HERE, where there's lots more photos! (If anyone else has visited, post photos in the comments.) Thanks so much for introducing us to this destination. Adding it to the never-ending list of places to visit…..Oh, and a big CONGRATS to your daughter!!
Hey folks–help me keep kicking out posts all winter long–send me photos of your gardens NOW! Email me at [email protected] Thanks! –Michelle
Want us to feature YOUR garden, or a garden you've recently visited, in the Garden Photo of the Day? CLICK HERE!
Want to see every post ever published? CLICK HERE!
Want to search the GPOD by STATE? CLICK HERE!
And last but not least, Check out the GPOD Pinterest page, where you can browse all the post in categories…fun! CLICK HERE!