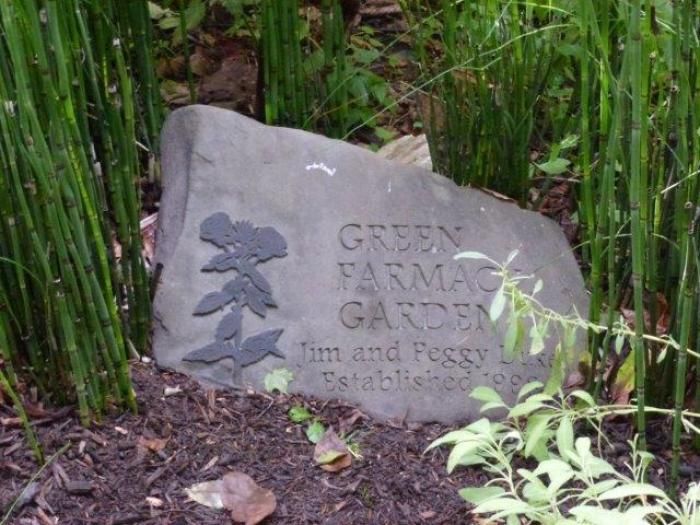 The Green Farmacy Garden is Dr. Jim Duke's medicinal herb teaching garden (his book The Green Pharmacy published by Rodale in 1997 has sold over a million copies) used by the Maryland University of Integrative Health (formerly know as Tai Sophia Institute for the Healing Arts), located in Fulton, Maryland. Recently, the International Herb Association went on a field trip there. Jim lives at The Green Famacy Garden with his wife Peggy, who is a botanical illustrator. She has illustrated Jim's books and she also does hand-colored prints of botanical specimens as well as original Asian-style watercolors.
We were happy to be received by Dr. Duke and his staff of gardeners. Helen Lowe Metzman, Garden Director, and her daughter Alana and gardener Jared, led us on a two hour tour around the garden, which contains over 80 plots "representing most of major the ailments of man and womankind". Each plot has a rock as the centerpoint, etched with the name of a disease or malady, and it is surrounded by plants that help to cure or alleviate that particular ailment. The plants are collected from around the globe and range from annuals, biennials and perennials, shrubs, trees, roots and rhizomes, to tender tropicals, which have to be brought into a greenhouse in cold weather.
The garden is built upon four terraces, it has a pond, a valley of plants and an outdoor teaching pavilion. Many of the tender, tropical and shade-loving plants have little edifices constructed over them made from bamboo and burlap, which I find aesthetcially pleasing. There is also some netting around certain plants that attract deer and other four-legged creatures.
Helen refers to the garden as a "Noah's Ark of medicinal herbs" and says that "students get to interact with species gathered from around the world". If you get the chance, call and arrange a visit for you or a group of up to 25–you cannot just drop by–call for a reserved date. For more info go to www.thegreenfarmacy.com.
We were certainly lucky to have a sunny day for our field trip and Jim on bass fiddle, his son John on guitar and Jared on mandolin performed some of Jim's botanical songs to our delight. I'll leave you with a good thought from Dr. Duke, "Gardening is one way to accomplish five things useful at slowing the ravages of old age: 1. exercise, 2. fresh air, 3. relaxation, 4. sunshine (not too much now) and 5. communion with Nature and Nature's Herbs."