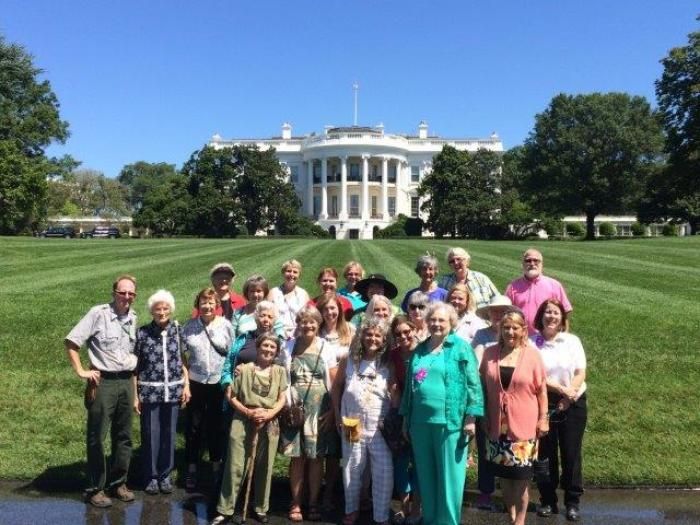 While all of our gardens are peaking right now, here is a garden you might want to take a closer peek at–the Nation's Kitchen Garden. Did you know that you can arrange a date for a private tour of the White House Kitchen Garden during this summer season? Last week, I went with the Potomac Unit of the Herb Society of America and we had the whole garden to ourselves (well of course, we were accompanied by some security as well as a guide)!
If you have a group interested in visiting the Kitchen Garden, you can contact the White House Visitor's Center and arrange a private tour, free of charge (maximum of 25 people) from now through October. We were the very first tour of the season and our tour guide Chelsea, was a lovely young woman from California, who has worked for the Visitor's Center for two years. She was accompanied by an intern named Tommy, from Greensboro, North Carolina, who is there just for the summer and he obligingly took photos for us with our cell phone (no cameras allowed). We walked from security with our guides along a pathway, through a foyer and into the Jacqueline Kennedy garden and then past the back of the White House and Fountain on the Southlawn offering us splendid views of both.
The weather in the Washington, D.C., Maryland and Virginia area has been a bit cooler than usual with lovely, breezy days, blue skies and clouds and this day was no exception–a perfect day for touring the White House Kitchen Garden–or any garden for that matter. Added to our good fortune, we were joined by Jim Adams, Chief Horticulturist at the White House; Jim is a longstanding member of the Potomac Unit of the Herb Society of America, as well as past chair for our unit, so we were delighted to see him. Jim and Chelsea told us about how the beds change throughout the season to keep the gardens looking good; the garden is organic in that no pesticides are sprayed. The garden is hand dug and hand watered–no soaker hoses there! We walked about the garden beds overflowing with vegetables and herbs–and virtually weed free–and were able to ask questions.
Crops are rotated except for perennial herb beds; herbs and vegetables are often grown together. There is a new pollinator's bed, which is a great learning addition for children and adults; there is a Thomas Jefferson bed with plants grown from heirloom seeds from Monticello; and there are beds of vegetables which are grown because they are favorites of the First Family. Besides summer regulars like tomatoes, squash, peppers and eggplant, there are fava, lima and green beans, beautiful, tall kale plants, a whole bed of sweet potatoes, and peanuts which were in bloom. The plants are used to feed the First Family, as well as for State Dinners, and if there is excess produce, it is given to one of the food banks in the D.C. area.
Gardeners keep the kitchen staff informed as to what is ripening or nearing harvest in the garden, so that Chef Sam Kass, and other cooks can plan their menus, as well as help harvest the produce. I could tell that somebody likes basil, since there was a lot of green bush basil, Thai basil and lemon basil ready to be harvested.
We were also lucky that there was room for us to go on the House Tour after our garden tour–and as we were walking back toward the White House–we saw Bo and Sunny, the First Family's dogs going for a walk. Not to miss a photo op, our group had our picture taken with Bo and Sunny (they were very well-behaved).
I encourage you to take advantage of this great opportunity to tour the White House Kitchen Garden. https://www.whitehouse.gov/about/tours_and_events/garden
The summer season is in full swing in all of our gardens–the next few days–the end of July and beginning of August is known as Lunghasa in Ireland. It officially begins the harvest season; if you are like me, the onions and garlic have been dug and are curing, the squash and cukes are coming in with great abundance, while tomatoes, eggplants and chiles are just beginning. Celebrate the harvest season with good things to eat from your garden–and support your local farmers, markets and roadside stands!