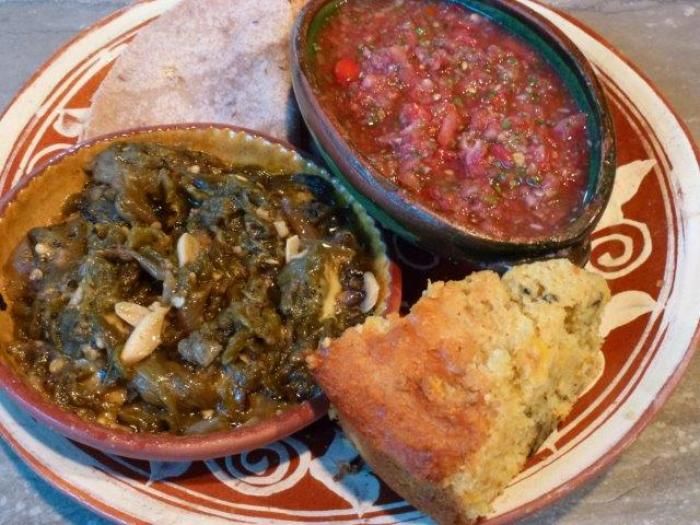 It's that time of year again–the green chiles are here! The Hatch chile tractor trailers have been pulling into towns across the nation to deliver these glorious New Mexico capsicums. I also have them in my garden, however I get a case to freeze so I can have my capsaicin fix all winter long.
Usually if there are chiles at the market, you can often buy a case and have them roasted onsite. They are available in mild, medium, hot and extra hot. Since I tend to run with the big dogs–I order extra hot and let me tell you–they are HOT. And not just in your mouth… be sure to wear gloves when handling these hot peppers. Also have gallon-size, freezer-type, zip-close bags on hand for packing the cooled, roasted chiles into–I usually do 8 or 12 to a bag. Once frozen and thawed, the skins slip off easily.
For the home gardener, here is a link to an in-depth article I wrote with step-by-step instructions on how to roast, peel and freeze green chiles. /item/6581/hot-hot-hot-get-ready-to-preserve-the-chile-harvest
My personal favorite recipe for roasted green chiles is rajas con queso, which is truly "chiles with cheese". It is not an ubiquitous cheese food with salsa mixed in–this is the real thing–and truly one of the foods that pleases me most. I will post a recipe for it after I finish this article and link it here. /item/61798/rajas-con-queso-chiles-con-queso
I also make chiles rellenos, roasted chiles with the seed cavity removed, filled with grated cheese, sometimes a small amount of corn or rice, pepitas (pumpkin seeds) and some small bits of vegetables. These are usually dipped in a thick, frothy egg batter and deep fried. I do not prefer the greasy egg coating, so I make a lighter batter of egg and water and use equal parts corn meal and wholewheat flour with salt and pepper. This makes a thinner batter that is crisp (more like the coating for a fried green tomato) and I do fry it in a skillet in about 1/2-inch of olive oil or coconut oil, turning it 2 or 3 times to brown evenly, tehn drain on paper towel.
Although I usually use serranos or jalapenos to make salsa, roasted green chile salsa is a real treat. Sometimes I use tomatoes, other times tomatilloes and often combine the two. Other ingredients are finely chopped onion, garlic, cilantro and lime juice to taste.
Green chiles are a tasty addition when added to cornbread batter. Sometimes, I add corn and chopped onion too.
Green chile sauce is wonderful on enchiladas, in chilequiles and huevos. I make mine by sauteing a chopped onion in olive oil, adding 3 or 4 cloves minced garlic and about 2 cups of roasted, peeled and chopped green chiles. Saute them for 5 minutes or so, add a little oregano and or toasted cumin seed and about 4 or 5 cups vegetable stock or water. Let simmer over low heat, stirring occasionally as the sauce thickens; about 20 to 30 minutes. Season with salt and pepper and add some chopped cilantro if desired. This sauce can be served as is, partially pureed or totally–I like it with some texture. Cook it longer if it is too thin, add a little more broth or water if it is too thick. It will keep in the fridge for a week (if it lasts that long). I usually make a large batch and freeze some to have on hand.
I also make a green chile pesto, using a few roasted and peeled green chiles with equal parts cilantro, basil and parsley and pumpkin seeds or pecans instead of pine nuts. It is great on pasta or alongside any vegetable, fish or fowl from the grill and with sliced tomatoes.
If your chiles are too hot–don't drink water or alcohol–which intensifies the mouth burn. Cool down with any dairy product; milk, sour cream and yogurt will help to tame the fire. Also a spoonful of honey will help to relieve the heat.
Tis the chile season! Eat and preserve them now–and salud! Chile are good for you.