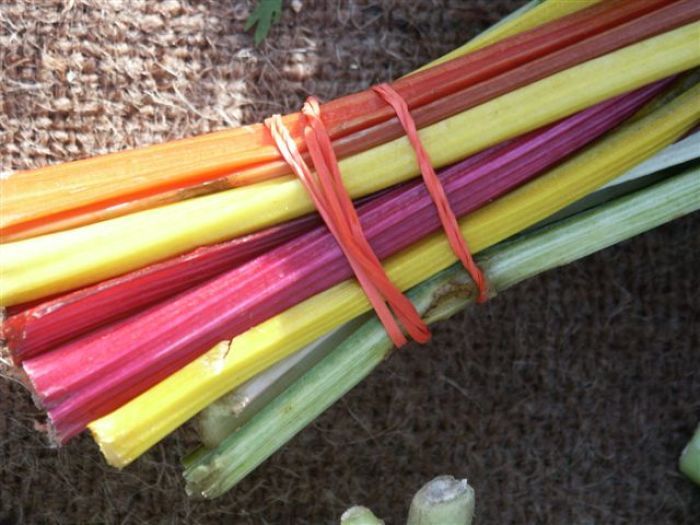 We gardeners know without a doubt that besides reaping the harvest and spending time outdoors in nature, there are many benefits to being a gardener. We may not always realize this when we are wrestling weeds, or trying to repair a piece of broken equipment, or dragging hoses daily for weeks on end. However, we revel in a tidy garden at the end of a long hot day of work and we rejoice when harvesting and eating our garden bounty.
| | |
| --- | --- |
| | |
| | Close-up of the Asiatic Lily. |
This is the season for peak harvesting and most of our gardens are going full-tilt boogie. I can hardly keep up with picking the tomatoes, let alone eat them all; pattypan squash go from lovely little gourmet size to sputniks seemingly overnight; and laden pepper plants are laying on the earth they are so heavy with fruit. My husband Tomaso goes out first thing every morning, and when I come into the kitchen, the produce on the counter has increased in yield yet again. Believe me, I am not complaining…I am celebrating and sharing and so are the other gardeners in our lives.
This past week, my friend Deborah Hall came to visit and she walked in with her usual customary bouquet of perennial and annual flowers from her garden. Actually, her flowers are not usual at all (except that she always brings me some when she comes to visit); they are beautiful, incredible bouquets of seasonal, fragrant blooms and no two have ever been remotely alike in the decades that we have known one another. They are always such a gift to me because she takes such pleasure in the growing, gathering, arranging, and giving of them and I delight in the receiving and beauty of them. She has a yard full of shrubs, trees, and perennials with something always in bloom; she appreciates fragrance as I do and this last bunch featured a perfumey Asian lily. Besides the flowers, Deb had a bag of fresh-picked green beans that she had received from another gardening friend that very morning. We dumped them out on the counter and divided the bean booty then and there.
Peaches, plums, nectarines, and apricots.
So we had to do a walk around my yard and garden (which is overgrown and weedy since I am a traveling gardener) yet I didn't feel the need to apologize or make excuses about the unkemptness–we gardener-types understand. Having not taken a basket with us, we harvested all of the chile peppers that she could carry in her two hands and all of the squash that I could carry and walked back to her car to deposit them on the back seat.
Then we headed out to our local orchard, Larriland Farms, to get some ripe peaches and to check out their pick-your-own leeks. This year's onion crop is gorgeous due to the rain we have had, they grew them on black plastic so they didn't have to fight with weeds, and they are large and perfect.
Sliced stone fruits.
Good keepers, I hope. The leeks were also grown on black plastic and are happy, of medium-size and easy to pull. Each of us left with a very heavy bag of alliums, local sweet corn, and peaches, plums, and nectarines.
Dinner that evening was a gardeners' joy: a layered squash, tomato, basil, and leek casserole simply drizzled with olive oil, salt and pepper and baked at 375° F until bubbling and tender when pierced with a fork; fresh steamed corn on the cob sprinkled with just a tiny bit of smoked Hungarian paprika (try it–you'll like it!); and green beans–steamed until just tender which only took minutes–tossed with olive oil, a pressed clove of garlic, salt and pepper, and just a touch of fresh minced savory. Oh how those beans melted in my mouth; even though I had to remove small strings from them, I don't recall ever haven eaten such tender beans. Dead-ripe fresh peaches sliced at the table for dessert. Yum.
This mouth-watering and very flavorful gazpacho is chock full of summer garden produce. See recipe!
Last night, Tomaso and I went to El Andariego, our favorite local Mexican/San Salvadoran restaurant, and took them a half-gallon of homemade garden gazpacho made with our over-abundance of homegrown tomatoes, peppers, onions, garlic, chiles and basil, to share with the staff, as well as a huge bunch of fresh spearmint. I got to get behind the bar and give a mojito lesson!
On Saturday mornings, I can turn left out of my driveway and drive four miles north to our local little farmers' market in the library/community center parking lot in Glenwood, MD. There, I can find fresh fruit and vegetables, herbs and flowers, bread, and a local dairy provides us with milk, eggs, butter, cheese, yogurt, and even kefir. I take my own bags and baskets to carry my purchases home and trade in my empty, returnable milk bottles so I don't have to pay a deposit.
An array of bouquets from the farmer's market.
Sundays, I can head south and go just seven miles to Olney, where there is a larger farmers' market complete with local bakers, craftspeople, and even musicians. You can have a breakfast burrito prepared on the spot, a homemade knish, and any number of baked goods with your locally roasted cup of coffee or fresh-squeezed lemonade. Besides a number of vegetable vendors, there is a local orchard featuring different fruits as they come into season, two women who bring truckloads with a dazzling array of flowers, and another herb lady who sells all sorts of herb and vegetable plants.
Our common thread is that we grow a garden and reap the benefits–we have better health, and abundance of local, good, fresh food to eat and share, and it makes us happy. We admire and support our local farmers and we are inspired by their perseverance and dedication. We gardeners have a sort of mutual admiration society going; not only do we exchange food, recipes and fun–we are really good at sharing advice. Just take a look at this Web site and see what a wealth of information we have here! Literally, I can spend hours here reading articles from all of the contributors. I just looked at the list of some of the articles that I have contributed to Kitchen Gardener and Fine Gardening over the years and they still are current. In fact, rather than rewriting information, I'd like to point out a few articles for you to check out that would be of valuable use to you during this harvest season.
If you have HERBS to harvest and preserve, take a look at these videos: Harvesting Herbs and Preserving Herbs by drying and freezing; also see the article on Harvesting Herbs. Watch and read them for easy instructions and inspiration to do it!
If you have an abundance of BASIL in your life:
These Basil Recipes Shine in the Kitchen
Basic Pesto Recipe (the real thing)
Pasta with Summer Vegetables (easy, tasty dish–substitute whatever veggies you have)
Lemon Basil Ice Cream (you can make this with any of your lemon herbs!)
Buttermilk Cream Scones with Lemon Basil (ditto from above)
Now is the time to harvest basil; cut it back above the bottom two sets of leaves and you will have another harvest in just a month!
For a few other scrumptious summertime recipes:
Tabbouleh with Mint (delicious do-ahead main-course salad–great for potlucks)
Baked-Stuffed Eggplant (you can use this with that abundance of squash too)
Peach Crisp with Lavender (or use any lemon herbs)
Blondies with Orange Mint and Apricots (you've got to try these!)
Summer Fruit Salad with Monarda (my favorite edible flower)
Fried Squash Blossoms (for a real treat)
Celebrate and use the bounty of the season–enjoy it now in its peak–and preserve for the winter months ahead so you can have a taste of summer in the cold weather!