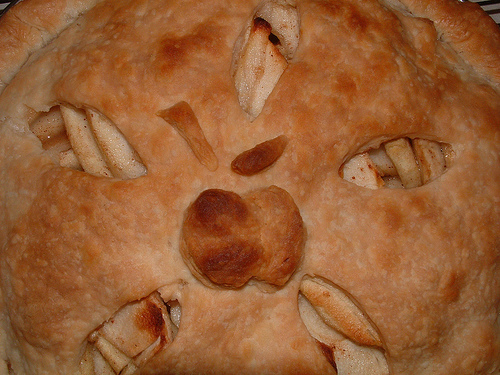 Apple Hill is a farming community nestled in the Northern California foothills just above Placerville. When you visit, you can pick your own apples or buy them by the crate. The only question is which apples to come home with and how many. As I anticipate my annual fall pilgrimage, I'm promising myself to try a couple of apple varieties I haven't tried before.
Of course, for some varieties the apple harvest has been going on since August. But there's something wonderful about the fall-harvest apples. There are many of us gardeners and foodies out there who look forward to the fall apple harvest, I thought I'd throw together a loosely collaborated list of which apples are best for hand-eating, pie-baking, and applesauce-making.
For pies and general baking, you'll want to choose an apple variety with firmer flesh. Those include Braeburn, Granny Smith, Gravenstein, Winesap, Cortland, Rome, Jonagold, Suncrisp, Pippin, Cox's Orange Pippin, and Northern Sky.
Apples with softer flesh make the best applesauce. Choose varieties such as Gala, Fuji, McIntosh, Elstar, and Rhode Island Greening. Gravenstein, Pippin, and Cortland also make for tasty applesauce.
If your interests in apples are far simpler (or you don't do the baking thing), there are some varieties that are tops for hand-eating right off the tree. These include Gala, Elstar, Braeburn, Fuji, Jonathan, Pink Lady, Red Delicious, McIntosh, Winesap, Golden Delicious, Empire, Ellison's Orange, Empress, and Egremont Russet.
Apple pies in general are never a bad idea. But gathering the family and making the trek to pick your own apples off the tree to celebrate the harvest is extra-special. You just can't get the whole pie baking experience from the inside of a box on the freezer isle. No, the true affair of pie baking is an event. It comes from choosing the apples (hopefully picking them), and then coring and peeling each one. If you're really lucky, there'll be a young child or two donned in short aprons helping you peel.
Next comes the satisfaction of rolling out your own pie crust and make artistic cut-out designs in the top layer. Breathing in the cinnamon-sugar smell that fills the house while it's in the oven. Then, placing that bad boy on the dinner table and watching everyone enjoy freshly harvested apples in a sweet and flakey pie.
That's an experience you don't want to miss.