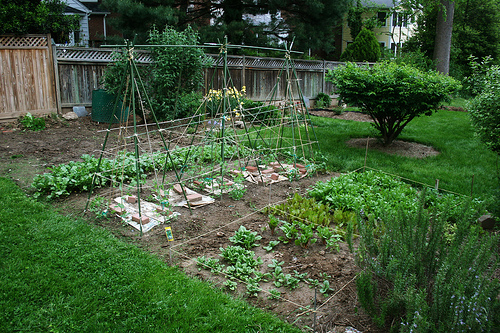 Home gardeners around the country are proving that they can grow an amazing amount of healthy and delicious vegetable crops in their own backyards. Thus, only hitting the produce section of the grocery store in order to supplement their fresh food.
The best reason to grow your own vegetables is because you can control what goes onto – and into – your food; plus produce doesn't get any fresher then traveling 24 feet from the garden to the kitchen. While it may seem like commercial farmers have all the right stuff (including lots of land); there are some distinct advantages to growing produce in your backyard verses a full blown farm with vast acreage.
Advantage #1 – The first benefit is that a backyard vegetable garden is an endeavor that's manageable by nearly everyone. And it doesn't take a crew of workers to plant, maintain, or bring in a crop in a typical backyard situation.
Advantage #2 – The second incredibly cool thing about small land farming is that depending on where and how you intend to garden, if a crop isn't working in one area, it is possible to simply move that crop to a different location – all in the same season. This is a simple situation if you're container gardening. If your carrots are in big plastic pots and you find they are not getting a good enough sun-soaking, just drag the planted container to another location.

Advantage #3 – If you are using raised beds, depending on your growing zone; it's very possible to squeeze another harvest out in the same season. Raised beds stay warmer than beds dug into the ground. This isn't something large farm operations can often enjoy.
Advantage #4 – Raised beds are not only more reasonable to construct in a backyard, but can be also created in any fashion your little heart desires. They can be built on a long stretch of side yard, or several shorter rows out back. They can be L – shaped or a kidney-shaped island in the middle of the lawn. You can have container boxes on your back porch by the kitchen door, which perfect for an herb garden.

Advantage #5 – Gardening tools are inexpensive and minimal (by far) compared to traditional farming. There's not only less of it to purchase, but the price can range down to nearly nonexistent if you receive some as gifts, hit garage sales, Freecycle.com, or Craig's List ads. Anything with a motor attached is just a luxury.
Advantage #6 – Apartment and condominium dwellers take heart; you can grow your fair share of crops on your decks, balconies and window boxes. There's even upside down tomato plant grower so small spaces can take advantage of every square inch; even upside down hanging from the eaves.
Advantage #7 – The last advantage to growing your own backyard produce is that it's less inclined to be attacked by garden pests in great numbers. Home gardeners grow distinctly smaller quantities of vegetables so pests have a harder time discovering home crops. It's also easy to tuck companion plants into garden beds to both attract beneficial insects and repel undesirable ones. If pests do insist on hanging around, they're easier to remove in a backyard garden.