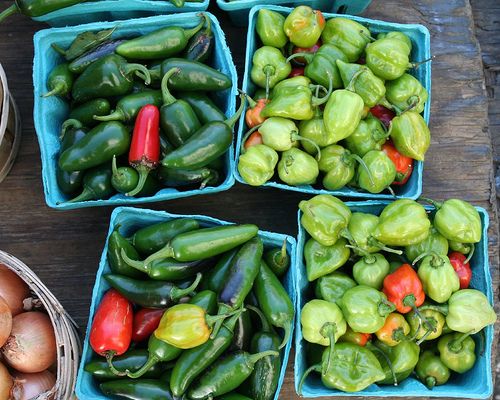 It's seriously hard to beat stepping into your home garden and snagging a few tomatoes to toss onto the nest of greens you just harvested from the lettuce bed. That said, you can't grow it all. Am I right? Or maybe you just despise dirt and water so you grow nothing in your backyard. (If this describes you, then you need to read on for sure.)
I love farmers markets. There's something so authentic and Old World about them. While I'm loitering around at one, I can't think of any other place I'd rather be, and I'd like to give you some great reasons to loiter around one too.
Probably the best reason to buy produce at a farmers market is the fresh quality of the fruits and vegetables, which have been harvested at the peak of ripeness. Food harvested in its prime is more nutritious as well as more flavorful, and can't be duplicated by grocery stores.
Before a fruit or vegetable ends up on the grocery store aisles, it's harvested weeks before it is naturally ready to be picked. This is due to the thousands of miles it had to travel to reach our dinner plates. Regional farmers have the luxury of waiting until produce is ripe to perfection before bringing it to market for local consumers and their families.
Another great reason to hang around local farmers markets is because you actually get to meet the farmers that grow your food. How cool is that? You can ask them anything you'd like about their produce, and they don't have to guess at the answer.
Most often, they'll be able to clue you in on some delicious recipes for the fruit or vegetables that they grow. There are also free food samples offered by the growers, who are proud to share with you the freshness of their crops.
More Great Things at the Farmers Market
While you're perusing the market, keep your eyes open for honey created by local bees. It has long been a popular practice for people with allergies such as hay fever to eat honey made locally because it's made from the pollen in the plants from that region.
Ingesting the honey is said to act like an allergy shot as the body becomes used to the local plants' pollen and stops reacting to it. Now, I have no hard evidence that this is gospel truth; however, it's exactly this sort of thing that I don't like to look too deeply into. It's a theory gives me permission to eat honey, and that's good enough for me.
The goodies don't stop there. There are other exciting finds, like home-baked goods, jellies and jams, fresh flowers, wine, wool, cheese, handcrafted items, and sometimes even meat. It's nice way to start a sunny Saturday morning.
One last thing. When you purchase your produce locally, you support local farmers and their families. This does some incredibly positive things for your local economy. The practice of shopping for produce and other goods locally has become so popular that some ladies in the San Francisco Bay Area have coined the phrase "locavore" to describe people who make their purchases within a 100-mile radius of their homes.
If you'd like to visit some farmers markets in your area, check out one of my favorite websites: Local Harvest.org.