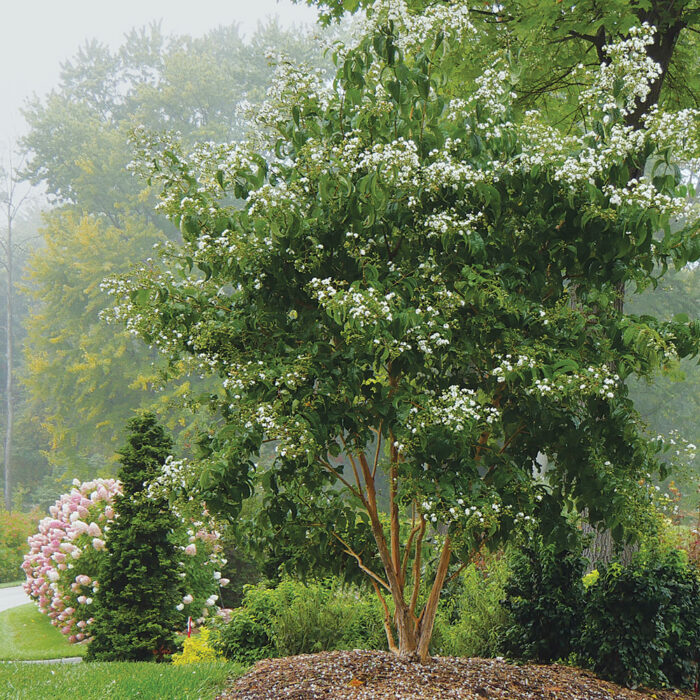 Seven-son flower is often considered a tree for pollinator gardeners and plant collectors. In spring, it's one of those plants at the garden center that shoppers might walk by without realizing the potential. This species doesn't pop until late summer, but then it continues to dazzle through the winter. Thanks to the introduction of Temple of Bloom®, seven-son flower offers even more to get excited about, with improved form and earlier flowers—prized tree attributes even noncollectors are looking for.
This quick-growing selection is ideal in mixed borders. At about half the height of the straight species, Temple of Bloom® is a phenomenal option for gardens where space is tight or at a premium. Midsummer is when Temple of Bloom® makes a statement, with clusters of white flowers that attract bees, butterflies, and hummingbirds. After the white flowers fade, showy, rosy red calyces are visible. As summer ends, the leaves turn yellow and drop off, leaving the exfoliating bark to take center stage as striking winter interest.
At Powell Gardens' gatehouse, we showcase our seven-son flowers in a high-impact, minimal maintenance bed combined with summer perennials and ornamental grasses such as little bluestem (Schizachyrium scoparium and cvs., Zones 4–9) and feather reed grass (Calamagrostis × acutiflora cvs., Zones 4–10). Because this tree is late to leaf out, it also combines well with spring bulbs and ephemerals planted near the base. In a mixed border in my home garden, my tree is surrounded with a delightful mix of crocus (Crocus spp. and cvs., Zones 3–9), daffodils (Narcissus spp. and cvs., Zones 3–9), and bloodroots (Sanguinaria canadensis and cvs., Zones 3–9). A red-flowering buckeye (Aesculus pavia and cvs., Zones 5–9) is nearby to help complete the spring show. As summer comes on, hardy ferns and 'Caramel' heuchera (Heuchera 'Caramel', Zones 4–8) fill in and complement the light tan and deeper cinnamon color of the seven-sons' bark.
This remarkable tree is easy to care for once established, asking only for full sun and perhaps an annual feeding in spring if a soil test indicates a nutritional deficiency. It's tolerant of light shade and best pruned in late winter if you wish to shape it. I keep my tree pruned up to highlight the exfoliating bark on the lower trunk. Other gardeners like to prune their specimens into a shrublike form. No matter if you choose to prune it or let it go au naturel, Temple of Bloom® doesn't disappoint.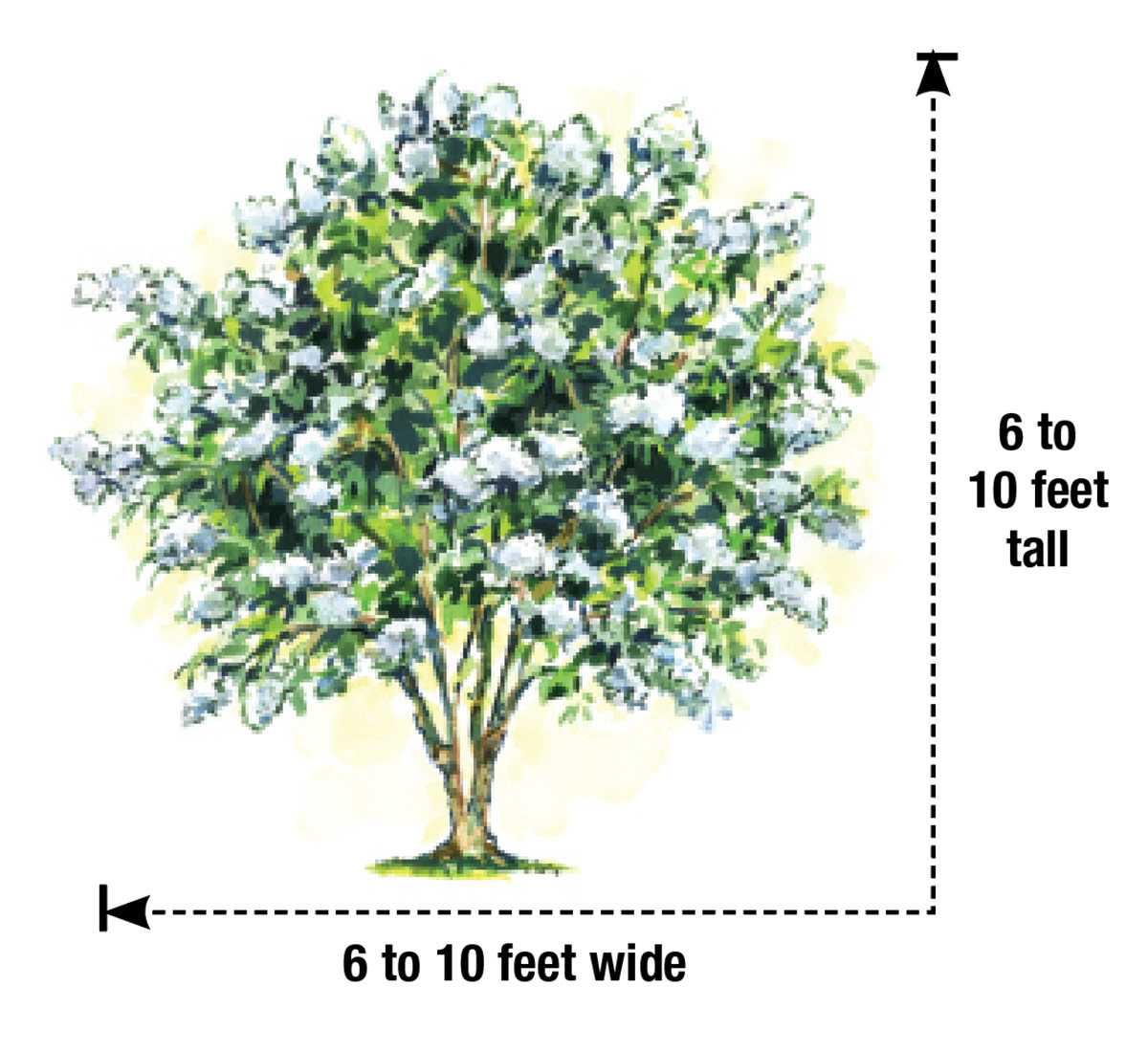 Temple of Bloom® seven-son flower
Heptacodium miconioides 'SMNHMRF'
Zones: 5–9
Conditions: Full sun to partial shade; average, well-drained soil
Native range: China
---
Susan Mertz is the director of horticulture at Powell Gardens in Kingsville, Missouri.
Illustration: Elara Tanguy
Sources: