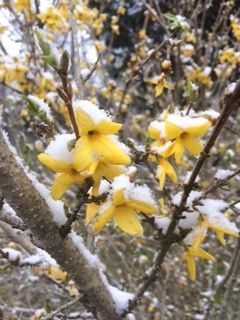 Spring is in the air… although Mother Nature has certainly been teasing us! In my Maryland zone 7 garden, we had a fairly mild winter with much less precipitation than we have had in many years. And then March came in like a lion with icy cold temps, snow and sleet.
I'm on the road in Arkansas and they had an even milder winter down here in the Ozarks (zone 6 b) than we did in Maryland. And since I've arrived, there has been three days with snow and nights with plummeting temperatures below freezing. The forsythia, redbuds, wild cherry and plum trees, daffodils-everything that is in bloom-they've been frozen at night, however fortunately, the snow cover has acted like an insulative blanket and protected them. Although they are getting a bit worn from the freezes and thaws, they still perk back up during the day when the snow melts.
I'm getting ready for the River Valley Lawn and Garden Show this weekend in Fort Smith, Arkansas, where the theme is Go Wild Gardening. I'll be doing a program for the Master Gardeners of Arkansas on Saturday on "Capturing the Essence of the Culinary Herbs" and on Sunday, I'll be giving a power point and cooking demo in the lecture hall on "Gathering and Cooking with Edible Wild Weeds & Seasonal Greens". There is a wonderful array of speakers with great topics all weekend. https://www.fslawngardenshow.com/speakers-schedule
As you can see in the photos, spring is bursting out all over. There are lots of herbs and wild edibles poking their way through the cold earth as well as some spring harbingers already in bloom. The Vernal Equinox is this coming Monday, March 20-so get outside and take a walk or attend a local garden show-and celebrate Spring! 
here are the photo captions.
i'd like the cover photo (forsythia in the snow) to be the first number below:
7318–Shivering forsythia will pull through the freezing temps with this protective layer of snow.
7321–Blooming henbit is covered with a blanket of snow–once it melts–I'll use the leaves and tiny flowers in salads and salsa verde.
7276–Crocus are one of the first flowers to appear in the spring in shades of purple, lavender and white.
7273–These hardy primrose, also called cowslips, will soon brighten the garden with their pale yellow blooms.
7268–I love the texture of Jacob's Ladder's leaves–they will be blooming their lavender-blue flowers before we know it!
7266–I love the bright green, lemony sweet leaves of lemon balm–they make a lovely, calming herb tea and the flavor goes well with strawberries.
7265–My hellebores are honking this time of year–love these harbingers of spring.
7260–These garlic chives are just emerging through the old stems (which look like straw); they will be tasty used as a garnish on any spring vegetable, on eggs or pasta.
7254–I'm always delighted to welcome the nettles back–you can get a few harvests if you pick the tender young leaves–beware even though they are small they still sting!