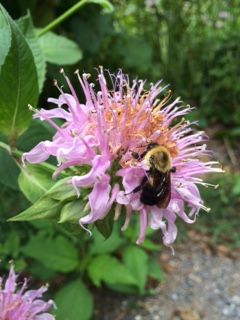 Today is the longest day of the year–15 hours and 18 minutes to be exact (according to the Farmers' Almanac). It is the official beginning of summer on the calendar, however, many of our gardens have already begun to produce summer bounty. I've noticed from different posts and blogs that gardeners down South are already harvesting early tomatoes and the first squash. While folks in the North are posting photos of herbs and gardens that I was enjoying about a month ago. So I'm sort of in the middle here in the Mid-Atlantic and I'm still harvesting the last of the spring crops like lettuces, mustards, kale, and other leafy greens. My cilantro and arugula are flowering.
Other summer herbs and flowers are blooming already: the monardas, both M. didyma and M. fistulosa have just begun this week which has set the the hummers a buzzin' almost as much as the bees; other pollinators are busy with the fragrant lavender spikes; while the foxglove have finished the hollyhocks are just coming into their full glory; daylilies are showing off daily; and nasturtiums have been putting out blooms for about two weeks. Butterfiles are visiting the butterfly weed which has just started to flower.
Spearmint, peppermint, orange mint and lemon balm all need to be harvested for drying as soon as I can get round to that pleasant, aromatherapeutic task.
In the vegetable garden, potatoes have bloomed and the tomatoes are just getting ready to form flower buds. Chile peppers have finally started to gain some height. Onions have produced green tops about 8- to 10-inches tall. The fall-planted garlic is yellowing and a few have even fallen over, which means that the garlic harvest is imminent. Once I dig those, I'll have a row to put in some travelers (as in they travel over the garden earth and take a lot of space)–like the vining melons and perhaps pumpkin or gourds. Or any of the extra plants that I never stepped up–which have been long-suffering in cells or marketpacks…
The cabbage caterpillars have been trying to take over the brassicas and eating the kale, although they don't seem to bother the Swiss chard which is honking. The rainbow chard mix is one of my favorites–they are so bright and colorful that I've used them in flowerbeds. I will cut back the kale and there should be a new flush of growth without the caterpillar damage. In past gardens, I've had the kale hang on all summer and then have a good flush of growth in the fall–so I am hoping for the same performance.
All in all, we have had a good growing season so far, although it has been too hot too soon and not quite enough rain. I celebrate today–this longest day of light–bringing us the summer season. Tonight's supper will be from the garden: salad with garden greens, herbs and edible flowers and some of the gorgeous chard–not sure yet whether it will be wilted with garlic and olive oil, eaten as a side, tossed with pasta or topping a pizza–or perhaps I'll make chard rolls (like cabbage rolls–just remove the big stem and roll them up) filled with grains and nuts and herbs. (/item/12719/swiss-chard-rolls-with-quinoa) Maybe I'll even get round to making some lemon balm biscuits for strawberry shortcakes. (/item/13822/homemade-strawberry-shortcakes-with-herbs-and-whipped-cream) Celebrate the season and better get harvesting!