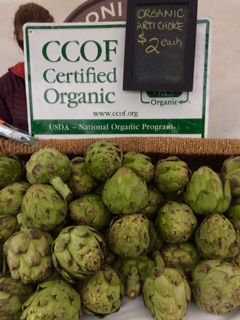 In Maryland, my local farmers' markets close up for the winter season. In warmer climes like California and the southern states, markets go on year round. Luckies. For we gardeners who are awaiting the growing season with baited breath–here are some mouthwatering shots of produce taken at the Santa Cruz farmers' market–what a delight! A veritable palette of colors, shapes, textures and tastes to titillate our palates!
California is the artichoke capital of the U.S. and you can see fields and fields of them off of Highway 1 from south of Watsonville and north almost to Half Moon Bay. Fortunately, more and more growers are using organic methods for growing them. Local citrus is another added bonus to farmers' markets in Cali and the southern U.S. Many varieties of lemons, limes, oranges and grapefruit are available there that we don't even see in other parts of the country. So glad to have organically grown citrus, so that we can happily and healthfully use the zest from all of them to brighten our food and libations.
I was delighted to find many small businesses creating healthy, organic products. Blossom's Biodynanic Farm makes all sorts of quality tonics, tinctures and bitters as well as skincare products. I tasted many of them and purchased a lovely coriander tonic (to celebrate Cilantro and Coriander, Herb of the Year 2017) and a hop tincture (Hops are Herb of the Year 2018). https://www.facebook.com/blossomsfarmsantacruz/
Chase and Amanda of BURN have created a line of organic and fermented hot sauces and pickled vegetables, which are killer–and I know my hot sauces–it was really hard to choose! https://www.burnhotsauce.com/
I really like to support these small businesses who are walking the walk: growing the botanicals, creating foods and medicine that is thoughtful and nourishing, not to mention wicked good tasting!
With a long growing season, winter crops are bountiful this time of year-leeks, radicchio, and root crops like carrots, parsnips, rutabaga and celery with its green stalks and root bulb are available. And the cole crops were piled high from creamy common cauliflowers to the jewel-like Romanesco, Brussels sprouts and Broccolini. Quick, cool weather produce like radishes, baby lettuces and greens are harbingers of spring.
Gardeners in mid-and northern climes need not despair-spring is just around the corner! Tidy up, order seeds if you haven't already and prepare to plant some of those cool weather crops in the near future!