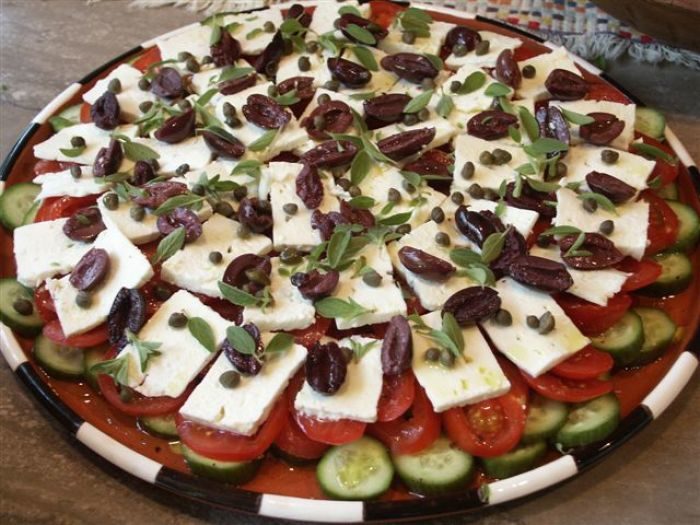 Ingredients:
Serves 2
1 cucumber, washed and sliced medium-thin
1 large or 2 medium tomatoes, cored and sliced
Salt and freshly ground pepper
1 piece, about 4-ounces feta cheese, sliced in half lengthwise very thin
A few slices of thinly sliced onion, optional
Handful of Kalamata olives
About 2 teaspoons capers, optional
Extra-virgin olive oil
About 1-1/2 to 2 teaspoons fresh chopped oregano leaves or dill or about 1/2 teaspoon dried oregano leaves, crumbled
Having just recently spent a few weeks in July on the isle of Syros, I found out what a true Greek salad is and savored many of them, all a variation on this theme, in the height of the season. The tomatoes there, I might say, were the best that I have ever eaten—sweet and tart and red and bursting with juice. In restaurants and the market, I only ever saw English cucumbers, so they were served with the skins and had no big seeds. If you are using a waxed cucumber, it must be peeled.
There are many kinds of feta to choose from—sheep, goat, cow, very salty, extra creamy—all of them are very fresh. On this traditional dish, not once did I see the feta crumbled, it was always sliced, in keeping with the textures of the other salad ingredients.
It was caper season, and let me tell you, fresh cured capers are something that we don't see here! Ours are small and briny, so I generally rinse them before using. This salad is placed on the table family style and generally serves 2 to 4 people; it is easily doubled or tripled.
Arrange the cucumbers on a plate and lay the tomato slices over them. Season lightly with salt and pepper. Lay the feta slices on the tomatoes and scatter the onions over the cheese.
Scatter the olives and capers over the salad. Drizzle about 1 tablespoon olive oil, or a little more overall and scatter the oregano or dill on the top of the salad as garnish. Serve with crusty bread and a glass of wine or a cold beer. Yas sou!