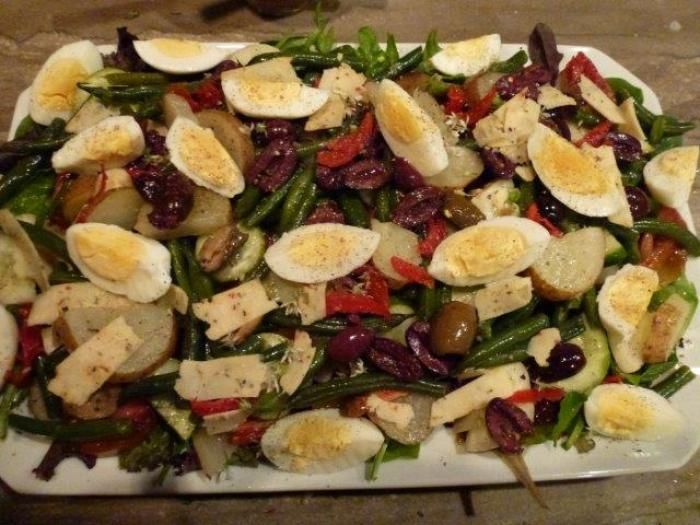 Salade Nicoise (pronounced nee-swahz) is a composed salad, originating from the French Riviera city, Nice. This Nicoise-style of cooking always uses tomatoes, olives, and garlic, and traditionally this salad is made with potatoes, green beans, tuna (usually canned) and/or anchovies, as well as other ingredients and dressed with a simple vinaigrette. It can be served on a bed of lettuce or greens or the ingredients can be simply arranged on a platter. There are as many variations as their are chefs in all of the cities in France.
Upon looking at a few different recipes, besides the traditional ingredients, they vary from Gourmet's France with turnips and carrots; Saveur's recipe calls for two kinds of beets, radishes and cucumber; and in Julia Child's The Way to Cook, she uses all of the aformentioned traditional ingredients and adds potato salad rather than potatoes, capers as well as olives and serves it with fresh parsley on a bed of Boston lettuce. At home, you can do whatever you want.
My recipe here, uses all veggies–most fresh from the garden–and I added a bit of cheese with no fish to make a vegetarian version. Feel free to improvise; the idea is to make a tasty, main course that is comfortably filling and satisfying with what you have on hand.
Summer Veggie Salad Nicoise-Style
Serves 4 to 6
Salad Ingredients
4 or 5 medium-sized potatoes, scrubbed and sliced, (about 1 to 1 1/2 pounds), cooked until tender
About 1 pound green beans, trimmed, halved and blanched briefly until crisp tender, refreshed under cold water
Salt and freshly ground pepper
Olive oil
4 hardboiled eggs (do not overcook!), peeled and quartered lengthwise
2 medium-large tomatoes, halved crosswise and sliced, salt and pepper lightly
2 small cucumbers or 1 medium-large, (peeled if not organic) halved lengthwise and sliced
About 4 cups washed and dried salad greens
About 1/2 cup Nicoise or Kalamata olives
About 1/3 cup cheese, large shreds (something tangy or sharp like cheddar or Asiago), optional
Thinly sliced chives or scallions for garnish
Prepare the potatoes and green beans and put them on plates to cool, season lightly with salt and pepper and drizzle with a small amount of olive oil. Cook, cool and peel the eggs. While the veggies and eggs are cooking, cut the other veggies and make the vinaigrette.
Slice the tomatoes and cukes, wash the salad, shred the cheese and slice the scallions.
Vinaigrette
Makes about a scant cup
3 to 4 tablespoons red wine and/or balsamic vinegar
1 to 2 cloves garlic, minced or pressed
Salt and pepper
About 2/3 cup extra-virgin olive oil
1 to teaspoons Dijon-style mustard
In a measuring cup, combine the vinegar, garlic, salt and pepper with a fork. Slowly drizzle in the olive oil to form an emulsion. Add the mustard, stir well and taste for salt and pepper.
To assemble the salad, arrange the lettuce/greens on a large platter. Scatter the potatoes over the lettuce and the green beans over the potatoes. Layer the tomato slices next, and then the cucumber over them. Scatter the olives, cheese and alliums over the salad. Serve the salad and pass the vinaigrette.
Enjoy your fresh bounty in a lovely and delicious salad plate now!