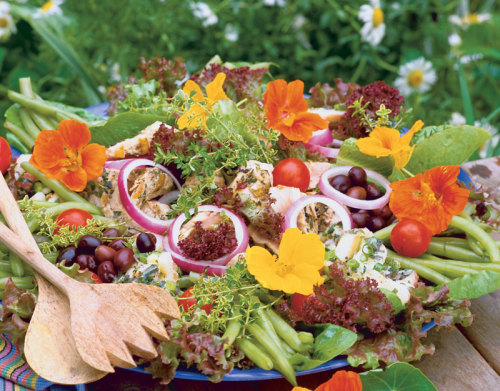 Ingredients:
Marinade for tuna:
3 heaping Tbs. minced lemon thyme
3 cloves garlic, minced
1/2 tsp. crushed five-peppercorn blend
2-1/2 Tbs. olive oil
3 tuna steaks, 8 oz. each, 1 in. thick
Vinaigrette:
1/4 cup fresh lemon juice
4 Tbs. white balsamic vinegar
2 cloves garlic, minced
2 Tbs. capers, drained
1 Tbs. Dijon mustard
3 Tbs. finely chopped lemon thyme and lemon basil, combined
1 tsp. lemon zest
1/4 cup canola oil
Salt and freshly ground pepper
1/4 cup olive oil
Salad:
Handful of lemon thyme sprigs
1 lb. fresh green beans
1-1/2 lb. small red potatoes
2 Tbs. olive oil
4 Tbs. white wine
1 bunch scallions, chopped coarse
2 tsp. minced shallots
1 cup chopped lemon balm
1/2 tsp. crushed five-peppercorn blend
Salt
1 head red-tipped or romaine lettuce
2 handfuls mixed greens
1/4 lb. Niçoise olives
1 red onion, sliced thin
20 red cherry or golden pear tomatoes
Fresh lemon juice
Fresh lemon herb sprigs and nasturtium blossoms for garnish
6 servings
Mix the ingredients for the marinade in a bowl. Rub the marinade into both sides of the tuna. Let sit in the refrigerator for an hour, turning several times.
Make the vinaigrette, whisking the oil in last to emulsify. Set aside.
If you have a grill, start the coals.
In a pot of water with a handful of lemon thyme, briefly steam the green beans so they're still crunchy. Refresh in an ice-water bath, then drain.
Boil the new potatoes in salted water until tender, but do not overcook. Remove from the heat, drain, and allow to cool a bit. Quarter the potatoes and drizzle with olive oil and white wine. Gently toss the potatoes with the scallions, shallots, lemon balm, peppercorn blend, and salt to taste.
Prepare a composed salad by lining a large platter with the lettuce. Arrange groupings of the green beans, potatoes, olives, onions, and tomatoes, leaving room in the center of the platter for the grilled fish to rest upon the mixed greens.
Grill the fish on medium-hot coals for about 5 min. on each side; do not overcook. Sprinkle with salt, add a squeeze of fresh lemon juice, and place on the platter. Lightly drizzle half the vinaigrette on the green beans and salad greens, allowing guests to dress their salads with the remaining vinaigrette. Garnish salad with lemon herbs and nasturtiums.
Recipe by Lucinda Hutson
August 1997
from issue #10