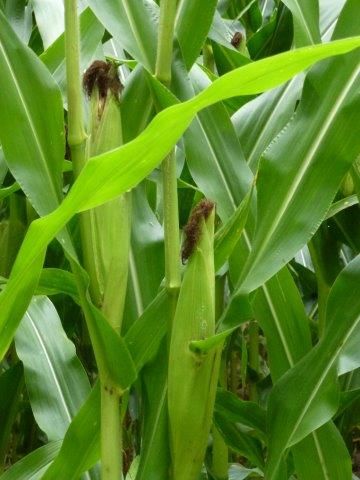 When I think of favorite summer produce–tomatoes, corn and peaches top my list. I eat tomatoes and peaches every single day–and corn almost daily. Though we enjoy them most now–it is time to preserve some for this winter. Recently my local farmer called and said the corn is ready, so I grabbed my knife and freezer zip-lock bags and headed over to shuck and jive…
Friends Denise and Chuck Sharp, and now their son Alan, have made their living farming and growing plants to sell in their greenhouses right around the corner and up the road a bit, at Sharp Farm at Waterford. (www.sharpfarm.com) Their farm is open to the public–Denise sells wonderful vegetable, herb and flowers from her greenhouses–and the farm grows fields full of corn and pumpkins. Right now they have tomatoes for canning and fall veggie plants. They offer tours to school groups and have chickens, goats, sheep, pigs and a few cows. It's a great place in the fall for hayrides and picking your own pumpkins; all of the kids in the neighborhood grew up with this experience. Denise emails me when there is an expected harvest of a certain crop and I always head over to lend a helping hand and reap the benefits–many hands make for quicker work–and I get to put freshly harvested produce up.
A crate of just-picked corn delivered on a forklift is a bit daunting. We set up tables covered with heavy plastic cloths, for easy cleanup, in the shade of the garage. We got out lots of large pans, cutting boards, knives, a big cooking pot, and turned on the empty freezer. Five of us began shucking the corn–this takes a lot of time–however we did get faster at it. Once we had enough ears of corn, two of us started to cut corn from the cob.
Once we filled a huge pot full, Denise took it into the kitchen to blanch, it takes awhile to get 2 gallons of corn to come to a boil. And then it has to cool before packing into containers. To freeze vegetables, generally they are blanched and then cooled. The process of blanching inactivates the enzymes in the vegetable and stops the deterioration while being stored in the freezer. It can take hours for this process from start to finish and so we decided to freeze some of the corn raw.
If the corn in frozen unblanched, it tends to lose some of its sweetness and flavor over time since the enzymes have not been inactivated. I have done this before and the corn tastes delicious; the shelf life is shorter so use it up first. This corn was supersweet to start with and will be used in cooked dishes like corn pudding, soups, stews and cornbread in the cooler weather to come.
Meanwhile, eat fresh corn now while it is still in season! Here are a few favorite ways to enjoy this popular summer vegetable:
1. I steam it on the cob for just 2 to 3 minutes and sprinkle it with harissa (ground chiles, cumin, coriander, salt). No butter necessary!
2. I pull back the husks leaving them attached, remove the silk, dunk the corn in water, pull the husk back up and cook on the barbecue grill for 10 minutes or so, depending on the heat.
3. Simple saute–melt about 1 tablespoon butter in saute pan and add corn cut from 2 ears, stir for a minute or two. Add one medium-sized chopped tomato and simmer together for about 10 minutes. Season with salt and pepper. Yum! Increase the amount–just keep the proportion of two corn to 1 tomato.
4. Make corn relish–you will love it with southwestern dishes, grilled meats and poultry, sandwiches, eggs and more.
5. Make succotash, creamed corn or corn pudding.
6. Cream of corn soup or squash soup.
7. Add corn to omelets, frittatas and scrambled eggs, especially with cheddar.
8. Add corn to summer tomato salsas.
9. Corn is great in pasta and taco salads.
10. Make calabacitas, Three Sisters Saute. /item/9700/three-sisters-saute