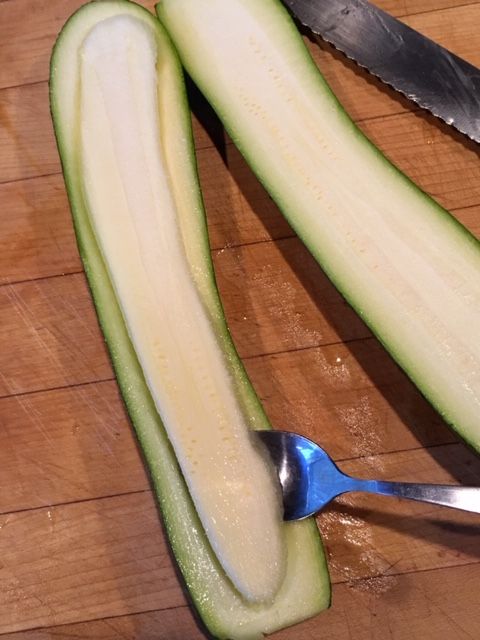 In my last blog, I promised to post a recipe for my stuffed zucchini–so here it is.
Stuffed Zucchini Boats
This is a great way to use any size zucchini or summer squash and is tasty and filling; it is very versatile. Use rice, quinoa, couscous or any cooked grain that you have on hand. Pecans, walnuts, almonds are good nuts-I also like to use hazelnuts which gives the squash a different flavor. Use more or less hot peppers to suit your taste. Add a small chopped tomato if you like. I use whatever cheeses I have on hand-usually a hard cheese like Parmesan, pecorino, asiago or an aged cheddar.
Serves 2 as a main course or 4 as a side; if you are cooking for a crowd, just multiply the filling and number of squash.
1 good-size zucchini or 2 medium-sized
Olive oil for coating and salt and pepper for seasoning
3 tablespoons olive oil
1 medium onion, diced, about 1 generous cup
3 garlic cloves, minced
1 hot pepper, chopped fine
About 3/4 cup coarse-chopped nuts
1 1/2 cups cooked brown rice
3 to 4 tablespoons coarse-chopped parsley
1 teaspoon chopped fresh marjoram
1 teaspoon chopped fresh thyme
Few pinches teaspoon cayenne pepper
Sea salt and freshly ground pepper
3/4 cup freshly grated Parmesan cheese
About 2 teaspoons tamari soy sauce or liquid aminos
1 egg, lightly beaten with a teaspoon of water
Preheat the oven to 375 degrees F.
Wash and trim the zucchini. Cut them in half lengthwise–I use a grapefruit spoon to remove the seed cavity-it is a good tool for the job. Scoop out the pulp, leaving about 1/4 inch and chop the zucchini pulp.
Lightly oil the zucchini boats all over. Place them in a lightly oiled baking dish and season them with salt and pepper; bake for about prebake for 10 to 15 minutes. While the cases are baking, prepare the filling.
In a sauté pan, soften the onion in the olive oil over medium low heat, covered, for about 5 minutes. Add the chopped zucchini pulp, garlic and hot pepper, stir, and cook 3 to 5 minutes longer. Add the nuts, herbs, cayenne and season with salt and pepper; mix to blend. Reduce heat to low, cover and cook for about 3 minutes. Remove from heat and stir in the cooked rice, 1/2 cup Parmesan cheese, tamari and the beaten egg.
Arrange the mixture in the zucchini boats, heaping it in and gently pressing down on the mounds. Sprinkle with the remaining Parmesan and put into preheated oven. Bake for 30 to 35 minutes, until the tops are light golden brown. Serve hot, warm or at room temperature.