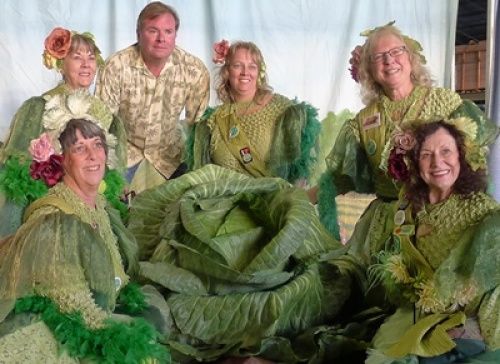 A cabbage plant that weighs over 100 pounds is a big deal, but watching it get weighed is even bigger. At the annual Giant Cabbage Weigh-off at the Alaska State Fair, people came from thousands of miles away to see if a new world record would be set. 
Reporters from the British Broadcasting Corporation, the national broadcasting network in Japan, The Food Network, HGTV and local TV and newspapers gathered in the Farm Exhibits building in late August to capture the event for their audiences. A live Internet feed was also broadcast to viewers as far away as Australia.
Steve Hubacek of Wasilla was this year's winner with his 117.95 cabbage he named Marmaduke. Second place went to Scott Robb of Palmer for Gorgeous George, weighing 113.7 pounds. Robb is the holder of the Giant Cabbage world record for the 138.25-pounder he grew in 2012.
There were 22 total entrants in the contest, one of the more newsworthy events held in Palmer each year. Garrett Streit grew the junior winner, Framagio, that weighed in at 68.3 pounds.
The growers in Alaska's Matanuska-Susitna (Mat-Su) Valley take advantage of the area's fertile soil and 20 hours of sunshine each day in early summer to grow their giant cabbages.
But it takes a concentrated effort and many hours spent tinkering with the growing environment, fertilizers and watering systems to get cabbage plants to grow to over 100 pounds.
Cabbages that get to be that size have some similar characteristics. The seeds have to be genetically capable of growing big, the plant needs to have a really big base, big leaves (weighing several pounds each), a huge, firm head and lots of poufs or small cabbages growing within the large leaves.
It's also good to get a little help from the Cabbage Fairies. A sprinkling of magic fairy dust while plants are growing is said to give these giants an extra boost.