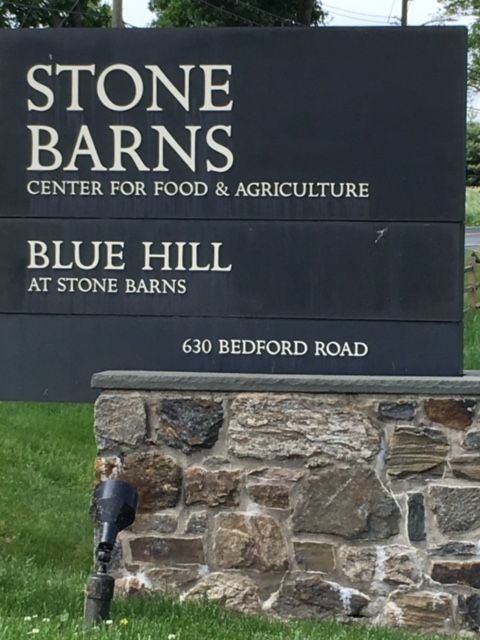 Recently, while attending the annual Herb Society of America Conference in Tarrytown, New York, we made a visit to Stone Barns Center for Food & Agriculture in Pocatico Hills, NY, which was well worthwhile the trip. If you are in the area, by all means, make an effort to visit these handsome gardens and experience the many aspects of a well laid out and attractive, yet working farm from greenhouse crops to field crops and orchard to flower and herb gardens, livestock and bees.
Stone Barns is working with the Rockefeller State Park Preserve to expand their work in agroecology. David Rockefeller left this land to the Preserve as part of his commitment to community, conservation and sustainable agriculture. They are a non-profit organization, which provide numerous scholarships.
Plan to spend a whole day here. Besides the gardens, there are animals to pet and the stone buildings, courtyard and silos are impressive. The cafe food is quite wonderful and wholesome–and innovative (yes!). Foodie that I am, I have to describe a few of the excellent comestibles. We shared an open-faced watermelon radish (very thinly sliced) sandwich with broccoli butter on whole-grain sourdough, a slice of foccaccia with tomato, basil, onion, wild mushrooms and a mushroom pate (!), an excellent iced latte with oh-my-gosh a warm cheddar chive biscuit (had cornmeal in it). We took the chocolate chip and oatmeal raisin cookies home, along with a little loaf buckwheat cake with raspberries and an exquisite whole-wheat croissant.
The gift shop has an unbelievable selection of cool stuff from the kind of books I like to read (I bought four although they weren't all for me), not to mention cooking equipment and pottery, cocktail ingredients and mixology whatnot, jewelry, hats, scarves and tee shirts, all sorts of farout kids' stuff and freshly harvested vegetables.
Note: Close-toed shoes are suggested. On weekends, in the busy season, online tickets are recommended. although the admission fee is a bit steep, I am happy to donate to support a working farm like this, which provides hands-on activities, education for all in an inviting and user-friendly manner. www.stonebarncenter.org
One thing that I'd like to note is that the staff here was extremely friendly and helpful. The young man who checked our reservations at the entrance gatehouse, hours later checked me out in the gift shop. Our tour guide, in the greenhouse welcomed us at the entrance to the courtyard and also accompanied the chef on the field tour. I quite like that the staff gets to moveabout throughout the day and try their hands at the many jobs at the center (that way no one ever gets bored and they learn many tasks through experience)–what a great work ethic.