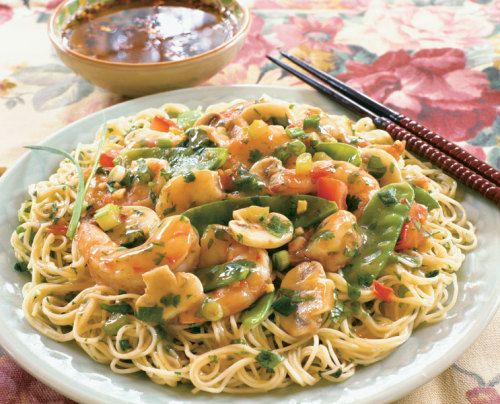 Ingredients:
8 oz. thin rice or egg noodles
1 lb. small shrimp, peeled and rinsed
2 tbsp. fish sauce, divided
1 tbsp. cornstarch
1/4 cup cold water
1 stalk celery, diced
1 cup sliced mushrooms
2 medium tomatoes, diced and drained
2 tsp. minced or grated ginger root
3 scallions, chopped fine
1 cup (4 oz.) snow peas, stems and strings removed
1/2 cup chopped cilantro
For the table sauce:
1 clove garlic, crushed
3-4 tsp. sugar
1 tbsp. fresh lime juice
2 tbsp. fish sauce
1/2 cup water
1/2 tsp. crushed red pepper flakes
4 servings
Pour 1 in. of water into a steamer or a large, deep pot. Set up a rack to hold the cooking dish. Cover and bring to a boil.
Put a large pot of water on to boil for the noodles. Break the noodles into 4-in. to 5-in. lengths. Cook according to package instructions. Drain and cover to keep warm.
In a medium bowl, combine shrimp and 1 tbsp. fish sauce. Set aside.
In a small bowl, combine the cornstarch and water. Mix and set aside.
Put celery, mushrooms, tomatoes, ginger root, and remaining 1 tbsp. fish sauce in a heatproof dish and put into steamer. Cover, reduce heat to medium, and steam 8 to 10 min., or until celery is partially cooked.
Meanwhile, make the table sauce. Combine the ingredients in a small mixing bowl and stir until the sugar dissolves.
Add the shrimp with its liquid and the scallions to the cooking dish. Cover and steam 4 to 5 min. Stir the shrimp, moving raw ones to the edge of dish. Cover and steam another 4 to 5 min. or until shrimp are plump and opaque orange and white. Add snow peas and steam 1 to 2 min., or until the peas are crisp-tender.
Remove the cooking dish. Pour the juices into a measuring cup. Add water to bring the level to 1 cup or boil to reduce to 1 cup. Stir the cornstarch mixture and add it to the juice. Bring to a boil, stirring constantly. Boil 2 min. or until thickened.
Add some of the thickened juice and about half the cilantro to the shrimp mixture, and stir. Add the remaining juice and cilantro to the noodles and toss well. Serve the noodles topped with the shrimp and vegetables. Pass the table sauce in a bowl for spooning on top.
by Judy Monroe
February 1997
from issue #7