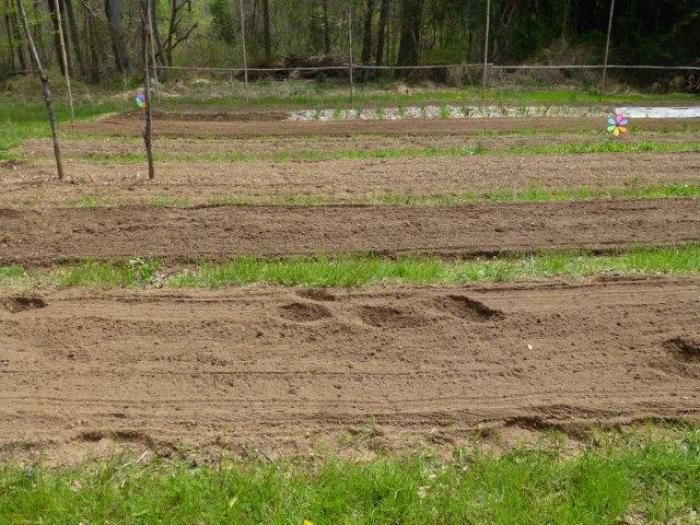 Today is the last day of April and tomorrow we will celebrate May Day–this past month has been cold and wily here in Maryland–have had the woodstove going and the plant babies covered. Hopefully May will finally bring spring for us impatient Mid-Atlantic gardeners!
Usually once spring arrives, we have both warm and cool days–it is the nature of the season. However, this spring has been cold with little warmth; we've had to have the woodstove going and the seedlings covered and in the coldframe. So it seems we are getting a late start for the garden season. No 'Early Girl' tomatoes have been sighted in these parts yet!
While cool weather crops like garlic and onions are faring well, many harbingers are only recently popped. Violets, sorrel, mint, bergamot are showing out. The radish seed that I planted in the root moon took off in just a few days and I have had to thin them already.
The tiny salad greens that I brought home from my friend Deb's about two weeks ago have been hunkered down in the cold frame, which is opened on sunny, warm days and closed at night. They have progressed nicely, are now hardened off, and will be ready for transplanting as soon as the moon is right.
I planted some tender green transplants picked up at a nursery: some lettuces, spinach, and kale and they are covered with some floating row cover to protect them from the deer and the weather.
Don't be in a rush to get your tender tomatoes, peppers, eggplant, basil, etc. into the garden. They will not be happy if nights drop below 55 or 60 degrees F–they will just sit and sulk, so wait and let the earth warm up.
Enjoy the gardening season–here's to some warm sunny days–and happy May!
It's May, it's May… the merry month of May!