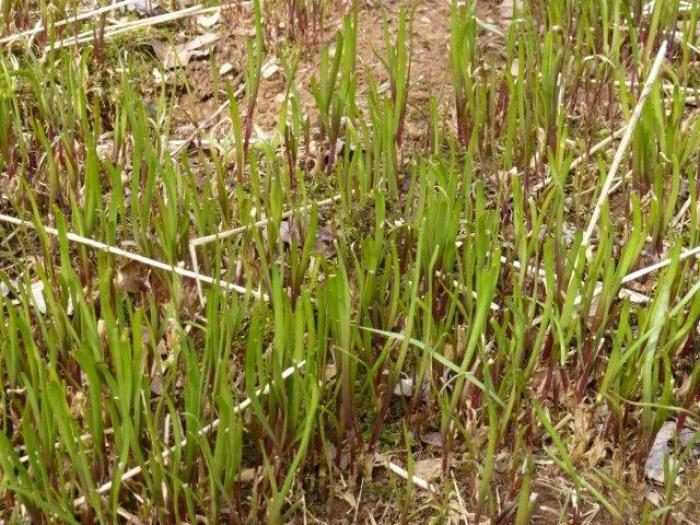 Chives are truly one of the harbingers of spring and their fresh, green,onion-like flavor is welcome after the long winter months of heavy foods.
The chives seem to grow before our eyes this time of year. Cut them back to just an inch or so above ground when harvesting. I keep kitchen scissors on hand for snipping them right into a dish. Besides adding chopped chives to mashed potatoes, soups, egg dishes, grains and pasta, gravies and sauces, veggie burgers, here are a few other quick and easy ideas. A welcome addition to spring dishes, here are a few ways to use chives.
Herb Butter
Add snipped chives to softened butter, blend in about 1 tablespoon of olive oil to keep it just a little bit soft once refrigerated. It is wonderful on biscuits, steamed new potatoes, parsnips or carrots, asparagus–just about any spring vegetable. Add a little zested lemon peel or minced tarragon for a different dimension. Mint is wonderful with chives on peas. Violets add a lovely purple color to the butter.
Chives with Eggs
Chopped chives are wonderful in scrambled eggs or an omelet. Add a little bit of minced chickweed or dandelion leaves and some grated sharp cheddar for a tasty breakfast or quick supper.
Chive Vinaigrette
Finely chopped chives are a delightful addition to any vinaigrette. I make mine with about 2 tablespoons balsamic vinegar, 1/2 cup extra-virgin olive oil, 1 heaping teaspoon Dijon-style mustard, 1 tablespoon minced chives and salt and freshly ground pepper to taste. This is great on spring greens!
Chive Cream Cheese
Soften 8 ounces cream cheese or yogurt cheese. Mix it in a bowl with about 2 tablespoons each chopped chives and parsley, 1 to 2 teaspoons minced thyme or tarragon, and a few pinches cayenne pepper. Add about 1 tablespoon or so of milk to make the cheese a little softer and easily spreadable. Season lightly with salt and pepper. Serve this as a dip with crudites or crackers, use as a sandwich spread or try it on a baked potato.
Deviled Eggs with Chives
/item/15058/lucies-deviled-eggs
Get out there and harvest your chives–they will grow back and bloom for you soon!
If you are new to growing chives, check out this past post: /item/2450/how-to-grow-chives They are a very easy to grow herb and the rewards are tasty!