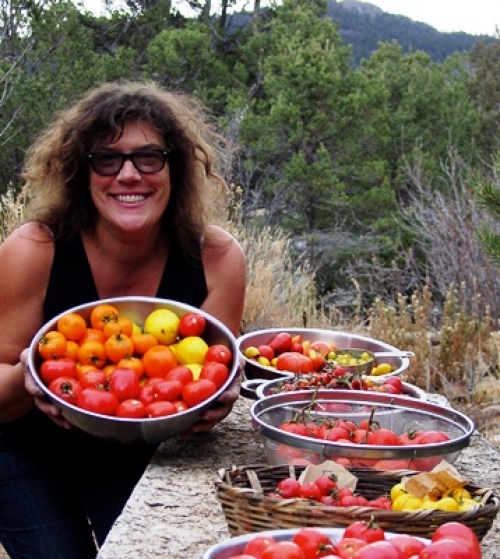 Penn Parmenter learned how to grow food in the mountains of south-central Colorado the hard way. Since 1991 she and her husband Cord have worked to overcome the challenges of gardening at an elevation of 8,120 feet and are now experts at mountain food growing.
"We do believe that starting with high-altitude appropriate seed can make a huge difference," she said. 
The high-altitude adapting seed they've been carefully cultivating over the last three years is now available through Seeds Trust. The company's new line of "High-High" (hh) seed is grown on the Parmenter's own mountain.
"Most store-bought seeds are from far-away places, often near sea level, and grown with humus and humidity," Penn explained. "The seed needs to acclimate to our Wild West conditions and the amazing thing is, it starts working immediately."
Each year the seed is grown, it stores information about the environment to pass down to the next generation. 
"Every year you save and use that new seed, you are improving your chances for greater germination, more vigorous growth, and best of all, a more prolific yield," Penn said.
Gardeners who like to grow their tomatoes from seed, but struggle to grow them in summers that end too soon, benefit from planting Penn's short-season, cold-hardy tomatoes. Some of her favorites include 'Sasha's Altai', 'Perestroika', 'Olga's Yellow Chicken', 'Mother Russia', 'Mikarda Sweet', 'Glacier' and 'Mt. Roma'.
Penn promises there are more mountain-adapted tomato varieties on the way. After all, she grew more than 130 different tomato varieties last season.
In addition to the special high-altitude tomato seeds, Seeds Trust is offering the Parmenter's short-season 'Candy Mountain' sweet corn.
'Candy Mountain' was one vegetable variety that had disappeared from the catalog. Other varieties the Parmenters are growing to return to the Seeds Trust line include 'Northern Bush' pumpkin and 'Kinko 6″ Chantenay' carrot.
The Parmenters were inspired to start saving their mountain-grown seed after attending Seed School led by noted seed authority Bill McDorman. They also created a seed library and "now teach and preach" seed saving.
More information on growing food in the mountains is available on the Parmenter's website.