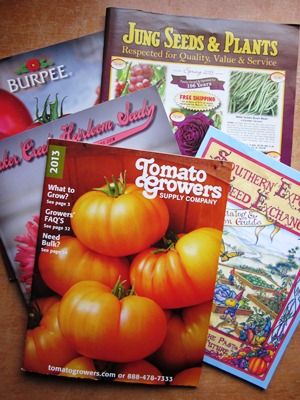 The armful of seed catalogs that have already arrived offer the promise of a vegetable garden brimming with every kind of fruit, vegetable, herb and flower imaginable. There are even some that a gardener couldn't have dreamed of a few years ago, like sweet corn meant to grow in containers.
The first catalog to arrive came from Baker Creek Heirloom Seeds. Previous catalog covers featured the original artwork of Debbie Gettle, mother of company founder Jere Gettle, but this catalog features something different.  For the 2013 edition, a close-up of three perfect 'Senorita Pink' zinnias helps promote the old cottage garden flower varieties that are part of Baker Creek's compelling heirloom vegetable line.
Another early arrival is the Burpee catalog. In an unusual move, the company has featured its new 'SuperSauce' hybrid tomato on the cover shown in actual size. The tomato, billed as the world's largest sauce tomato, is 5 ½ inches tall and 5 inches wide. Burpee says these 2 pound tomatoes produce gallons of seedless sauce from each plant.
Burpee is also offering the 'On Deck' hybrid sweet corn that was bred for container growing. The instructions recommend planting 9 seeds per 24″ container. Expect to harvest corn in about 2 months.
Tomato Growers Supply Company selected a photo of a stack of 'Dagma's Perfection' tomatoes for its cover. These bi-colored slicing tomatoes are an heirloom variety that's pale yellow with light red striping. Tomato Growers Supply is offering 10 new tomato varieties and 8 new peppers, including the famed Bhut Jolokia 'Ghost Pepper' that's one of the hottest peppers in the world.
The catalog from Southern Exposure Seed Exchange features a colorful illustration of gnomes harvesting vegetable from a fantasy garden of raised beds. The theme for this year's catalog is "Saving the Past for the Future." This year Southern Exposure is offering 24 new heirloom and organic varieties, including a few that have been missing from the catalog for many years. These include 'Lady Godiva' pumpkins and 'Aunt Mary's' sweet corn.
The latest catalog to arrive is from Jung Seeds & Plants and the cover shows off five of its new offerings. These include 'Nikki Green' bush beans and 'Somerset' seedless grapes. For the 2013 season, Jung has added the Might 'Mato line of grafted tomato varieties and Mighty Veggies pepper and eggplant varieties. Grafted vegetables are known for their disease resistance and higher yields. 
Links to reviews and contact information for these, and many other popular seed company catalogs, can be found on the Bumper Crop of Seed Catalogs page.