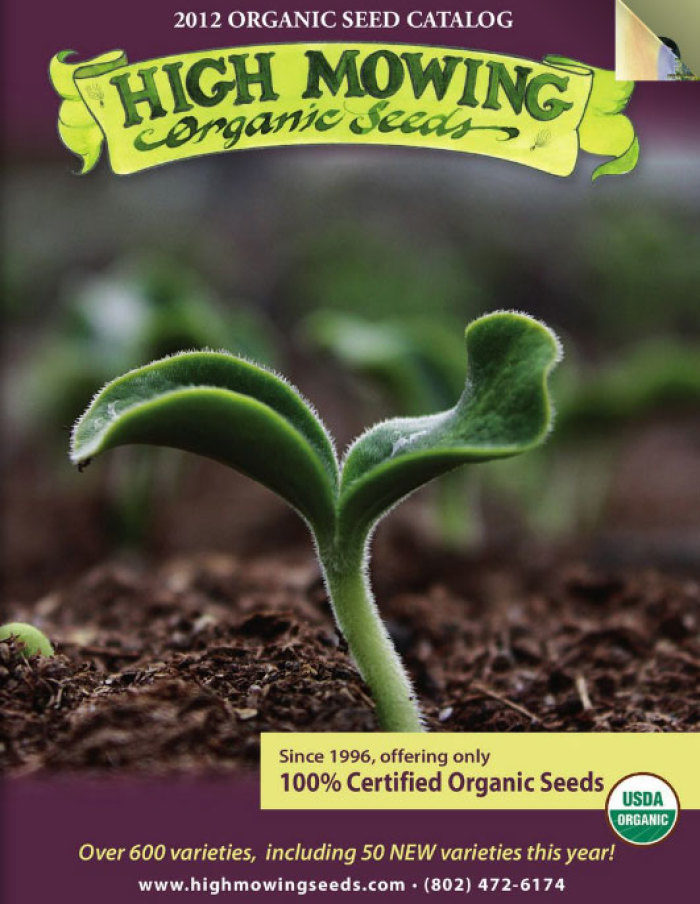 From their website, "High Mowing Organic Seeds is an independently-owned, farm-based seed company dedicated to supporting sustainable agriculture and providing farmers and gardeners with the highest quality certified organic seed." They offer 100% Certified Organic, non-GMO seeds, with over 500 organic vegetable, herb, flower and cover crop seed varieties. 75 new varieties are available for the 2011 growing season.
Starting out the catalog are their new varieties for 2011. The catalog is organized alphabetically by crop/plant, with very clear and easy to read listings. At the beginning of each crop or crop family section, great information is provided on planting, culture, diseases & pests, and seed specs. If the section covered a group of plants—broccoli & cole crops, for example—information is provided for each individual plant (in this example, broccoli, brussels sprouts, cauliflower, kohlrabi, etc.).
From a graphic and layout standpoint, the catalog is beautifully done. Photos of selected varieties are all top quality and are clearly named. Yellow "tabs" at the top outside edge of each page quickly guides you to the crops you're looking for. The most unique (and impressive) parts of the catalog, are oddly enough, the price listings. The variety and pricing information is laid out in tables; the header and footers of which are a photo of that plant's seeds. Nice touch! Item numbers and names are clear and quick to find.
As you approach the center of the catalog, you'll discover a very impressive (I mean huge) selection of specialty greens and lettuce varieties. Just glancing over the photos alone made me wanna break out the Caesar dressing! That part of the catalog ends with their offerings of micro-greens, sprouts and shoots.
After an amazing listing of vegetables, their herbs take the catalog stage. A small, yet colorful listing of flowers then reminds you that they too are part of a great garden. Rounding out the catalog are good selections of cover crops, garden supplies, books, and tools.
The High Mowing Organic Seeds catalog definitely needs to be in your go-to list for Fall or Spring seeds. Just about everything impressed me about it. I personally have been moving towards planting only organic vegetable, herb, and flower seeds, and High Mowing Organic Seeds will surely be a part of that. You can request their print catalog, or simply visit their website and online store at www.highmowingseeds.com.