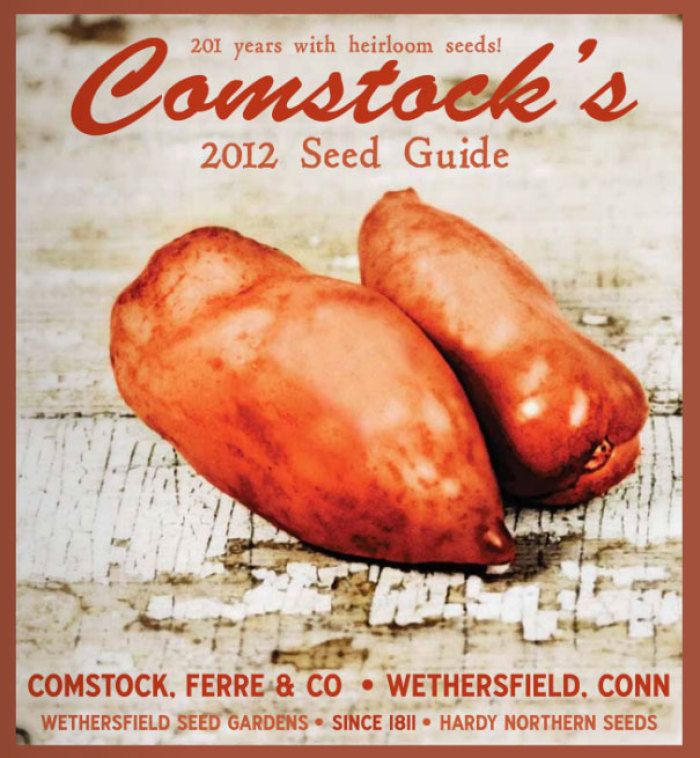 One of the things I find fascinating about the history of buying and selling seed in America is how seed was first imported from far away places. Fruits and vegetables from Spain, tobacco from Trinidad, rice from Madagascar, cotton from the Bahamas.
In 1780 the first seed house opened in Philadelphia. Other seed companies followed, and in 1811, Comstock, Ferre & Co., started business in Wethersfield, Conn.
The company's 2011 seed catalog celebrates its 200th anniversary, making it the oldest seed company in New England. And, thanks to the efforts of Jere Gettle and family, the company will be around for years to come.
If Jere's name sounds familiar, it's because he's the founder of Baker Creek Heirloom Seed Company. The Gettle family purchased Comstock, Ferre & Co. in 2010 with the goal of restoring this historic seed house to its original condition and offering seed from its early days.
This new edition of the catalog includes the long and colorful history of the company and more than 250 heirloom vegetable and flower varieties, all over 50 years old. The seed is strictly non-GMO, non-patented, and non-hybrid.
The catalog proves everything old is new again. Its pages are filled with beautiful colorized photos dating from the 1920s and the old-fashioned seed illustrations are from the company's archived antique seed packets. The growing instructions, from the 1933 Comstock, Ferre & Co. catalog, add a lovely bit of horticultural history.
By planting any of these vegetable or flower varieties, today's gardeners will automatically be connected to gardeners from previous generations.
For example, the 'Bonny Best' tomato is a variety the company offered throughout the 1930s. Other tomatoes, like 'Early Red Chief' and 'Ponderosa' were first offered in the late 1880s.
'Copenhagen Market' cabbage was introduced to America about 100 years ago; 'Black Beauty' eggplant was sold as early as 1907.
Some of the vegetable descriptions include quotes from early catalogs, like the one from 1885 for 'Banana' melons: "When ripe it reminds one of a large, overgrown banana…It smells like one, having a remarkably powerful and delicious fragrance."