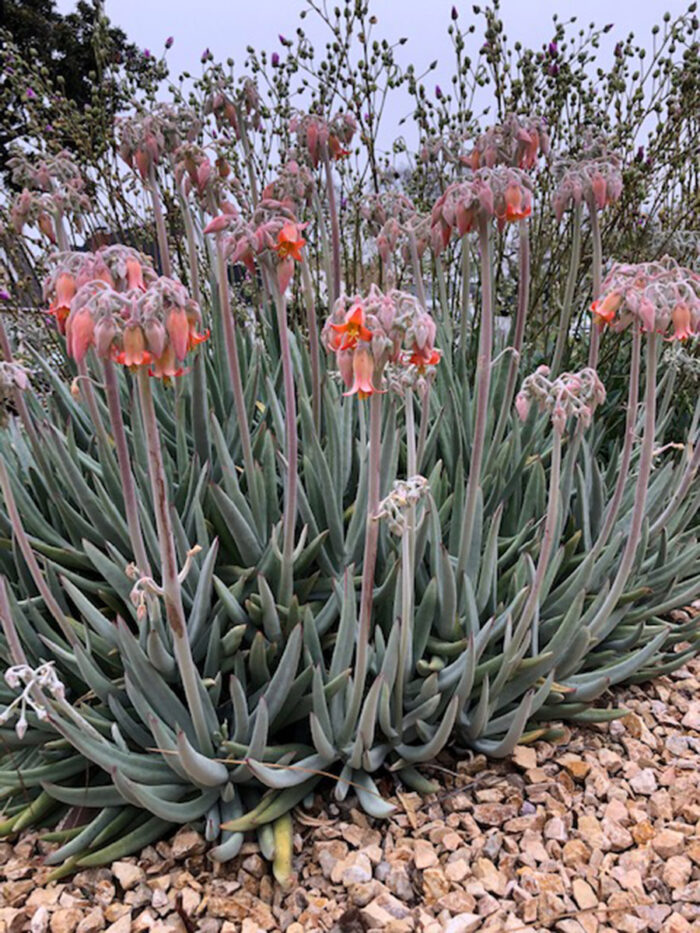 South Africa has a few similarities with Southern California. Both are hot spots of biodiversity. South Africa, like California, is recognized as a floristic province. That means that both have been identified as having distinct plant life that is endemic to their region and not native to anywhere else in the world.
South Africa, like Southern California, has a Mediterranean climate. We are both accustomed to wet winters and dry summers. Our climate similarities mean that plants from one region are well suited for introduction to the other. I love South African plants not only because they are well adapted to our climate, but because of their unique characteristics.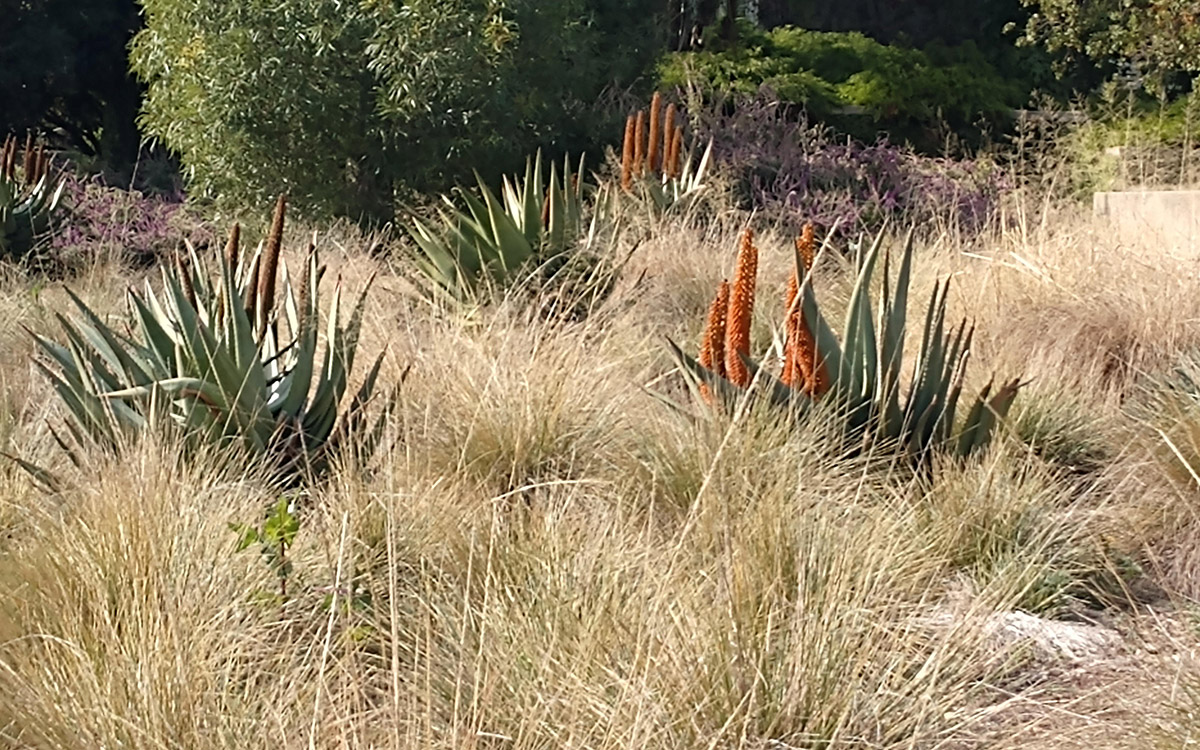 Many plants from South Africa have distinct appearances that add great points of punctuation to gardens. They are eye-catching specimens that really pop as focal points. The plants I am going to highlight here all have this in common. Let's take a look at some bold South African beauties to enhance your plant palette.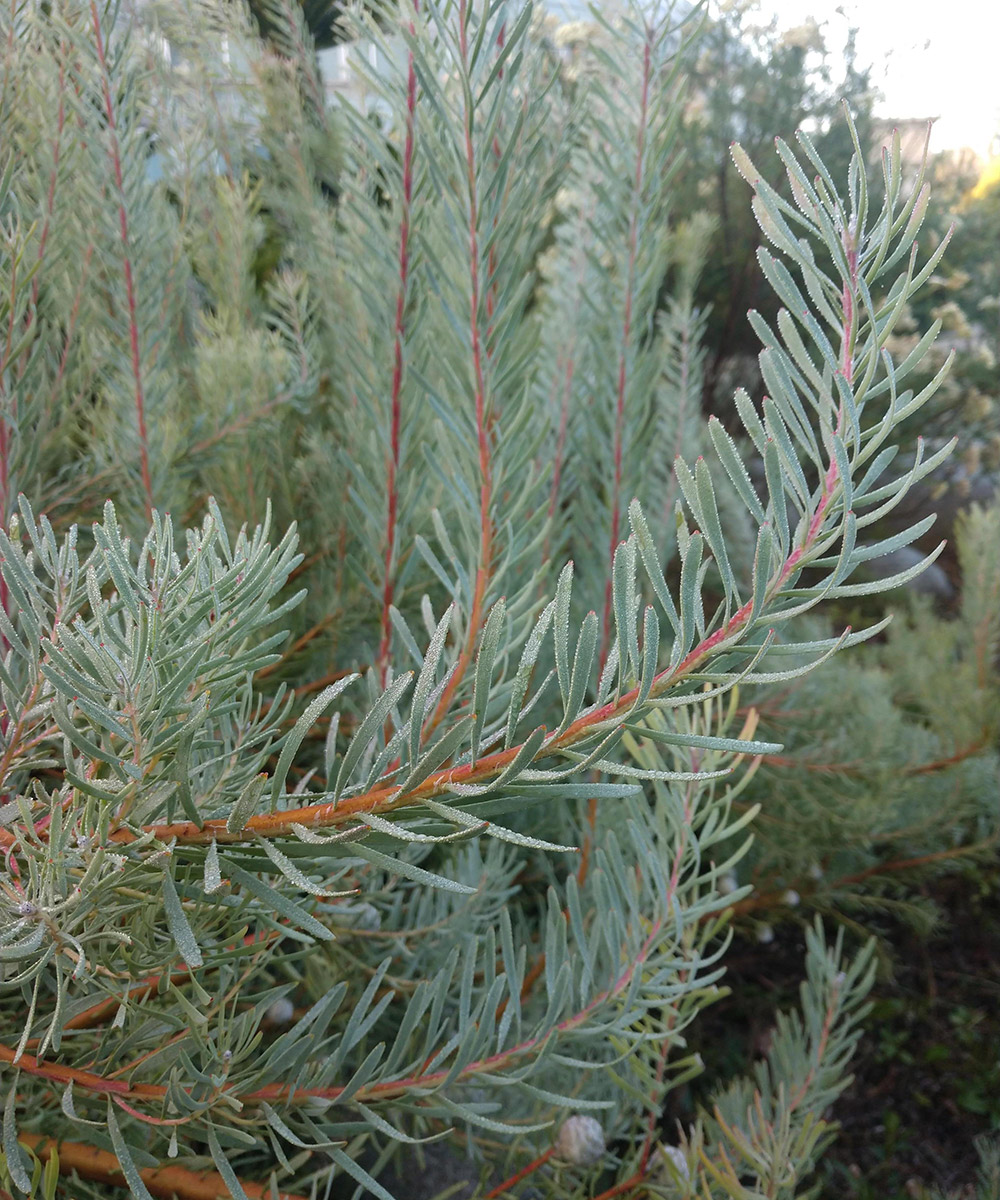 Galpin's conebush
Leucadendron galpinii, Zones 9–11
This plant has an interesting, unique texture. Galpin's conebush is a member of the protea family and has conelike flowers. It's not only beautiful but is virtually pest and disease free. This conebush makes a great specimen plant. It uses little water and can be used in xeriscaping. If left unpruned, it will grow 6 feet tall and 4 to 5 feet wide but can also be cut hard annually for a more compact habit. Plant in full sun with good drainage.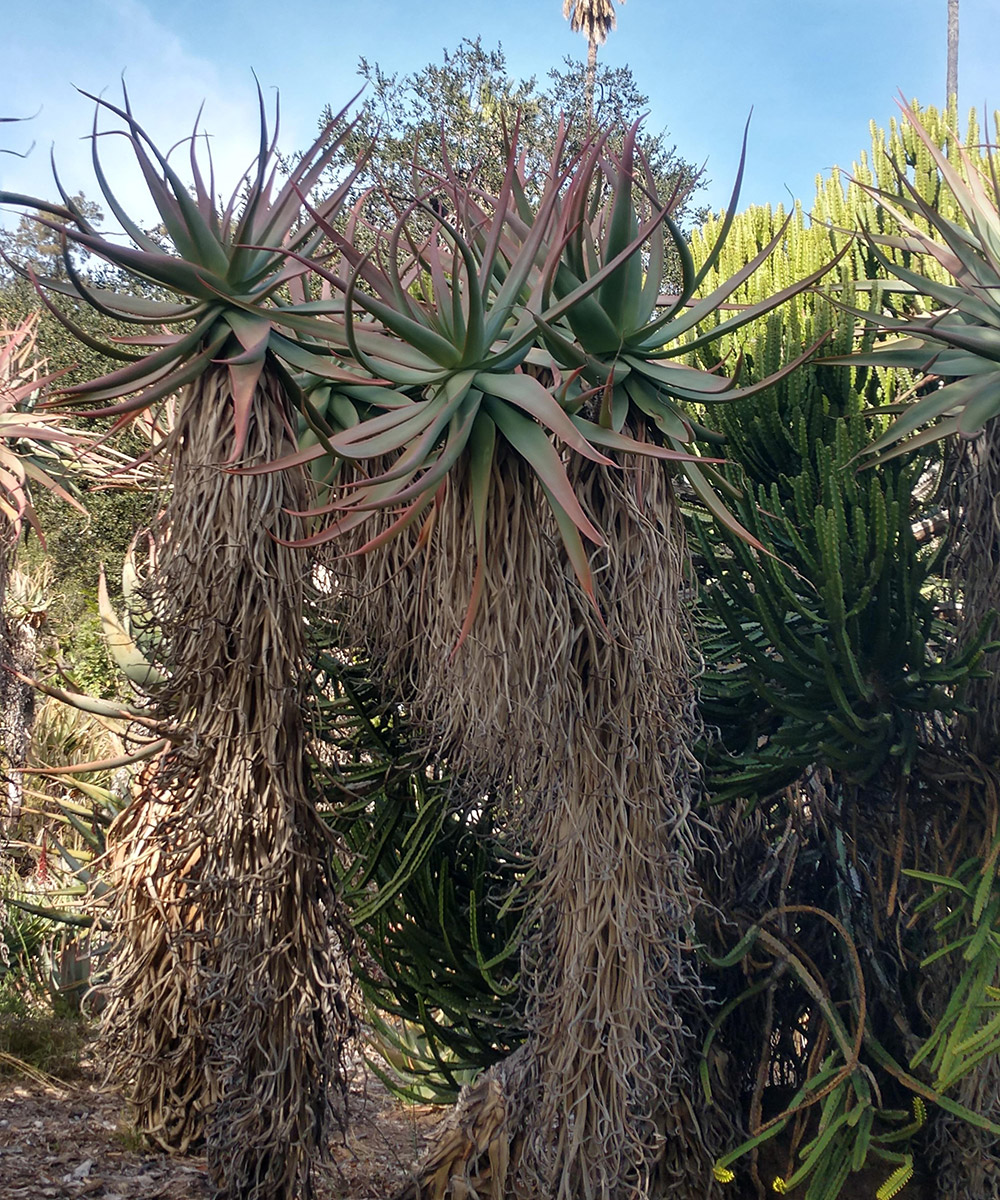 Tilt-head aloe
Aloe speciosa, Zones 9–11
This small tree aloe is a favorite of mine. It reaches 8 to 10 feet tall in maturity and has beautiful blue-green foliage that forms a large rosette atop its trunk. Tilt-head aloe blooms in Southern California around March. I love the gradient of color on the inflorescences. Shifting from white to orangish pink, the flowers emerge like giant candy corn and summon nearby hummingbirds. This aloe is super drought tolerant and best planted in full sun.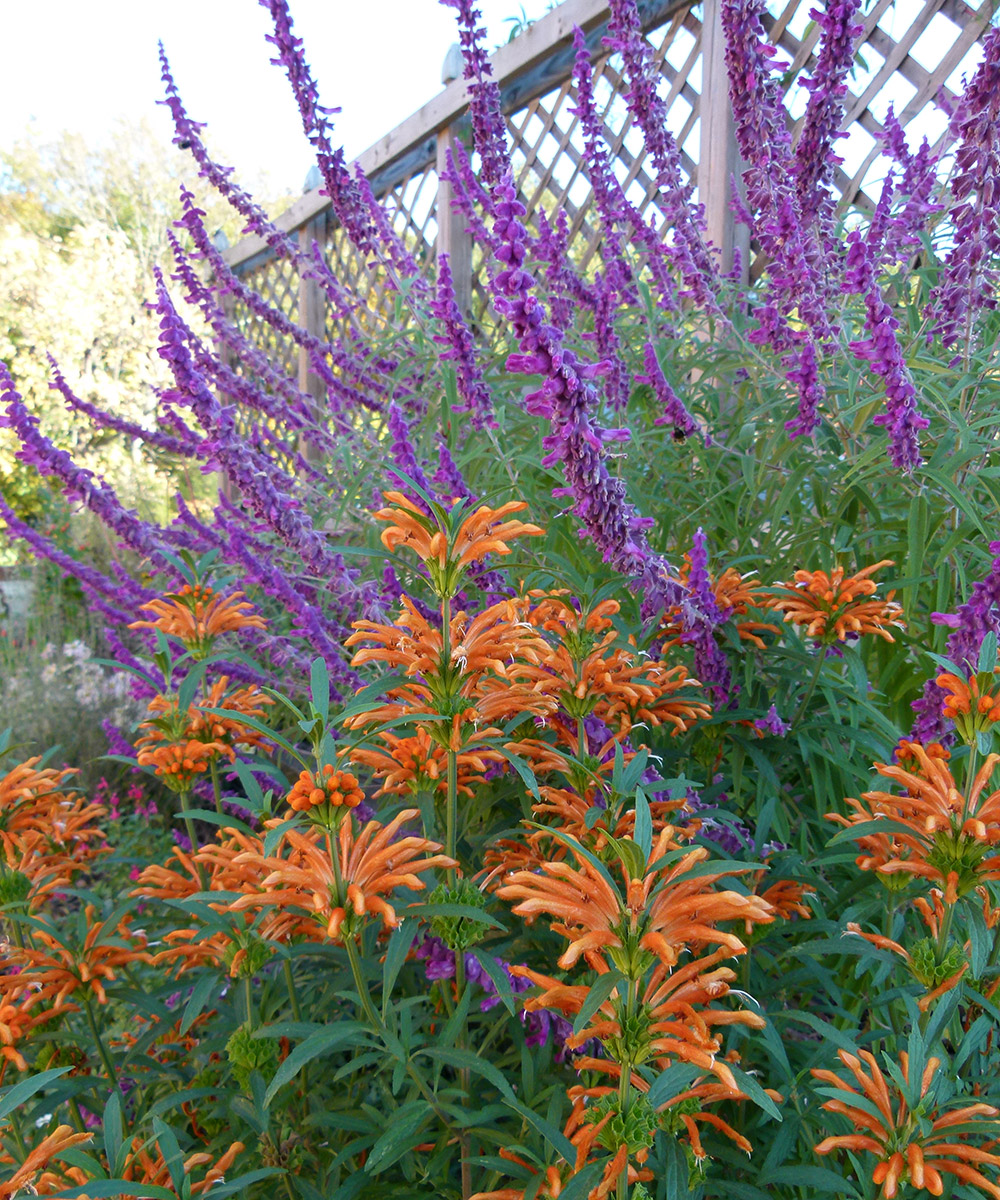 Lion's tail
Leonotis leonurus, Zones 8–11
The orange flowers on this perennial will draw hummingbirds and your eye. Lion's tail is a member of the mint family. It is very hardy, drought tolerant, and loves full sun. This is one South African native that does extremely well in Southern California. Cut it back relatively hard in February for a fresh flush of growth and a renewed appearance. Lion's tail flowers from late spring all the way to fall. It will reach 4 to 6 feet tall and wide and needs fast-draining soil.
Finger aloe
Cotyledon orbiculata var. oblonga 'Flavida', Zones 9–11
This aloe is another striking foliage addition plant for any Southern California garden. It has a chalky, white, succulent appearance that offers unique texture and contrast. Finger aloe is more compact than other selections mentioned here, standing at about 2 feet tall and 4 feet wide. It makes an excellent specimen mass planted or as a ground cover and could also be a great addition to your rockery. The flowers look like parasols and are quite charming. Finger aloe has low water requirements, and full sun is required for the best blooms.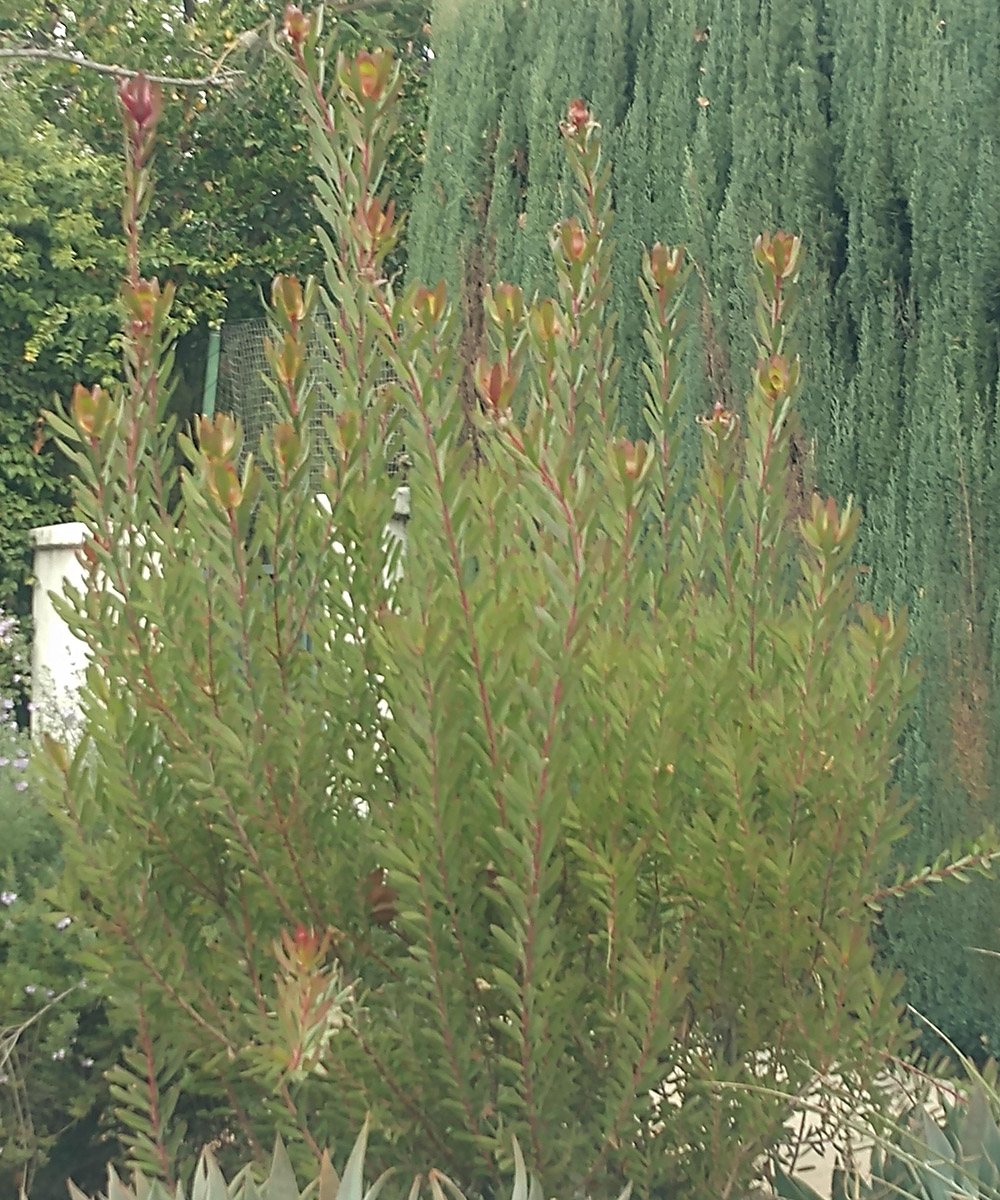 'Safari Sunset' conebush
Leucadendron 'Safari Sunset', Zones 9–11
Add this conebush to your garden as a dramatic specimen plant. The deep red of this plant's flowers is striking. You can keep it more compact with pruning, but left on its own it can reach up to 6 feet tall. The flowers can be cut for arrangements and are long lasting. This is an adaptable cultivar that is even tolerant of clay. 'Safari Sunset' conebush wants full sun, and I recommend finding a spot facing west where it can get backlit by the setting sun.
For more South African plants for Southern California, see Reflecting on Mirror Plants.
—Cara Hanstein is a head gardener at the Huntington Library, Art Museum, and Botanical Gardens in San Marino, California.