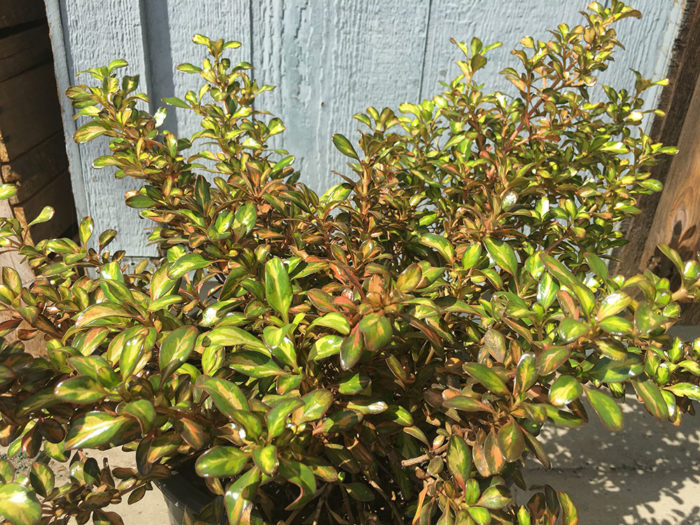 The mirror plant (Coprosma spp. and cvs., Zones 8–11) has several stunning varieties, but they all share some characteristics, foremost being that they are colorful plants native to the coastal rocks, cliffs, and forests of New Zealand. With mirror plants, the leaf is the star and the flower merely a supporting player. They are members of Rubiaceae, with leaves that are among the shiniest, glossiest leaves you can find on the planet, hence the common name. As you can imagine by their origins, mirror plants thrive in ocean conditions, taking coastal winds and salt spray in full sun. Inland they prefer a bit more shade. They do best in well-drained soil with regular irrigation but can become fairly drought tolerant once established. They grow mostly pyramidal in shape, are cold tolerant down to about 20°F, are suitable for sunset zones 14 to 24, and are generally deer resistant. Here are some of my favorite varieties.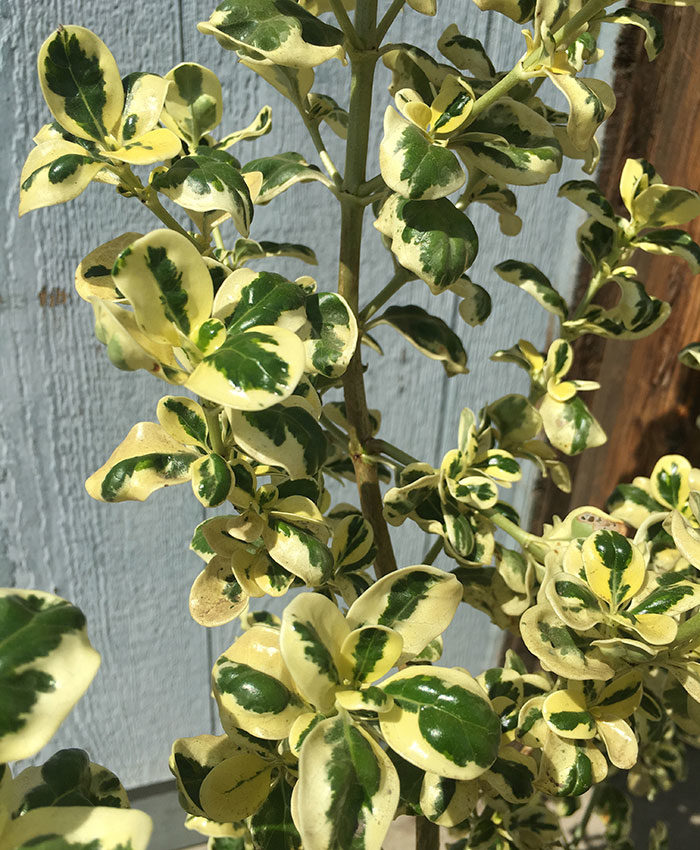 Dwarf variegated mirror plant (Coprosma repens 'Marble Queen', Zones 9–10)
Size: 3 to 5 feet tall and 4 to 6 feet wide
Winner of the Royal Horticultural Society's Award of Garden Merit (AGM) in 2002, this cultivar is probably my favorite, with its subtly beautiful creamy white and green leaves. This surely would be my first pick as an interior houseplant. It has a pyramidal shape but spreads out along the base.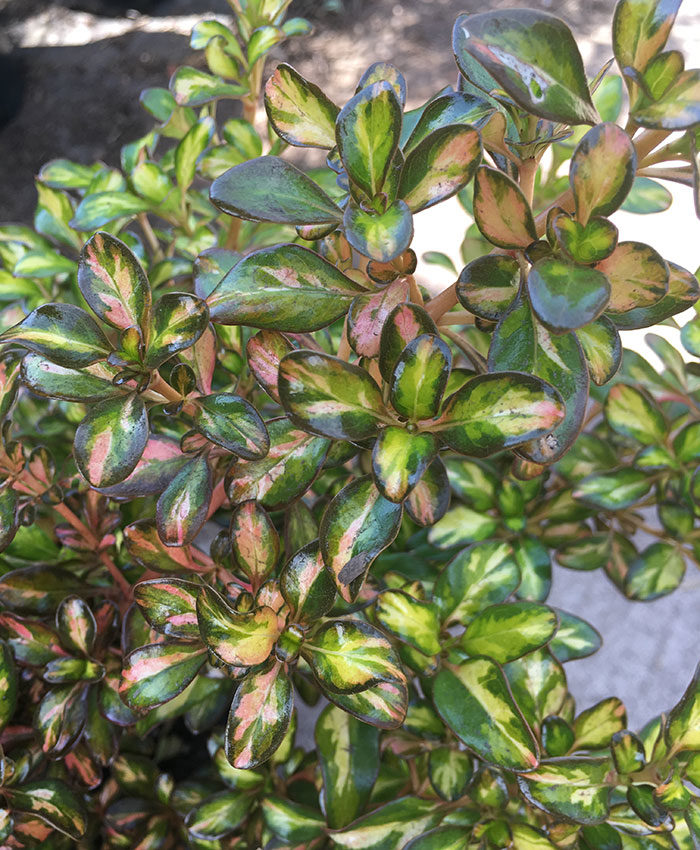 'Evening Glow' mirror plant (Coprosma 'Evening Glow', Zones 9–10)
Size: 5 feet tall and 3 to 4 feet wide
This cultivar is a very colorful, upright growing shrub with a naturally pyramidal form. Its many ovate leaves shine in practically every shade of green with irregular yellow blotches that turn bright pink, rusty orange, and maroon in late summer through fall and remain that way until new growth sprouts in spring.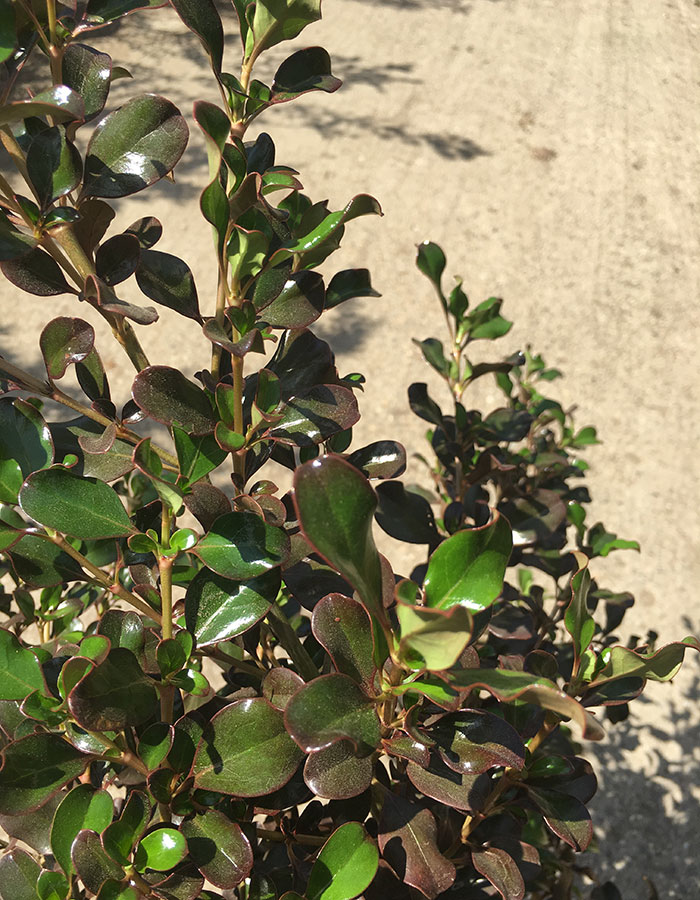 'Plum Hussey' mirror plant (Coprosma repens 'Plum Hussey', Zones 9–11)
Size: 3 to 4 feet tall and 3 to 4 feet wide
'Plum Hussey' puts out new leaves that are lime green with a burgundy border and gradually become almost completely plum red and burgundy in their maturity. I have heard it said that this cultivar can be hardy to 15°F, but since it is not the fastest-growing plant, I don't think I would risk it. It may just take too long to recover.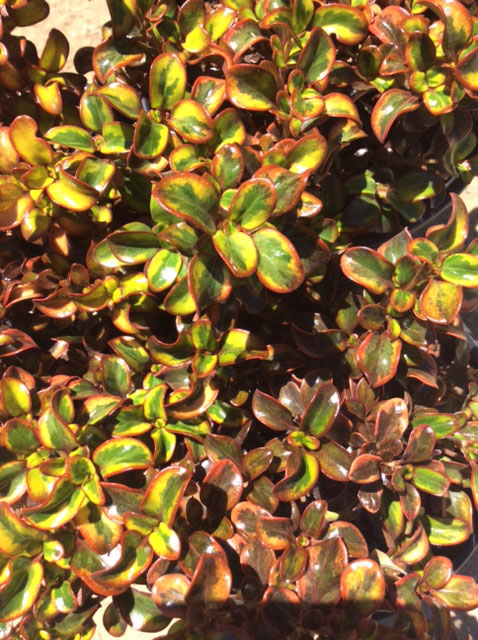 'Tequila Sunrise' mirror plant (Coprosma 'Tequila Sunrise', Zones 9a–11)
Size: 5 feet tall and 3 feet wide
'Tequila Sunrise' might just be one of the showiest plants that doesn't produce a single flower. It does the best in full sun, where the colors absolutely vibrate in their intensity. The leaves are small, giving it a denser look. They range in color from emerald green to gold, then gradually become more orange before deepening to gold. A sizzling show-stopper of a plant!
One thing I have noticed about mirror plants is their total lack of aggressiveness. When planted next to another plant that tries to intrude on its space, a mirror plant seems to concede the space every time without a fight. If there is a scientific term for this, I do not know it and would happily learn if anyone cares to enlighten me in the comments. For this reason, succulents are great companion plants, especially if they are lower growing.
All mirror plants are great for brightening up a landscape. They do well as specimen plants, grown as a low hedge, or in mass plantings. They also make lovely container plants and can even do well indoors if placed in a bright area. As a watercolor artist, I try to imagine how I would paint a mirror plant. I would never paint any one of those leaves, of any cultivar, the same. Each individual leaf is a marvel in color variation.
—Francesca Corra, APLD, is a nationally certified landscape designer and owner of Dirt Diva Designs, located in Studio City, California.