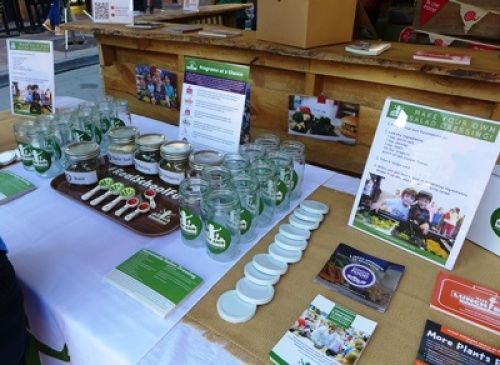 Slow Foods Nations had its third annual festival in Denver, Colo., during one spectacular food-centric long weekend in July. The festival featured more than 130 total events that included workshops and tastings, special meals, and over 200 speakers and chefs.
The popular Taste Marketplace included more than 70 vendors where 30,000 attendees sampled foods that came from around the country. While the grass-feed beef, hot sauces, specialty cheeses and flavorful olive oils appealed to adult taste buds, there were tasty options for kids, too.
Because children represent the next generation of vegetable gardeners, Slow Food Nations makes it a point to include them in the annual food celebration.
In 2017 a special children's garden included raised beds filled with herbs, fruits, vegetables and flowers. A corn grinder offered an interactive element.
This year's edition of the festival also provided kids with their own Slow Food Children's Garden. Under the colorfully decorated tent, young gardeners got a chance to see the food cycle that starts with seeds and ends up on plates.
The kid-sized garden display had give-away seed packets, temporary tattoos of vegetables and a food demonstration table. Another display showed how food scraps and plant trimmings can be turned into a valuable soil amendment for growing more food.
At the School Gardens Network booth, presented by Slow Food East End, kids made their own Italian salad dressing. The Chef Ann Foundation sponsored the dressing makings that included dried basil, parsley and oregano.
Chef Ann Cooper started the Chef Ann Foundation (CAF) to help school communities create healthier food and better lunchroom environments. The Foundation "carries out that vision by actively supporting school districts nationwide through grant programs and by providing tried and tested tools for school food change," according to the CAF website.
The Chef Ann Foundation offers programs like Get Schools Cooking, the Lunch Box, Project Produce, and Salad Bars to Schools.
There were many other opportunities for kids to enjoy Slow Food Nations, from snacking on samples of microgreens and Honey Bunchies energy bars to reading children's gardening books in the bookshop.