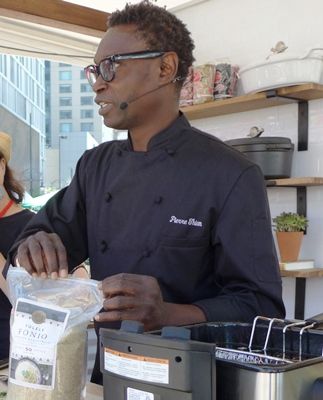 In its annual food trends report for 2020, Whole Foods Market includes "Foods from West Africa" near the top of its top 10 list.
Whole Foods reports that "Brands are looking to West Africa for its superfoods like moringa and tamarind, and lesser-known cereal grains sorghum, fonio, teff and millet."
One of the grains on that list, fonio, is already part of the trend. Under the Yolélé brand, fonio (pronounced PHONE-yo) is one of the newest ancient cereal grains to be rediscovered in the last few years.
Fonio is sometimes called the ancient miracle grain because of its superpowers. The grain tastes like a cross between couscous and quinoa, according to Chef Pierre Thiam who has embraced the grain from his homeland in Senegal, West Africa.
In addition to his work as a chef, he's an author, restaurateur and, according to his website, a culinary ambassador. It was in his role as fonio ambassador that I first learned about Chef Thiam.
I had the opportunity to hear him speak at the 2019 Slow Food Nations festival in Denver, Colo., in July. In an outdoor setting attended by dozens of interested foodies, he explained the many benefits of this "new" grain.
These benefits include the grain being gluten free, vegan, and loaded with vitamins, minerals, and essential amino acids. Fonio is also a protein-packed powerhouse with 12 grams of protein to one cup.
Chef Thiam started the company called Yolélé as part of his mission to have his work make an impact on both his country and the grain-eating world in general. His feeling is that the grain could help Senegal prosper while providing a versatile grain that people will enjoy eating.
On the back of each package, fonio is called The Seed of The Universe and explains, "When you buy fonio, you're helping vulnerable people make a living from their scarce resources."
After commercial milling, fonio can be used in breads, pasta, cookies, cereal, energy bars and other kinds of snacks. Recipes for using fonio in salads, main courses and desserts are posted on the Yolélé Foods website.
The trend toward using new kinds of grains follows along another trend for the new year of home gardeners and other growers planting whole grains in their gardens.