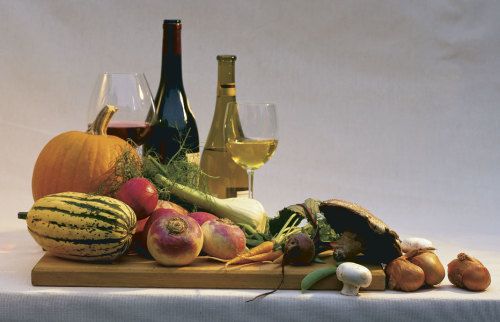 by Andrea Immer
February 1998
from issue #13
White with fish, red with meat, says the rule of thumb. But what to drink with vegetables? Cookbooks and wine merchants are ready sources for wine suggestions with meat, fish, and fowl. But the garden path is surely a road less traveled when it comes to wine advice. Yet could there be two more natural tablemates than wine and vegetables? Both are products of a very magical conversion—soil and sun into flavor.
As a restaurant sommelier, and as a home cook and herb gardener, I have worked both sides of the wine and food pairing equation. Sometimes the point is to highlight a special wine. Other times the garden or greenmarket presents some absolutely perfect seasonal produce to which the wine should pay tribute.
Always the goal is to transform the earth's gifts into a pleasurable dining experience. With that in mind, I've discovered some simple tools to which I return time and again.

Wine-loving vegetables
Certain vegetables and herbs virtually always complement wines; some can transform single dishes and even whole meals into a showcase for a special wine. The major wine-loving vegetables are shallots, leeks, corn, peas, fava beans,and mushrooms; and among herbs and adjuncts, thyme, sesame oil, and gently cooked garlic.
One of my favorite pairings is a creamy sweet-corn polenta with a full-bodied, oak-aged California Chardonnay or French white Burgundy, also 100% Chardonnay. With their blockbuster fruit and oaky richness, such wines are absolutely seductive. Those same virtues, however, can simply clobber many dishes, vegetable or otherwise. But enter the creamy, cheese-enriched polenta—a textural mate for the wine's expansive, mouth-filling style—and you've got a match made in heaven. For subtler, less oaky Chardonnays and Burgundies (try French Chablis and Pouilly-Fuissé, or New York, Washington State, and Oregon Chardonnays), substituting fresh goat cheese for some of the Parmigiano Reggiano in the recipe adds a tangy note that synchronizes beautifully with the more elegant wine style. Either way, this pairing is a perfect showcase for both the wine and the sweet corn.
But now shuffle the cast of characters. In a supporting role to other produce, wine-loving vegetables and seasonings can be integrated as a fantastic bridge to wine. Because wine is a staple of meals in my home, the following ingredients and techniques have become integral to my cooking. For the garden-centered cook who loves wine, they are a boon.
Shallots—I admit it: I am a shallot junky. Their ability to convert virtually any vegetable into a friend of wine is nearly fool proof. Culinarily, there is nothing novel about this approach; shallots are a cornerstone of many classic French dishes, all geared to complement wine. Applying this trick to vegetables, given their flavor diversity, is a watershed for the garden cook-cum-wine lover.
To instantly link vegetables to wine, gently sauté minced shallots to softness in butter or olive oil. Then, simply toss in your favorite fresh vegetables—either raw if they are quick-cooking or, for denser ones, after pre-cooking. The shallots form a subtle, earthy-sweet bridge to wines, white and red. A little salt amplifies the effect. An added touch is to deglaze the shallot pan with a bit of the wine you'll be serving. Here are a few of my favorite applications for the shallot trick.
With lighter-bodied, soft red wines like Italian Barbera and Chianti, Spanish Rioja, or American Pinot Noir, toss fresh tomatoes briefly in the shallot oil and serve as a salad; or cook them a bit longer and use as a sauce for pasta. In early summer, a pick-and-choose sauté of baby turnips, squashes, green beans, fava beans, peas, and mushrooms works well. In spring or fall, make your sauté of greens such as chard, bok choy, broccoli raab, or collards.
With crisp, dry whites like Sauvignon and Fumé Blanc, Mâcon, Pinot Grigio, and Riesling, I like a southwestern-style sauté of sweet corn, red and green peppers; or fresh spinach; or carrots with cumin or tarragon.
Garlic, thyme, and olive oil—This trio is another great bridge. I learned this technique from our Windows on the World culinary team. Simply start by sautéing minced garlic and thyme in olive oil over low heat, taking care not to burn the garlic. You can then incorporate vegetables in a variety of ways.
Vegetable sautés, especially of leafy and bitter greens, tomatoes, squashes, eggplants, and mushrooms seem perfect for summer. With their Mediterranean/ Provençal flavors, these sautés pair beautifully with both reds and whites from Provence and the Côtes du Rhône region, red Spanish Rioja, and Chianti.
In cooler weather, baked, braised, or puréed root vegetables and winter squashes take to this method nicely. Turnips, leeks, both white and sweet potatoes, carrots, fennel, beets of any color, pumpkin, and the whole range of winter squashes all work well. Toss chunks of the vegetables in the oil mixture, then bake or braise them until tender. The resulting flavors are earthy, satisfying, and very wine friendly. For an elegant presentation, moisten the vegetables after cooking with a little vegetable stock and purée (try cauliflower this way, too). Or add a little more stock and some milk or cream for a gorgeous, velvety bisque (stunning with squashes, pumpkin, or sweet potatoes). My favorite wines with the root vegetables are earthy, medium-bodied reds such as Pinot Noir, Chianti, and Spanish Rioja. The squashes and sweet potatoes make a beautiful match with aromatic whites such as Riesling, Pinot Gris, Pinot Blanc, and Gewürztraminer.
Wine-friendly cooking techniques
Here's another approach to bridging vegetables to wine. "Reductive" cooking, which reduces the water content of the vegetable and caramelizes the natural sugars, can enhance the wine compatibility of vegetables that may be tough to pair.
Grilling brings out a smoky sweetness and can tame a tendency to bitterness in vegetables such as peppers, squash, eggplant, and fennel. Tomatoes are often thought to be tough wine partners due to their acidity. But oven-drying them, or cooking them into a confit (peel and seed, then slow-cook in a pan with a little butter until the excess moisture has evaporated) concentrates their flavor and also coaxes out their natural sweetness, making them a great partner to a much broader range of wine styles.

Versatile wines
There are some wines whose style (medium body, little to no oak, mouthwatering acidity) and structure (dry and crisp) make it hard to go wrong pairing them with vegetables.
Among whites, try Alsatian dry Rieslings and Pinot Blancs. Italian dry whites like Pinot Grigio, Orvieto from Umbria, Soave from Veneto, or Ver­nac­cia from Tuscany are good.
Dry rosés (distinct from off-dry blush wines) are extremely versatile with all food, and often inexpensive. Try France's Provence and Côtes du Rhône rosés; Italian rosés such as Regaleali Rosato from Sicily; Spanish rosés from Navarra such as Chivite, Vega Sindoa, and Las Campanas; and American dry rosés like Bonny Doon Vin Gris de Cigare or McDowell Grenache Rosé.
For reds, choose Chianti and Barbera from Italy; Spanish Rioja and Navarra wines labeled crianza, meaning they have minimal oak aging; or French Beaujolais.

Beware the wine zappers. Every day I am given food menus to which I am asked to pair wines. I used to brace myself for the worst—asparagus and artichokes are infamous among wine lovers for their chemical component that clashes with most wines, leaving an unpleasant metallic taste in the mouth. Herbs, greens, pungent and bitter vegetables, and tomatoes also present challenges.
But I have found that the versatile wines listed above at least hold their own with these foods. The dry rosés and Italian whites in particular seem to have a zesty bite that meets these aggressively flavored vegetables head on.
A final word on pairing wine and vegetables. It is not really necessary to "think" about a wine and food pairing. In the wine-drinking world, most people choose a wine out of habit and what's handy, and that works just fine. But the fun of a thoughtful wine and food pairing comes into play when you have something special on your hands, something whose virtues you want to showcase and savor. And that is the essence of the garden cook's mission—to capture flavor at its peak. Why stop short of the beverage? By its very nature, no other liquid flatters the earth's bounty better than wine.
Great combinations
Herb or vegetable and wine matches you can rely on:
• Chardonnay or French white Burgundy and sweet corn; mushrooms.
• Red Zinfandel and basil, especially as pesto.
• Pinot Noir or French red Burgundy and beets.
• Cabernet Sauvignon or red Bordeaux and rosemary.
• Sauvignon Blanc or Fumé Blanc and dill, cucumber, celery.
• Dry rosés with salads of herbs and baby lettuces or pungent greens like radicchio, arugula, and endive.