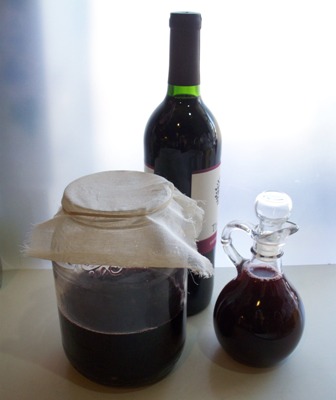 Homemade Red Wine Vinegar is Tasty Gift

I always enjoy spending time in the kitchen making goodies to give as holiday gifts, but in previous years I was reluctant to try my hand at making red wine vinegar. I'd read about the months' long process that requires an earthenware crock and a live starter called a "mother." And I'd heard that a good mother is often handed down from a friend or relative like a treasured heirloom.
Vinegar is the result of the chemical reaction between the mother bacteria and the wine. For those without a mother, the bacteria culture can be found at stores selling wine making supplies.
I'd waited too long to get started, so I didn't have the 2-3 months of time needed for a slow fermentation process. I had to find a faster way to create vin aigre (sour wine). The quickest option was to add red wine to white vinegar, but that wasn't my style.
Then I heard about a process that took only weeks instead of months and used unpasteurized cider vinegar in place of the starter bacteria.
Select a Medium or Full-Bodied Wine
I wasn't sure what wine to use until I read to simply select the same kind of medium or full-bodied wine I like to drink. Merlot, Shiraz or Chianti are good medium-bodied choices; Cabernet a full-bodied selection.
I settled on an inexpensive Cabernet Sauvignon-Shiraz blend from California because I like its bright fruit flavors and thought it would make a delicious vinaigrette for a fresh green salad.
Three Easy Steps
To make this vinegar add one part unpasteurized vinegar and one part red wine to a large glass jar. For my batch of red wine vinegar, I mixed one cup Bragg Organic Raw Apple Cider Vinegar with two cups Cabernet-Shiraz red wine.
Cover the jar with a piece of cheesecloth, using a rubber band to hold the cloth in place. Leave the jar in a warm spot for at least 3 weeks; stir occasionally during this time.
After 3 weeks, add additional red wine to the jar, so that it doubles in volume. Re-cover with the cheesecloth and let sit for another 3 weeks; stir occasionally. This yielded 4 cups of red wine vinegar.
Get Ready to Gift
Pour the vinegar through a strainer into gift bottles and seal. To make the gift complete, add a bow and recipe for a garden-fresh vinaigrette or delicious Watercress and Red Grape Salad.