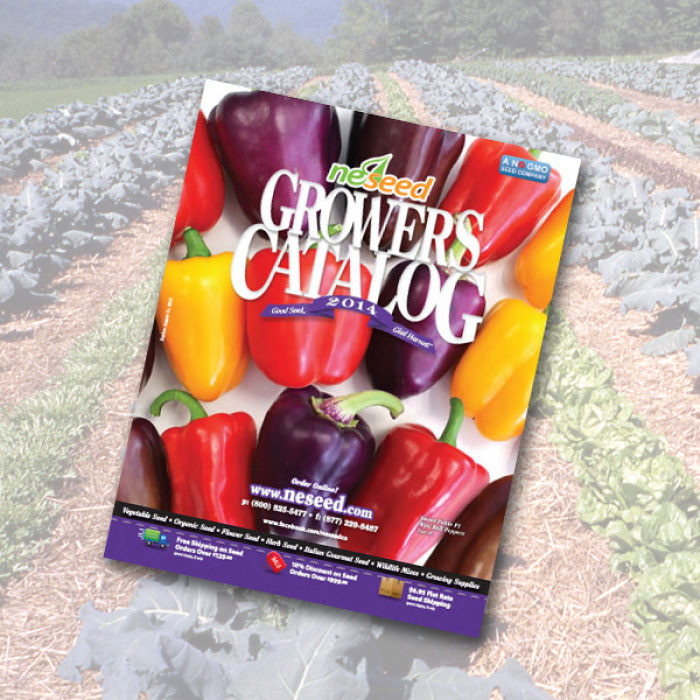 "Good Seeds, Glad Harvest" is the trademark for NE Seed, a commercial seed company that started in 1987. Based in Hartford, Connecticut, NE Seed sells Non-GMO conventional, organic, heirloom, Italian and hybrid vegetable, flower and herb seeds for home gardeners and commercial growers of all sizes. From their website, "NE Seed offers the vegetable, flower & herb varieties consumers expect to buy at the market, roadside stand or farmers market. Commercial Growers buy seeds from us to satisfy the selection, yield and quality they are looking for."
After 20 years in business for both companies, NE Seed and D. Palmer Seed merged in 2007. This merger created NE Seed's sister company, DP Seeds LLC. "DP Seeds is a commercial hybrid vegetable seed company dedicated to providing seeds of the highest quality to commercial vegetable growers worldwide by developing close relationships with it's independent breeders. Home growers also can take advantage of the benefits of hybrid seeds such as improved disease resistance, increased uniformity and higher yields." Most of the DP Seeds' hybrid varieties have no organic equivalent, but are available as untreated seeds for many organic programs.
NE Seed's catalog is another example of a very colorful and easy to navigate seed source. Over 75 pages of vegetable, herb, flower and cover crop seed listings make up the majority of the catalog. After a page listing the symbols used in the catalog, as well as a disease resistance abbreviation guide, you are immediately presented with the catalog's vegetable listings.
The catalog is laid out in the familiar 4-column format that many catalogs use. Among the seed listings are great-looking photos, some masked/clipped out of their background for added interest. Colored bars divide the individual veggies effectively. The variety names are larger and very easy to find. Symbols indicating the Italian, organic, new, and DP Seed varieties are also shown. In the pricing part of the listings, the available weights are in bold type (a nice touch).
While perusing the 48 or so pages of vegetable seed offerings, my eyes slammed on the brakes to notice a pink, yes pink, variety of pumpkin. This striking variety is called "Porcelain Doll F1 Hybrid", and is the centerpiece of the company's Pink Pumpkin Patch charitable foundation. "Buying a Porcelain Doll F1 not only supports breast cancer research but supports U.S. agriculture as well." says Kevin Skaling of DP Seeds, the variety's breeder.
Nineteen pages of flower variety listings follow the vegetables. Again, great photos make the pages come alive with color. Following the flowers are three pages of herb listings. For some reason, they opted to leave out all photography for this section, which I thought was a disappointment. Two pages of "hardgoods" contain the company's organic fertilizer and grafting supply offerings.
The NE Seed catalog is a great source for Non-GMO conventional, organic, heirloom, Italian and hybrid vegetables, flowers and herbs, and should be part your seed catalog collection.
To request a copy of their catalog or to order their seeds and products, visit www.neseed.com.